| | | |
| --- | --- | --- |
| | …all the major closing parties happening in Ibiza and Mykonos soon, and a definite chill in the London air, we think it's safe to say autumn has arrived. With that in mind, we're thinking about taking things inside with our list of the season's must-see exhibitions, a round-up of September's best restaurant openings, and a closer look at the places where food and music collide. And if you're heading out to attend any of the parties? Make sure you check out our Mykonos island file from Kaz James below, or browse our comprehensive Ibiza guide. Happy autumn! | |


De School
Eat to the Beat
Where food and music collide…
From 24 hour clubs with tasting menus to chefs that curate the restaurant playlists themselves, this week's trend looks at what happens when two of our major loves converge: it's a food meets music crossover!
Read more
Yayoi Kusama Infinity Mirror Room
Culture Clash
Time for an autumn gallery hop
Frieze is on the horizon, which means it's gallery hop time, and there are some real blockbusters this season. Tickets for Yayoi Kusama's return to Victoria Miro went on sale yesterday so get reserving if you haven't already. Anni Albers' first retrospective arrives at Tate Modern later in October – we love her understated Bauhaus-era textiles. And don't miss Space Shifters at Hayward Gallery and Saatchi's Black Mirror focus.
Will Bowlby
There's a new Kricket in town! To celebrate the opening of their new White City location (Television Centre employees rejoice), we spoke to chef-founder Will Bowlby.
Where do you go for Indian food?
Ganapati – it's a local Indian restaurant in Peckham that specialises in southern Indian food. I've spent a lot of time in Kerala so the menu transports me back there.

Which chef should we be watching right now?
Tomos Parry – his new restaurant Brat is a brilliant addition to London's food scene. I am always super impressed by the simplicity and great flavours he achieves.

Can you recommend us a hidden gem we might not know of?
Eat Tokyo – they have a massive menu and a tiny kitchen, but it's amazing. Try it! There are a few in London, and best of all it's cheap which is pretty uncommon for Japanese food in London.

Read more


Do Not Disturb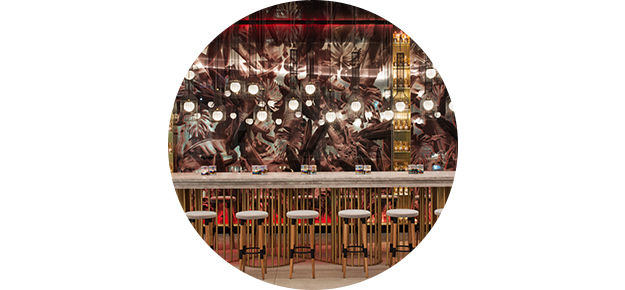 W Brisbane
The new subtropical party spot to know
Whether you're looking for winter sun or another reason to visit Aus, W's brand new hotel in Brisbane does the trick. We just returned from the bonafide party spot and a week sampling the city's infectious sunshine state of mind – click through for the lowdown.
Read more
Jolene by Patricia Niven
September's Best Openings
Where to add to your wish list
From NYC-approved dumplings to a pioneering new bakery and restaurant from the Westerns Laundry team, we've rounded up the best new openings from the past month for you. Get those diaries out, it's time to start making some reservations.
Read more
San Giorgio
Kaz James' Mykonos
The Scorpios resident knows his stuff
Ahead of the closing of his Scorpios residency on 30th September, Kaz James fills us in on the places to be in Mykonos – so whether you're flying out for the end of season party or planning a trip for summer 2019, it's time to get inspired.
Read more
The Weekend
| | | |
| --- | --- | --- |
| | This weekend's going to be a good one. P. Franco's new head chef in residence Anna Tobias (The River Café, Rochelle Canteen) is presiding over the induction hobs from Thursday – we say try and get in early on Friday for a fun dinner. On Saturday the Wine Car Boot is back in town with UJ fave GENUWINE hosting the official afterparty – think independent wine merchants by day, and R&B plus Holly Chaves' famous Breville cheese toasties by night. And on Sunday we're continuing the party as bubbledogs turn six – they'll be celebrating with tequila shots for all, Mexican-inspired hot dogs, and a live mariachi band – email here to book. Time to celebrate! | |
See you next week!
Want more from Urban Junkies?
For the latest restaurants, events, travel inspiration, product picks and playlists, visit our website.





(c) 2018 Urban Junkies. All rights reserved.

Reproductions of any portion of this website only with our express permission. Urban Junkies is a free weekly mailer. All listings and features are editorial: We do not receive any payment from venues, artists or promoters. Every effort has been made to ensure accuracy of information listed but we cannot accept responsibility for errors or omissions.