Style & Design
Originally published on Friday, 20th April 2007
Trunk Show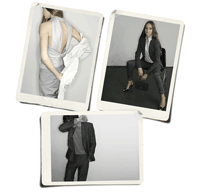 Far from being just another guerilla concept, Clemens en August, the sharp, pared down German label, has roots, and a founder, too romantic for that.
Inspired by his 19th century Dutch ancestors, yep, Clemens and August, who travelled the country by carriage selling rare fabrics, Alexander Brenninkmeijer decided that rather than fall into line working for the family business (a small retail empire called C&A - are they still going!?) he would do something equally offbeat.
A little Helmut Lang, a little Jil Sander, Brenninkmeijer's collection is never sold in shops and there are no runway shows with fawning front-row fashion groupies. Instead, for just a couple of days twice a year, the pieces are made available at carefully chosen venues in select cities in Europe (no Paris, Milan or New York here).
With no help from advertising either, the word is spread by mouth, but fans of the immaculately tailored, yet affordable (prices for suits hover around the 250 quid mark) garments have to get there quick if they're to snap up one of the few numbers that are made of each item.
And forget the idea of Chloe-clad luvvies rummaging through boxes of samples, the C en A event more resembles an art exhibition. Only Purists need apply.
Clemens en August - at the 20th Century Theatre, 291 Westbourne Grove, W11
11am-8pm Fri Apr 20, Sat Apr 21 & Sun Apr 22