Travel
Originally published on Wednesday, 29th July 2009

Sun, Sea & Smugness: Last-minute Mediterranean Breaks


Not got around to booking a summer holiday?It's never too late – boutique hotel experts Mr & Mrs Smith have unearthed some of the most stylish spots on the Mediterranean, all with rooms still available. Luxed-up Italian farmhouses, rural Andalucian hideaways and cliff-side Greek Island retreats – all you need to do is choose.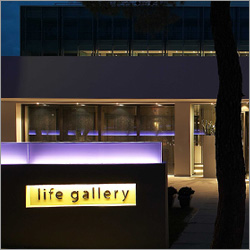 Style: Art-infused elegance
Setting: Serene Athenian suburbia
Rates: Low season, €220–€390; high season, €230–€435, excluding breakfast (€20 each), taxes (11.18 per cent), and service.

Just a little way out of central Athens in the quiet, tree-lined suburb of Ekali, Life Gallery is a modern-minded boutique hotel that's part luxury pad, part art museum, with a splash of tech-savvy gadgetry (check out the programmable in-room lighting scenarios) and a soupçon of gastro flair – perfect for both an ultra-chic weekend à deux, or an Ayurvedic spa escape.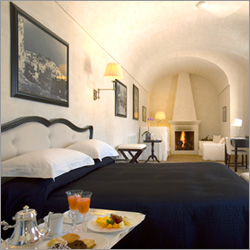 Style: Spacious and gracious
Setting: Coast-hugging Pugliese countryside
Rates: €279–€1,450, excluding breakfast and taxes.

Surrounded by a grove of ancient olive trees, the 16th-century Masseria Torre Maizza is textbook southern Italy; gorgeous views of olive groves against a level, windswept and sun-beaten landscape, whitewashed stone arches and delectable regional food. High, barrel-vaulted rooms have been accessorised with chrome lights and mushroom-coloured, loose-weave linens, and its spa, pool, golf course and cookery school all provide welcome flashes of modernity.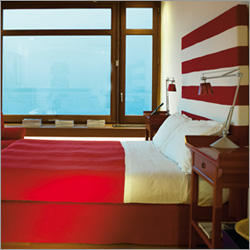 Style: Quirky nautical
Setting: Neapolitan cliffhanger
Rates: Low season, €150–€250; high season, €300–€400, including Continental breakfast; excludes taxes and service.

La Minervetta clings to the cliffs of Sorrento on a postcard-perfect swathe of the Amalfi Coast. Beginning its life as a restaurant, the 1950s villa has been modernised and manicured by architect Marco da Luca into a ravishing boutique hotel on the clifftop. Steadfastly refusing to turn its back on the bay, the hotel has floor-to-ceiling windows in every room, and its three sun terraces (the upper for cocktails, mid-level for chilling and a Jacuzzi on the lowest) are perfect platforms for admiring the panorama.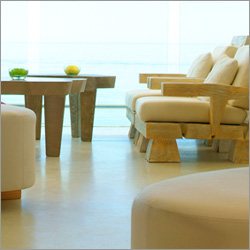 Londa: Limassol, Cyprus
Style: Subtle, soothing and smart
Setting: Medside Limassol
Rates: €111–€1,100, including breakfast and taxes.

Londa hotel in Limassol is Cyprus' first couture getaway and thoroughly smacks of class. Incredible to imagine that the Milanese design duo, Letizia Caruzzo and Paolo Rancati, responsible for its subtle blend of geometry and natural materials, has custom-made everything, from the 'Cavallino' carpets to the hand-carved headboards. The infinity pool overlooking the sea is another design tour de force; clever use of different levels and varied furnishings creates a seamless transition of indoors to outdoors, of bar to restaurant to poolside.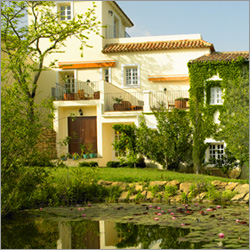 Style: Trad Andalucian
Setting: Close but no costa
Rates" €148–€771, including breakfast; excludes tax.

La Fuente de la Higuera is a rather stately converted 18th-century olive mill, set into a hillside with views over to Ronda and the surrounding rugged sierras. The hotel gardens are just as impressive: a soft, lush contrast to the craggy mountains beyond them, forming a well watered oasis around a swimming pool, and the rustic Spanish cuisine served in the restaurant makes the perfect culinary complement to the countryside. Yoga and flamenco classes can be arranged as well as English-speaking guides to Seville, Granada and Jerez.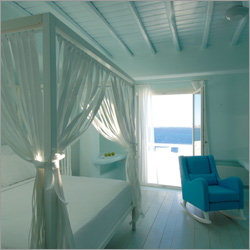 Style: Med à la mode
Setting: Cascading cliff-side caves
Rates: Low season, €240–€1,190; high season, €480–€2,500, including buffet breakfast and service.

Gleaming brilliant white against the azure of the Aegean, Cavo Tagoo has undergone a recent injection of decorative pizzazz, administered by award-winning architect Paris Liakos, and is now one of the most drop-dead gorgeous gals on the Mykonos boutique hotel scene. From the gleaming cubes of its buildings, massaged into the sloping cliff-side, right down to the soft pastels of the bedroom walls, everything about this elegant spa hotel says pristine minimalism.
Sudden flashes of colour – the reds and blues of the furnishings, the Byzantine golden flourish of the domed lights in the lobby – add depth to Cavo Tagoo's whiter-than-white look without compromising its spotless contemporary feel. This is definitely the kind of place you can wear sunglasses indoors and not look like a ninny.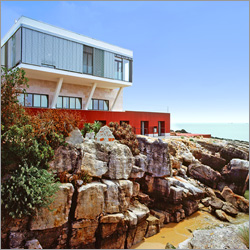 Style: Slick and fashionable
Setting: Local to Lisbon
Rates: €110–€460, including American breakfast buffet.

Farol Design Hotel is a stylishly designed Cascais hotel perched on an outcrop of rock a few feet from the Atlantic Ocean. This contemporary crib marries a traditional Portuguese villa with a modern wing encasing a slick restaurant and additional rooms. The blend of old and new is a triumph. The exterior may be stark white and minimalist, but the interior is wood-panelled and luxurious; the result is a Pandora's box. The design savvy extends to the grounds, which ooze Café del Mar cool.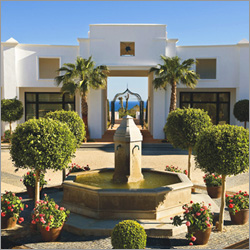 Style: Andalucian Alcazar
Setting: Sun, sea and sierras
Rates: €275–€1,500, including breakfast; excludes seven per cent taxes.

You'd never even know there was a golf course at Finca Cortesin in Marbella, Spain. Those behind the design of this gloriously stylish Alcazar-style boutique hotel have gone out of their way to ensure that, even though some of southern Europe's finest 18 holes lie within putting distance of the 67 beautiful rooms, they are not the focus.
Far better to concentrate on the gorgeous mosaic-inlaid swimming pools, the manicured, stroll-worthy grounds, the fully equipped spa and treatment rooms, and high-end dining at regionally renowned fusion cuisine at Schilo Restaurant than bother with swinging irons in the southern Spanish heat. Idyllically situated in the foothills of the tranquil Casares mountains, Finca Cortesin could just be the perfect Spanish stay.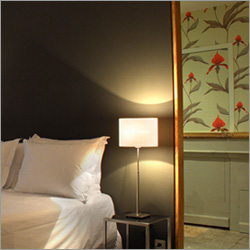 Style: Château in the city
Setting: Old Montpellier's narrow streets
Rates: €160–€220, including tax. Breakfast costs €15 each.

This centuries-old townhouse in the heart of Montpellier somehow condenses the palatial dimensions of a country château into a five-bedroom city-centre boutique hotel . The key 18th-century features are still present – huge ceilings, intricate cornicing and incredibly detailed plasterwork, ancient and mighty doors – but the scent of history mingles with a smart contemporary air.
Up-to-the-minute modernity is evident in the furniture and fittings – check out the tall cone-lights flanking the lounge doorway, and the walk-in Italian rain showers cunningly concealed behind the beds.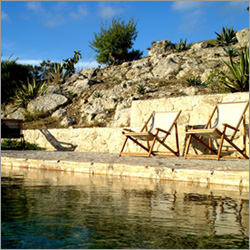 Style: Familial farmhouse
Setting: Coast into country
Rates: €122–€1,988, including breakfast and taxes.

Hugging Sicily's stunning southern coast, Azienda Agricola Mandranova is more than just a guesthouse with friendly owners. Old wooden doors open onto restored majolica floors under beamed ceilings, with crisp stucco walls and cherry-wood beds. To stay here is to be thrust into the heart of Sicilian family life – with its emphasis on conviviality and the cucina. Regular cooking classes, in which ingredients are plucked straight from the olive tree-filled gardens, make the evening meal a focal point of the blissful day.