Travel
Originally published on Tuesday, 2nd March 2010
Get A Room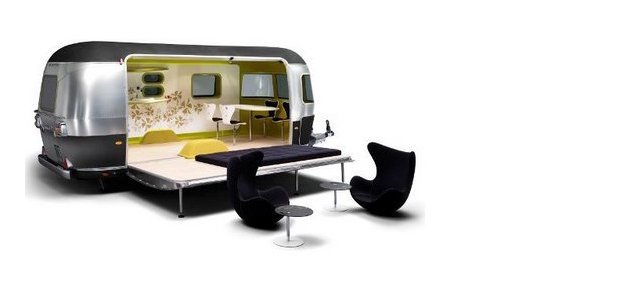 Stay in the world's smallest pop-up hotel.
Hotels are good for two things; illicit affairs which depend on anonymous bed-linen and room-service strawberries, and the more holiday-centric concern of being close to your host-city's big attractions. But they tend to make our own homes feel a tad – well - mundane (plus who's getting hotel-style nookie when the cat needs feeding and the washing machine's making a funny sound, hmm?)
So, if you're in the mood for either a) headboard banging, or b) waking up and rediscovering your own city through a visitor's eyes, all without committing to a night in a bricks and mortar establishment (thus cementing your guilty secrets) we may have the temporary answer.
Visit London and the Radisson Edwardian have pimped out an American Airstream caravan and turned it into the world's smallest pop-up hotel, touring the city from the 13th – 19th March and parking outside the likes of Alexandra Palace, the South Bank and Covent Garden. The mini-boutique hotel includes a double bedroom with en-suite facilities, dining area, mini-bar and TV, as well as a concierge, room service and breakfast.
The only way you can check in is by entering the online competition, which closes on the 7th March and could win you a night's stay at any of the various stopping points, as well as tickets to top London attractions which you might have otherwise ignored. What you get up to on your night out/in is entirely up to you.
As they say, if the caravan's a'rockin, don't come a'knockin.
Info
The World's Smallest Pop-Up Hotel
15th-19th March, Various London locations
Competition closes 7th March
Enter here.