Style & Design
Originally published on Wednesday, 27th October 2010
Retail Spy: November
We can't help but notice something of a renewed shopping vigour in the air. Whether it's just the pre-Christmas haulage or real evidence of shops pulling themselves up by their boot straps, the coming month looks to be jam-packed with fashionable favours. Join UJ as we bring you a bumper issue special of Retail Spy, including cool in-store collabs, launches, hot gossip and product picks to see you through November.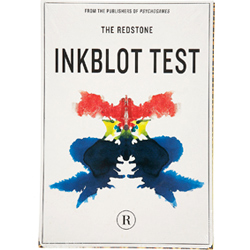 SPOTTED!
Topshop's Stocking Stuffers

There's nothing sadder than a totally 'there for the sake of it' stocking hanging at the end of the bed, filled with toiletries you won't use, tacky novelty toys and the obligatory bag of chocolate balls. Which is why we were so excited to run into Topshop's display of present-perfect nick-nacks, stacked high with Urban Cross Stitch kits of Banksy street art, Mexicana cute Momiji specials, Ink Blot psych tests that would look as beautiful hanging on the wall as driving you up it, origami sets, and kitsch hot water bottles that don't totally scream 'childhood regression'. We're re-hanging the sock – and it's a big one. www.topshop.com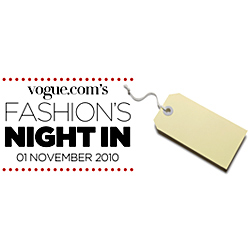 UJ LOVES
Fashion's Night IN

Boys and girls, if you couldn't quite muster the energy to join us on Vogue's Fashion's Night Out back in September (though you did miss out on Mulberry pork pies, Prada fries and some fantastic photobooth shoots at Jimmy Choo), here's your chance to enjoy the benefits from your bed. Vogue's Fashion Night IN on November 1st is bringing the same storefront fun to your sofa, from online treasure hunts and designer discounts to goodie-bag extras sent straight to your door and limited edition releases from the likes of McQueen, Selfridges, Matches, Browns, Start London, Cowshed and more; all you need to do is click.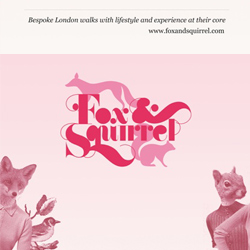 FASHION INSIDER
Fox and Squirrel Shopping Walks

If you're stumped for new wardrobe inspiration or just want the tedium taken out of your usual shopping tour, why not let an expert lead the way? Map out the city's street style with either a half or a full day of fashion fodder with Fox & Squirrel, taking in artsy exhibitions, an intimate luncheon and of course time to stop and shop with a personal stylist as your tour guide. There's a vintage option for retro lovers and groups are limited to between 2 and 5 people. Why not grab some friends and take advantage of a 20% discount for UJ subscribers?

From £42. Email This e-mail address is being protected from spambots. You need JavaScript enabled to view it. and put Urban Junkies 2010 in the subject line.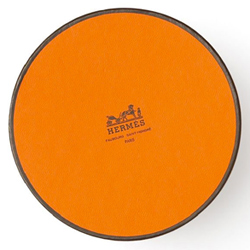 SHOP NEWS
Hermes Pops Up

If there was one brand we would genuinely be surprised to see popping up in Spitalfields, it would be Parisian superluxe label Hermes. But there you have it; and following a street-style fashion shoot with Matt Irwin capturing cool ways to wear their iconic scarves, it follows that East End hipsters should benefit from this"J'aime mon carré" standalone store (selling only neckerchiefs from the old Tokyo Bike space) first, before it moves to the West End.

November 17th-25th, 117 Commercial Street, Spitalfields Market, E1 6DW. www.hermes.com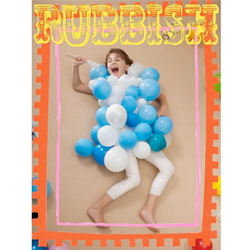 HEADS UP
Rubbish 2.5

Fed up with the usual glossy fashion bumf filled with odes to trend A, B and C, and designer ads full of things you can't possibly afford but are too embarrassed to admit to so you buy the damn thing anyway and look blasé as you flick past the page like it doesn't matter? OK, maybe just us – but this is why we just LOVE Rubbish's totally random publications – and this one's been a long time coming. Sense of humour, content which includes designer vegetables and an exploration into the science of play, and a super-touchable big-format makes it a coffee break must.

Pre-order now by emailing: This e-mail address is being protected from spambots. You need JavaScript enabled to view it. , £9.99.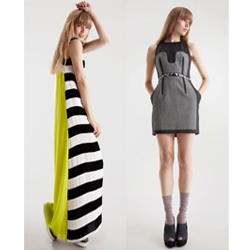 LUST HAVE
Lulu & Co

It's no secret that some of British fashion's most exciting designers have been mentored by Fashion East's Lulu Kennedy, from Richard Nicoll and Louise Gray to Jonathan Saunders and Gareth Pugh. Celebrating a decade of discovery Kennedy is bringing back her favourite 10 archive pieces in a capsule collection of dresses that would have any fashion fan swooning in the Kirkwood kicks. Lulu & Co features patent leather Pugh, Holly Fulton's trademark deco design and cashmere House of Holland logos amongst others, and is available at Matchesfashion.com and Harvey Nichols from November 1st.

From £225.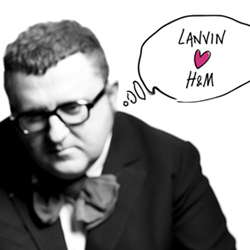 CALENDER DATE
Lanvin for H&M

We've been sufficiently teased and taunted with blurred out video footage, had our hearts set aflutter with teaser images of beautiful black cocktail dresses in signature ruffles and asymmetric sleeves, tux jackets and pearly accessories – and now we want in, damnit! The uncensored film for the H&M Lanvin line will be released on the 2nd featuring the full collection for both men and women, with clothes hitting stores on the 23rd. We've never considered ourselves eager enough on any previous collabs to actually queue in the cold – but we're packing a thermos for this one.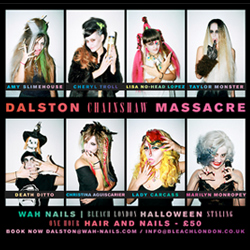 TOPS AND NAILS
Bleach London joins WAH Nails

Stuck for last minute Halloween inspiration? We're loving the latest addition to Dalston's WAH stable, hair salon Bleach London who are bringing their own cool brand of dip-dying, white-outing, and crazy-colouring to the store. Check out the 'Dalston Chainsaw Massacre' menu including 'Cheryl Troll', 'Lady Carcass' and 'Taylor Monster' and get your hurrrrrrr did as well as your nails, in a swift hour for a mere £50.