Nightlife
Originally published on Wednesday, 8th December 2010

Top Three Bars for … Winter Warmers
Nothing warms the cockles of the shivering heart like a dose of warming alcohol. And with the thermometer hovering dangerously towards its icy nether-regions and the festive catfight fast approaching (despite our best efforts), here are a few choice options for some alco-winter warmers to fend off whatever ails you. Whether that's flu, sobriety, or a dose of good ol' bah-humbug…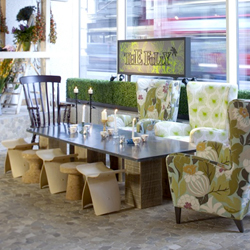 The Folly
www.thefollybar.co.uk
41 Gracechurch Street, EC3V 0BT
0845 468 0102
A saunter from One New Change and stone's throw from the City's TK Maxx, despite its vastness The Folly is surprisingly suited for a retail escape (just don't be in a rush – the service isn't exactly lightning). But breathe, settle into one of the tree-lined armchairs, and order up a Warm Spiced Apple Toddy: served on a quaint bread board in a dad-esque thermos and bitter-style glass, the blend of cognac, calvados and subtly spiced fresh apple is an easy, sweet glass of pure Christmas warmth. And thanks to the thermos, it stays piping hot for absolutely ages – so you've got no excuse to rush off.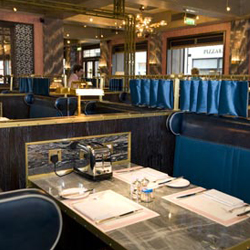 Bob Bob Ricard
www.bobbobricard.com
1 Upper James Street, W1F 9DF
0203 145 1000
There are times in life when nothing scratches one's itch quite like a salmon-dressed barman pouring demure cocktails amidst a lake of gleaming brass and the soft scent of leather. Sure, Bob Bob Ricard might be a bit much to serve as our everyday drinking joint (despite being just round the corner). But for a slice of Soho winter escapism, their tangy-yet-warming Gooseberry Ginger and Rum Hot Toddy is hard to resist. So whether you're taking a moment from the Oxford Circus carnage or building up to a night on the town, why not treat yourself to this spiced, tangy little number, delivered with a slice of charming opulence.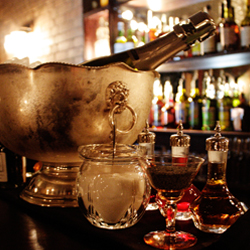 Experimental Cocktail Club
www.chinatownecc.com
13 Gerrard Street, W1D 5PS
020 7434 3559
Of the many upsides to having Xav Padovani, the Hendrick's Gin Global Ambassador, involved with this gorgeous late-night speakeasy , none tickles our palates quite like having one of our seasonal cocktail favourites on-hand (albeit off-menu) to thaw us out. Straight from the Hendrick's playbook and modelled on an original 19th Century recipe, the Hot Gin Punch includes lashings of warmed gin, Madeira wine, fresh pineapple and citrus, honey and winter spices – making it sweet but not sickly, festive but not clichéd, and simply perfect for watching the bustling minions shiver and shuffle past below on Chinatown's Gerrard Street.