Eat & Drink
Originally published on Wednesday, 8th December 2010
Hot 5 Tables: Five Modern Sushi Bars
Everyone has their preferred traditional sushi spot, whether Sushi Say in Willesden, Asakusa on Mornington Crescent or, my own personal favourite, the Mayfair institution that is Sakura. But a wasabi-tinged wave of more contemporary joints, inspired by leader of the pack Nobu, has started to swell and shows no sign of subsiding. Offering a zingier, jazzed up version of the raw fish we all know and love, they're just that bit more of a treat than your regular conveyor-belt cafes. Chopsticks poised, we've selected five of the swankiest establishments out there.
Dinings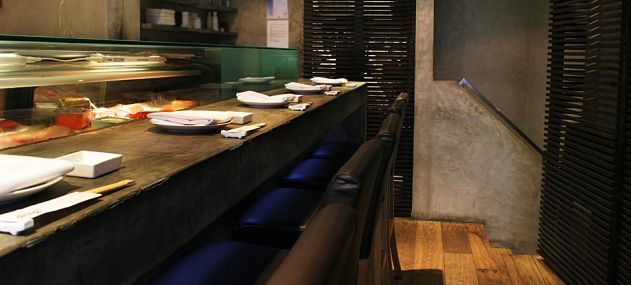 This cult Marylebone hotspot may be all bare concrete and subterranean grunge chic, but it was an under-the-radar hit the minute it opened its doors and it's still a challenge to get a table. Owner and former Nobu chef Tomonari Chiba prepares 'Japanese tapas' that includes scallop with creamy jalapeno tartar chips (like mini tacos) and octopus carpaccio with yuzu and garlic sauce to an über dedicated following. Sushi-making lessons are now on offer and they finally have a website so you can keep your appetite whetted while you wait.

22 Harcourt Street, W1H 4HH – 020 7723 0666 – www.dinings.co.uk
Around £50 per head.
Umu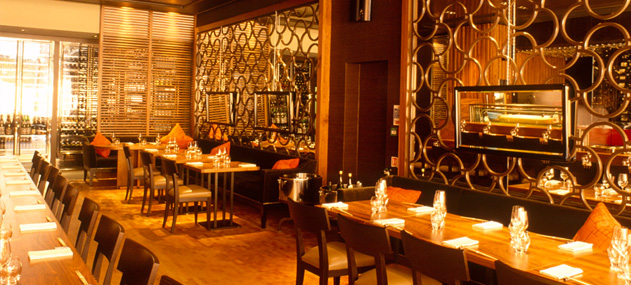 Possessor of one of my all-time favourite restaurant interiors – plumped, plush and jewel-like – this Mayfair gem, with its 'open sesame' entrance and heavenly lighting (can it ever be too low?), oozes opulence. From the cut glass serving dishes to the 160 sakes on offer (my pick of the bunch being an exceedingly drinkable Yuzu-scented brew). Handsome new chef Yoshinori Ishii is one of New York's most celebrated so it's no surprise the sweet prawn and mango, and razor clam, salted butter and chive sushi is to die for.

14-16 Bruton Place, W1J 6LX – 020 7499 8881 – www.umurestaurant.com
Around £70 per head.
Sake No Hana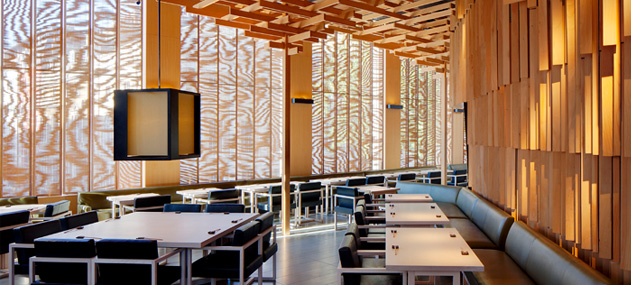 This dramatically appointed venue, with its escalator approach and frustratingly hard-to-find loos, often divides opinion – and that's before you've even sat down to eat. I personally love the impressive wooden-slatted space that reminds me of a Kabuki stage set; all the better for spotting oligarchs and high-flyers. I also have a soft spot for the salmon tartare with wasabi ponzu sauce and the crunchy Alaskan snow crab roll, so the fact that there is now a new sushi bar in place, for more relaxed dining, can only be a good thing.

23 St James's Street, SW1A 1HA – 020 7925 8988 – www.sakenohana.com
Around £60 per head.
Kyashii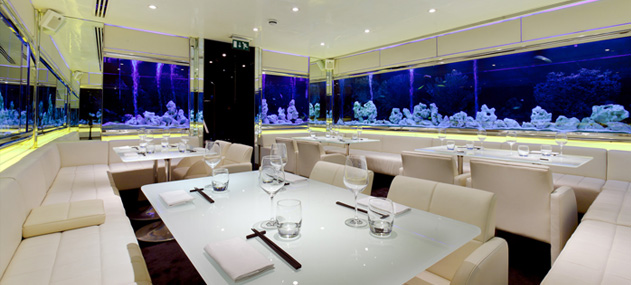 For those who like even more bling for their buck, this ostentatious newcomer is the answer. There are white leather banquettes, LED lighting and giant fish tanks in abundance, with no less than four dining spaces to choose from – and, yes, there are DJs and a champagne lounge too. But with chef Jacky Yu, formerly of Zuma, at the helm equal attention is given to the quality of the food. So get the heels and eyeliner out and try the oyster platter (the bivalve prepared five ways) and the rainbow rolls (made with seven types of fish).

4A Upper St Martin's Lane, WC2H 9NY – 020 7836 5211 – www.kyashii.co.uk
Around £45 per head.
Yashin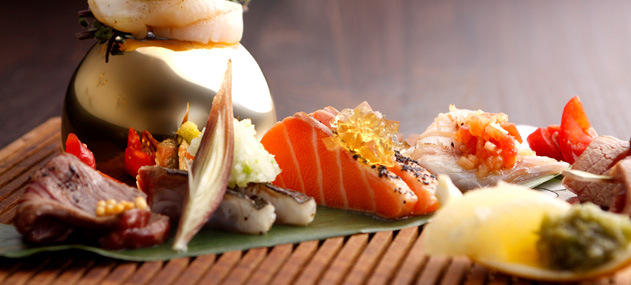 This stylish, decidedly un-Japanese looking diner crept up on us a couple of weeks ago without the usual PR fanfare - and is all the more popular for it amongst foodie opinion-formers who love a 'discovery'. Sit at the counter for the freshest fish carpaccio of the day with spicy yuzu sauce and a selection of eight, eleven or fifteen pieces of sushi and sashimi prepared by knife and blowtorch wielding chefs, who brush each bite with just the right amount of soy sauce – dunking in puddles of the stuff is so unrefined, didn't you know?

1A Argyll Road, W8 7DB – 020 7938 1536 – www.yashinsushi.com
Around £45 per head.