Eat & Drink
Originally published on Wednesday, 13th April 2011
The True Meaning of Tapas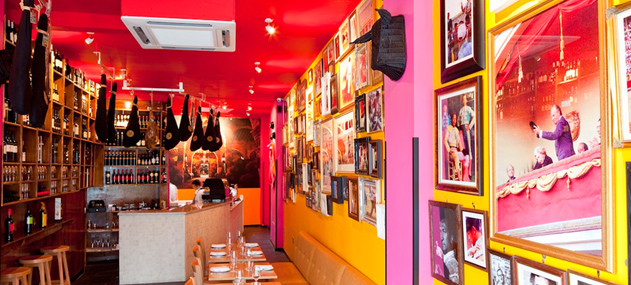 New Spanish restaurants and sherry joints bring us back to basics.
Don't get us wrong: we love tapas. But it struck us, whilst munching on a plate of honey drizzled, goat's cheese-stuffed courgette flowers at The Opera Tavern, that this was one of the only new establishments to leave the fine art of Spanish bits and bites alone. Elsewhere, the word seems to have been appropriated to simply mean 'small', b*stardising everything from Italian appetisers to the strangely compelling Mexican-meets-Chinese cuisine at The Cosmo's restaurant China Poblano in Vegas.
However, we're sensing a return to the traditional which kicked off with this weekend's launch of ham and sherry bar Capote Y Toros, the fourth venture from Abel Lusa's Cambio de Tercio group. Serving over 100 varieties of sherry (we haven't seen this kind of selection since King's Cross' Bar Pepito launched last year) and with only eight tables, you'll feel like you're in a neighbourhood joint in downtown Cádiz nibbling on Iberico pork charcuterie with the locals.
But if you think Barcelona is still best and haven't quite managed to book that ticket (and table) for Ferran Adrià's awesome-sounding new tapas joint 'Tickets', how about a jaunt to Bermondsey? Ex-Barrafina chef José Pizarro is opening his first self-named tapas bar here next month, taking inspiration from Barc's Boqueria market with a daily changing menu (think razor clams, Serrano ham and tortillas) in laid-back, informal surrounds. We even hear the Hart Brothers (owners of Barrafina, Quo Vadis and Fino) are thinking of adding a fourth to their own stable next year.
Looks like small bites are big business.
INFO
Capote Y Toros is open now.
157 Old Brompton Road, SW5 0LJ.

José opens early May.
104 Bermondsey Street, SE1 3UB.
020 7403 4902 (no reservations)