Eat & Drink
Originally published on Thursday, 21st July 2011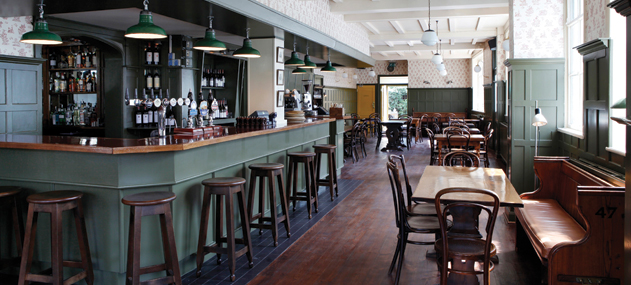 The Devonshire Arms
A new gastropub way out west.

126 Devonshire Road, W4 2JJ - 020 8742 2302
Location
At what the pub's previous owner, Gordon Ramsay Holdings, called the 'wrong end' of Devonshire Road - a fact blamed for the failure of their venture last year. And, indeed, the place is a few minutes further away from the main drag of the High Road than you might expect. But this is chi-chi Chiswick, home of Colin Firth: insalubrious here means some council housing in view, rather than burnt-out cars and sofas on the street.
Vibe
The Devonshire Arms is the second venture from Nick Gibson, the man behind the super popular, informal-yet-classy Drapers Arms in Islington, and, as the similar names suggest, he's sticking to his formula. Whether this too becomes the neighbourhood's go-to gastropub remains to be seen. On our visit the atmosphere seemed slightly low-key, but fair dos: it's only just opened and is finding its feet. And it doesn't take much imagination to see that the large garden will be heaving with locals once summer deigns to re-emerge.
Flavours
It's a high-end gastropub, so you know the score: quality protein and seasonal veg, simply prepared. The menu changes daily and mains cost around thirteen quid. Smoked eel with quails' eggs and grilled mackerel were very tasty, but our companion felt her vegetarian choices were slightly uninspired: a girolle and samphire risotto is still just a mushroom risotto. Desserts are more inventive, and notably boozy: Hendrick's gin and tonic jelly and Jack Daniel's pecan tart were a delicious if unnecessary top-up to our alcohol intake.
Décor
Contemporary Edwardian, I think we can call it. Dark wood tables, sludgy green paneling, heritage-inspired wallpaper and wax-splattered brass candlesticks hark back to the days when oysters were as cheap and popular as salt and vinegar crisps. It's all very tasteful, but the space is slightly on the sparse side: owner Nick Gibson says they're going to buy some antiques to liven it up a bit.
Upshot
Given a few weeks to settle in, and there's no reason why The Devonshire Arms shouldn't be as popular as its north London sibling. And it really isn't that far down the road.