Eat & Drink
Originally published on Tuesday, 31st July 2012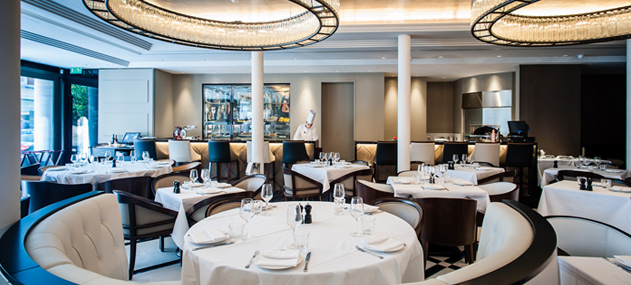 BANCA
Milan via Mayfair
30 North Audley Street, W1K 6HF
www.bancarestaurant.com
In a Sentence
Milan via Mayfair, from the people behind Zuma and Roka.
Vibe
Very Italian and very classic (think crisp white tablecloths, marble and waiters in cream blazers). There were suited men to our left, Italian ladies-who-lunch to our right.
Flavours
Fresh, seasonal fare from Northern Italy. The antipasti menu is broad – native lobster, baked sea scallops, seared octopus and terrine of rabbit to name a few – while the pasta and risotto sections stick to simplicity (go for the lasagnette or veal and aubergine cannelloni). Secondi is where it gets fancy, with seared monk tails, poached salt cod, roast milk-fed lamb and piglet belly.
Top Tip
If the 5-course menu is too much to take in at lunchtime, take a bar seat at the hot or cold counters and do it Milan-style.
Highlight
The apricot compote and lime ice cream dessert. Refreshingly zingy.