The Clientele
W fans, Bonvoy cardholders, locals.
The Hotel
Set in Santa Eulalia – home of other 5-stars including ME by Meliá and Aguas – W Ibiza has transformed an old hotel into a luxe, 162-bedroom seafront abode. The first really 'happening' 5-star hotel in Ibiza, it has filled a definite gap.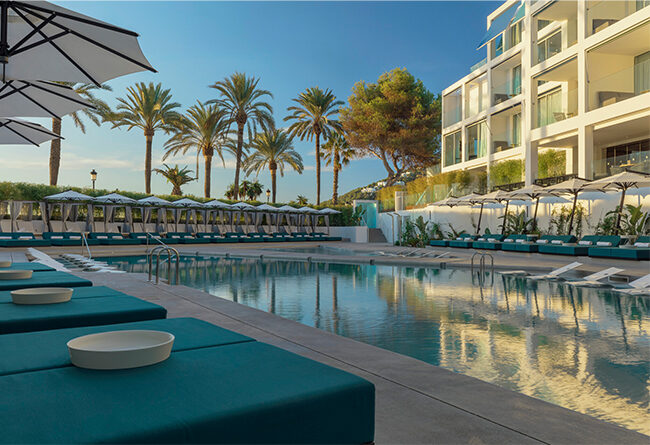 The Vibe
Classic W vibe – upbeat, vibrant – with a Balearic beat. This is laidback buzzy.
The Rooms
Opt for a seafront view to make the most of your location. Rooms have boho décor touches, and the usual Bliss amenities. Ibiza Bohemia in-room books are a nice touch, as is the excellent Coola sunscreen in the minibars. Need anything? Call their Whatever/Whenever® concierge: day or night, they'll help you out.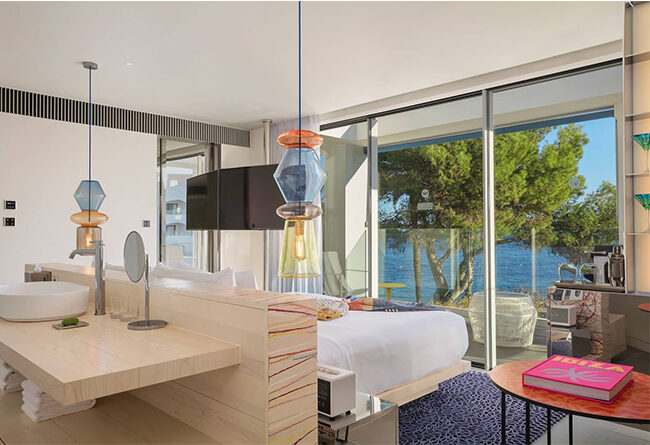 Food and Drink
By the beach, it's Chiringuito Blue for a Med menu that includes pastas and grilled fish, sashimi and hummus. By night, the sultry Argentinian La Llama for steaks and seafood salads, pumpkin carpaccio and caviar. Breakfast is served on the terrace and they have an organic / healthy Ve Café, too. The cascading W Lounge has two bars, and sometimes events.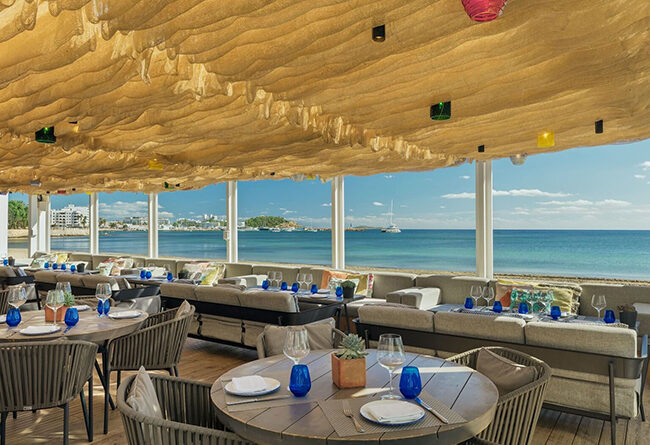 Chiringuito Blue
The Beach
You are right on the beach here, which is not as easy to come by as you'd think in Ibiza. Get a sunbed and go from beach to lunch to pool and rotate.
The Pools
The Wet Deck has DJs and serviced beds and the Glow Bar has an adults-only infinity pool, with views of the sea and Santa Eulalia. It's also host to frequent special events, including Ibiza Sonica broadcasts and feature DJs. The poolside menu is casual (wings-n-things) and they have signature cocktails.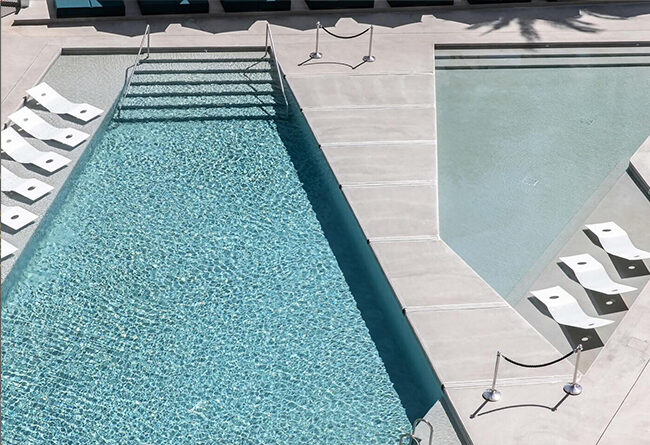 Wet Deck
Highlights
They have an Away Spa, gym, and you're on the boardwalk, so you can get a run in, should you be so inclined. As this is a W, there's always a constant influx of interesting locals and international names coming through, so it's also great for people watching.
Anything Else
Want to know where the latest restaurants are this summer? Put their Insider to work and ask. We'd recommend doing this before you arrive so you can book ahead for some of the du jour island spots.