Newburgh Quarter
Gets Its Spook On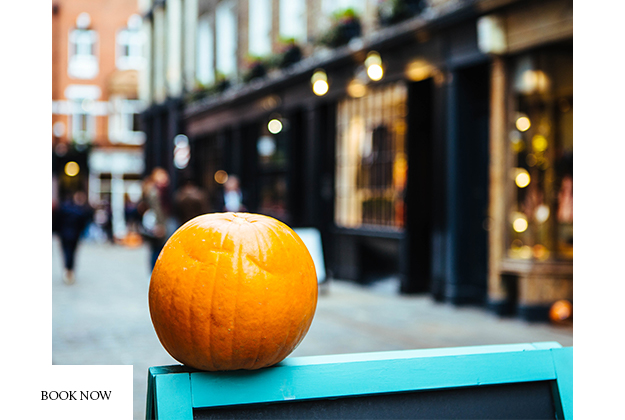 Sponsored Email
Newburgh Quarter of Curiosity
Exclusive masterclasses and workshops
We all know Carnaby's Newburgh Quarter for its unique mix of independent brands, concept stores and restaurants – plus of course, it's home to UJHQ. But as of tomorrow, head to the cobbled streets to see it in a whole new light, transformed into the Newburgh Quarter of Curiosity.

First up it's time to treat yourself at the Newburgh Quarter of Curiosity Florist with haunting bouquets of black roses, deep purple Calla lillies, Old Man's Beard or Love Lies Bleeding. It's open from 17 – 31 October at 2 Newburgh Street, and posies and bouquets are being sold for a donation to charity partner Trekstock.

Next it's time to get schooled – in the evenings the Quarter of Curiosity Florist will be hosting workshops and masterclasses to really get us in ghoulish spirits. Think cocktail masterclasses and make-up guidance from the pros – and more grown-up treat than trickery. Make a one-of-a-kind Day of The Dead headdress with an expert florist on hand to help, or find out how to take your costume to the next level with the guidance of students from the London College of Fashion's prosthetics course.

And now to save a date: don't miss Fright Night on Thursday 26th October when the Quarter will come alive with spooktastic fun: try monster menus from Kua 'Aina and Ugly Dumpling, shop freakish frames from Cubitts and go trick-or-treating at The Ragged Priest.

Happy Halloween!
Read more
Our Highlights
All workshops and events are free – just enter the ballot here to win a pair of tickets to the session of your choice.
Potion Cocktails
19th October
Tap into your inner mixologist and learn how to make some seriously impressive Halloween cocktails.

Makeup Masterclass
21st October
Something ghoulish in mind for your outfit? Pick up tips on getting the look from the prosthetics experts of London College of Fashion.

Fright Night
26th October
Live tarot reading, monster-mash DJs, Choccywoccydoodah in charge of all things sweet and The Gypsy Shrine on hand for gory body art transformations.

Halloween Headdresses
31st October
Get your Halloween costume sorted with the help of Newburgh's florist.


Find the Newburgh Quarter of Curiosity Florist at 2 Newburgh Street, Soho, W1F 7RD, open from Tuesday 17th – Tuesday 31st October.


Follow @CarnabyLondon #NewburghQuarter







(c) 2017 Urban Junkies. All rights reserved.

Reproductions of any portion of this website only with our express permission. Urban Junkies is a free weekly mailer. All listings and features are editorial: We do not receive any payment from venues, artists or promoters. Every effort has been made to ensure accuracy of information listed but we cannot accept responsibility for errors or omissions.