| | | |
| --- | --- | --- |
| | And just like that, it's spring. This week, if you're in the West End, head over to Jidori to check out their new three floor haunt. Think old faves, new dishes, Omakase sharing platters, and a private karaoke room with over 8,000 songs. Par-tay. Further off, with a little under a month until Easter, we've got all eyes on travel – long haul, short haul, road trip, staycation. Anything really, it's just time to take a break. Until then, we'll be eating and drinking our way around town (this week, Asador at Sabor is on our hit list), and trying to get returns to Girls & Boys, which is over on 17th March. Whatever you do, | |


BLOK
Redchurch Resurgence
Thought you were bored of Shoreditch? Think again
All eyes on Shoreditch: some notable new kids on the block are incoming. Tomos Parry arrives this month above Smoking Goat, BLOK gym moves into the new Amazon HQ and Ellory's next incarnation, Leroy, begins to take shape. And there are reports of a secret dining room opening from a familiar face… here comes the neighbourhood!
Read more
V&A Dundee
London Exports
Some migrations are abound in the art world
Heads up – it's time to plan a few trips, because some of the biggest names in London's art world are upping sticks. The V&A is set to open in Dundee this September – making it the first ever design museum to open in the UK outside of London. The Serpentine is heading out even further, with a new Pavilion being constructed in Beijing, designed by Chinese studio Jiakun Architects. If you can't make it out to Beijing, then head to our very own Serpentine Sackler Gallery as it re-opens this week to house Sondra Perry's immersive multimedia exhibition Typhoon Coming On.
City File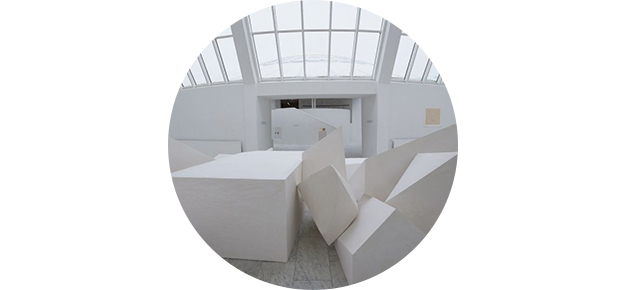 Sonar Festival's Reykjavik
Our insider guide to the Icelandic capital
If you're all about embracing the cold weather rather than running away from it, book in for Sonar Reykjavik on the 16th-17th March to see Kiasmos, Lena Willikens, Lindstrøm and Danny Brown. Whether you can make it for the festival or not, make sure you check out this guide by the festival's Creative Director (and Iceland native) Steinþór Helgi Arnsteinsson on where to stay, eat, drink and party in the city.
Read more
Printworks Live Venue
Printworks Goes Live
Prepare for some big line-ups
Printworks' very own live music venue is finally set to open, and it is going to be BIG. And by big, we mean 3,000 capacity. With production by the team behind The Warehouse Project and the Haçienda, you can bet this is going to be an impressive space to watch your favourite live acts. They're kicking things off with a show from Django Django on the 23rd March, so snap up your tickets now.
Book now
Holly Chaves
Holly Chaves is officially London's cheese queen. After hosting pop ups at Sager + Wilde, Sourced Market and Cannon and Cannon, her deli and toastie shop, Wine and Rind, is now open at Tottenham's Holcombe Market. We quizzed the Tottenham local about her favourite spots.
Who is your chef to watch right now?
Chris Leach. Check out his pasta skills on Instagram – it's just so pretty! He's just about to join the team at the new Petersham Nurseries in Covent Garden so I'm super excited to see what he brings to the menu.

What's your favourite restaurant in London?
Quality Chop House. Their bar snacks menu is stellar. I frequently order one of each of the snacks as a main course. The wine list is great, the confit potatoes are out of this world and there's a deli next door for midnight munchies.

Where do you go to celebrate?
Rules. My old boss and dear pal Yianni Papoutsis first took me there a good few years back. I've since returned every year for a suet pudding and a jug of claret on my birthday – or whenever there's cause for celebration.

Read full interview


Tea Room
Top 5: Brunches with a Difference
Switch up your brunch spots with our list
Bored of avo on toast and poached eggs? Maybe it's time to check out some new brunch spots that are shaking things up a bit.
Read more
The Weekend
| | | |
| --- | --- | --- |
| | It's time to weekend! We've balanced things out nicely for you with a one-off disco set by PBR Streetgang on Friday, a chilled Saturday taking in the mastery of The Velvet Underground's John Cale at the Barbican, and a Sunday spent discovering your new favourite natural wine at Raw Wine London. | |





(c) 2018 Urban Junkies. All rights reserved.

Reproductions of any portion of this website only with our express permission. Urban Junkies is a free weekly mailer. All listings and features are editorial: We do not receive any payment from venues, artists or promoters. Every effort has been made to ensure accuracy of information listed but we cannot accept responsibility for errors or omissions.