…you're probably bored of hearing this by now, but it really does feel like back to school week. But with work, comes play, so you're definitely going to need to treat yourself come the weekend. We say the time is now to book into Neptune with 50% off (see below for our exclusive offer). It's a great place to while the night away, and you can kill three birds with one stone and visit Palm Court and Fitz's too whilst you're there. Over in Mayfair, we've been hearing great things about Scully (the new solo venture from ex-NOPI head chef Ramael Scully

) – read his interview

below

for some inspired LDN restaurant picks. As for us, with summer holidays largely over, it's time to book in something to look forward to – and we have Barcelona on the mind. Check out the new EDITION there, plus W's Wake Up Call Music Festival, and try Two Schmucks and the imminent new opening from Bar Brutal too. Maybe back 2 skool isn't so bad after all.


In Flux
The seismic shift taking place in London's nightlife
Whether they're headed further afield or staying local and pushing the boundaries, London's club life might be under threat, but it's not going anywhere. We look at how the new players are ensuring the party still goes on to dawn.
Read more
The Palm Court
Saccharine Dreams
Yes, more patisserie to write home about
We're never usually swayed by dessert, so to catch our eye, it has to be really good. But even we can't resist the burgeoning trend for bakeries and patisseries of note. London's infatuation with St John's doughnuts has been a badly kept secret for a while, and now they're opening a standalone bakery in Neal's Yard this month. Then there's Jolene, the new bakery and restaurant opening in Newington Green from the Westerns Laundry and Primeur crew. And if that doesn't satisfy your sweet tooth, try Palm Court – the final piece of the Principal's Bloomsbury puzzle – for yuzu and sesame cakes and botanically infused cocktails.
Ramael Scully
We're hearing great things about ex-NOPI head chef Ramael Scully's solo venture, and just before heading in for a visit, we found out a few of his favourite spots – from authentic Malaysian food to Asian tacos in Stoke Newington.
Can you recommend us a hidden gem we might not know of?
A small Malaysian café/restaurant called Dapur. It's only open in the daytime from Monday to Friday, and it's all home cooked by the wonderful Sharizah. It's buffet style, with something different every day – reminds me of home!

Where do you go to celebrate?
Victory Mansion in Stoke Newington. It does the ultimate Asian tacos: my favourites are the charred sprouting broccoli, and spring onion with salted duck egg relish. They also do the best cocktails – my choice is a classic negroni.

What's your all time favourite restaurant in London?
I think for consistency and comfort it's got to be Plum Valley in Chinatown – they just do such good dim sum for great value.

Read more


Sponsored
A W Hotels Music Festival
Listen to our exclusive playlist ahead of the event
There's no better way to get excited for an event than a good playlist. Ahead of Wake Up Call Music Festival at W Barcelona (running 21st-23rd September, more details here), W Hotel's Music Director Kristina Dolgova has put together a Wake Up Call-inspired list of tracks to get you into the party spirit. With tracks from Drake, Disclosure, Kerri Chandler and Yaeji, it'll get you dancing wherever you are.
Listen now
Product Pick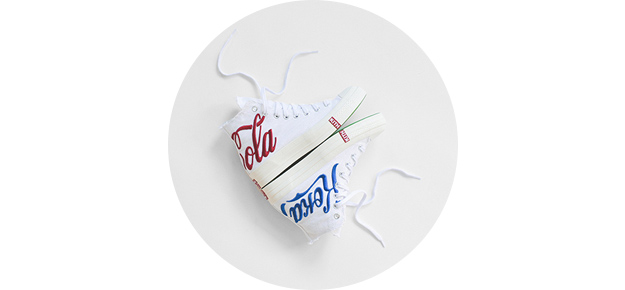 The Art of Collaboration
The fashion partnerships we've got our eye on
If, like us, you're already thinking about your autumn wardrobe, we've got just the thing. It's the season of collaboration, and we've rounded up a few that have caught our attention. First things first: we're eagerly awaiting the drop of Michael Halpern's Topshop collaboration in November for all our partywear needs – we're expecting sequins. As for dressing it down, we're looking to Kith's Coca Cola collab, and we're seriously coveting a pair of Off-White™ x Serena Williams Air Max 97s, too.
Sponsored Listing
Don't Miss Out
Experience a UJ favourite at half price
If you've read our Neptune review, you'll know we're big fans of Margaret Crow and Brett Redman's no-holds-barred seafood restaurant. If you haven't made it in yet, now's the time, because they're exclusively offering UJ readers 50% off until September 20th. And if you needed any more persuasion, they're also throwing in a complimentary glass of fizz, and there's a whole new menu to try (think wood-fired lemon sole and roasted Yorkshire prime rib). To book, just send an email to this address with your preferred date, time and party size (max 4) and quote UJNEPTUNE. Please note, the discount applies to the total a la carte food bill for lunch or dinner.
Book now
Sponsored Listing
Get £10 Off Tickets
An exclusive offer for UJ readers
Calling all wine aficionados! After recently being awarded Best Online Wine Shop (IndyBest), Honest Grapes is celebrating their fourth birthday with a very special tasting (how else?). Book in on 13th September for a chance to sample 30 of their best bottles, plus meet the winemakers behind your favourites. Tickets are selling fast so get booking! UJ readers get £10 off at checkout simply by entering the code URBANGRAPE.
Book now
See you next week!
Want more from Urban Junkies?
For the latest restaurants, events, travel inspiration, product picks and playlists, visit our website.





(c) 2018 Urban Junkies. All rights reserved.

Reproductions of any portion of this website only with our express permission. Urban Junkies is a free weekly mailer. All listings and features are editorial: We do not receive any payment from venues, artists or promoters. Every effort has been made to ensure accuracy of information listed but we cannot accept responsibility for errors or omissions.