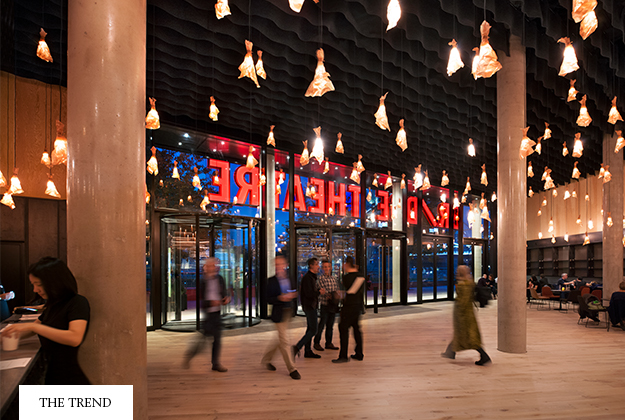 The Bridge Theatre
Take it to the Bridge
Getting re-acquainted with London Bridge
From the queues at Padella to the buzz around live music venue Omeara, one thing is clear: London Bridge is thriving. The south bank of the river has got it going on right now, and the recent influx of promising culinary hotspots is proof, if you needed it. We're sure you've already got some favourites, but prepare for some newcomers.

Back in June, former Viajante chef Leandro Carreira was finishing off his run at Borough Market's Eighty Six List, and now his eagerly anticipated new restaurant is here. Londrino, named after the Portuguese word for Londoner, is Leandro's first permanent site, and incorporates those two influences into the mix at his new Southwark restaurant. The first round of dishes – octopus with red pepper miso and grilled brioche with sour caramel and hazelnuts – have already caught our eye. Fans of Leandro's work at Lyle's and Koya, take note.

Eight pastas, pared-back antipasti and 25 wines available by the glass? Flour & Grape are spelling it out for us, and we're into it. The new Bermondsey Street spot from the same team behind Antico is housed in a former antiques warehouse. They've switched the fine dining for counter seating and communal tables – we say bring a crowd and try the whole menu.



Even

The Bridge Theatre

has some impressive food credentials. They've brought on St John's for the theatre's bar and small eats, and you can say goodbye to the mad interval dash and rushed snacks. Instead, house Champagne and freshly baked madeleines (yes, really) will be available between performance parts, and the all-day bar stocks their infamous homemade doughnuts, meaning it's worth stopping by for the sugar rush alone.



If you rarely find yourself south-side, mix up your weekend hangout spot – there's a lot more to come from SE1.
Mortimer House Kitchen
Healthy eats in chic surroundings
If you want access to Fitzrovia's members' club Mortimer House without signing up for membership, then book in for some healthy all-day dining at their newly opened Kitchen – think Mediterranean/Middle Eastern vibes with an entire menu section dedicated to avocado.
Find out more
The Weekend
| | | |
| --- | --- | --- |
| | Get ready to weekend! Try out a forward-thinking dance party on Friday, take a culinary tour of the Camino de Santiago (without leaving London) on Saturday, and spend Sunday inside Nathalie Du Pasquier's Other Rooms. | |
Winterville
Seasonal Highlights
From Thanksgiving feasting to some very un-traditional carols
Think it's too early for all-out festive, but still want to do something wintery and fun? Try these out for size: Peckham's foremost label Rye Wax take over the decks at Somerset House's Skate Lates, Sink the Pink present their own take on a Christmas choir at Winterville, and Red Rooster host an all-American Thanksgiving. Or, cosy up with a film: try out the Berkeley's Rooftop Cinema from the 1st of December for a festive flick in your own private cabin.
Eran Tibi
After launching his new breakfast concept Bala Baya Shook last month, we sat down with Israeli-born chef Eran Tibi for a quick catch up.
All-time favourite London restaurant?
10 Greek Street. They use good ingredients and know how to execute them well – it's simple but always stunning and changing. It has a fabulous atmosphere and super friendly service.

Where do you go when you want to celebrate?
Bistrotheque has always been my go-to for celebrations; go for cabaret followed by dinner. The menu in the last year has really impressed me.

Where would we find you on a night out?
Sink the Pink throw the craziest, most extravagant nights out you can imagine and the energy is amazing.

What's your local?
My local used to be Trullo and I was so thankful – they do simple Italian like no other. Sadly, I've just moved to Bermondsey! So now I go to their younger sister Padella for my fix.

Where do you go for a retail fix?
I hate shopping unless it's for food. Ridley Road Market is my favourite at the moment, it's in your face but I have lots of fun there.


Sponsored Listing
Now at the Aldwych Theatre
Get booking to banish the winter blues
Want a big, bold night of cabaret, burlesque and circus? We've got just the thing. From the 24th November until 3rd February, LA SOIRÉE are taking over the historic Aldwych Theatre, changing things up by placing their usual stage in centre of the stalls and installing their familiar 'in the round' ringside seating. It's theatrical, heady and hilarious (and it's won an Olivier Award). The main show is only suitable for adults, but the Saturday afternoon show LA PETITE SOIRÉE has the same spirit for a slightly younger audience.
Book tickets
Hotel Spy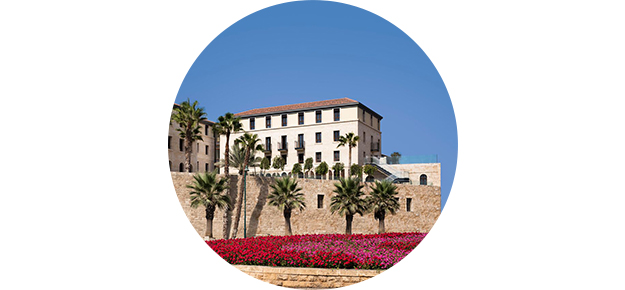 The Setai Tel Aviv
Historic grandeur meets contemporary luxury
If you've been thinking about a trip to Tel Aviv, maybe now's the time – the Setai's latest hotel opens its doors there in January 2018. Combining original 13th century architecture (all the original wooden ceilings and ironwork have been preserved) with modern touches and five-star service, it's all about contemporary comfort in an old world setting.
Find out more
The Gourmand Editions
Christmas shopping for your foodie friends: done
To celebrate their 10th issue, The Gourmand are launching Editions, fine art prints of some of their much loved imagery, alongside a range of tees and totes. We can't decide which one we want most, so we're thinking of just getting all three.
Photo: © Joanna Piotrowska
Sponsored Listing
Dinner and Art Auction
Art, music and food come together at Protein Studios
On the 23rd November, Protein Studios in Shoreditch hosts Her Stories, a one-off event combining art, food and music to raise money for three UK-based women's charities. Ellen Parr (Moro, Art of Dining) is hosting a seated dinner, followed by entertainment by emerging female talent including comedian Sindhu Vee and musician Self Esteem. After dinner, Leila De Vos van Steedwijk (Christie's) leads the auction, and the night wraps up with Kaya Kaya Records on the decks. And it's all for a good cause.
Book now





(c) 2017 Urban Junkies. All rights reserved.

Reproductions of any portion of this website only with our express permission. Urban Junkies is a free weekly mailer. All listings and features are editorial: We do not receive any payment from venues, artists or promoters. Every effort has been made to ensure accuracy of information listed but we cannot accept responsibility for errors or omissions.