| | | |
| --- | --- | --- |
| | …carnival weekend is ridiculously close. We love carnival, but we also know what its arrival signifies… so on that note, let's get out there and enjoy the sunshine whilst we still can. We know a lot of people are away for August, but if you're still in the city to work, take this time to check out somewhere you've been meaning to while it's a bit quieter – we have Scully, Parsons, Gazelle and Leroy on the list. As for bars, we finally made it in to Three Sheets last week; the drinks truly are as good as people say. And for this weekend? There are great reports coming in from Secret Cinema's Romeo & Juliet – and there are still standard tickets left if you fancy it. And if you've been hearing rumours of Ibiza being quiet this season, take a look at the hashtag #metalmania, the recent party from fash photographers Mert & Marcus. It's good to know the White Isle is still thriving. Watch out for our Ibiza August Issue, coming out this Thursday. | |


Sapling
Sip It Real Good
The best thing to do in this heat? Raise a glass, n'est-ce pas
There's so much more to summer wines than pale rosés: from black wine to the unlikely return of grüner veltliner, this week's trend delves into the new varieties worth straying from your usual for, and where to find them.
Read more
Borealis
Nordic Notions
Scandinavian cuisine is taking over
Ok, so we might not have our own Noma yet, but a crop of new Nordic restaurants are incoming. Last week Soren Jessen's Borealis opened its doors opposite Borough station for smørrebrød lunches and pariserbøf dinners (that's sandwiches and seared beef tartare to you and me), Pip Lacey of Murano will be serving up British ingredients with a Nordic twist at Hicce (we're told there will be a lot of wood firing, curing and pickling) – and Scandi-inspired spot Rök is opening in Soho with a new, healthy menu that focuses on the fermented, preserved and the plant-based.
Frank Pinello
Pizza fans rejoice, because Frank Pinello (of NY's famed Best Pizza, and Munchies' Pizza Show) has joined forces with UJ fave Yard Sale from 6th-31st August and we caught up with him whilst he's in town.
What's your all time favourite restaurant in London?
St. John – the simplicity and class make it one of my all time favourite restaurants anywhere! I had an amazing experience the first time I went.

Where do you go for drinks in NYC?
The Commodore is my favourite bar in New York, and my neighbourhood watering hole (it's right on my block). I love Maison Premiere for an excellent cocktail, and The Four Horsemen (owned by James Murphy of LCD Soundsystem) is good for a plate of pasta and a great glass of wine.

Who is your chef to watch right now?
Jeremiah Stone and Fabian von Hauske are super talented… here in New York they have two great restaurants, Contra and Wildair, and they just opened an amazing pizzeria – Una Pizza Napoletana – with Anthony Mangeri.

Read more


UJ Playlist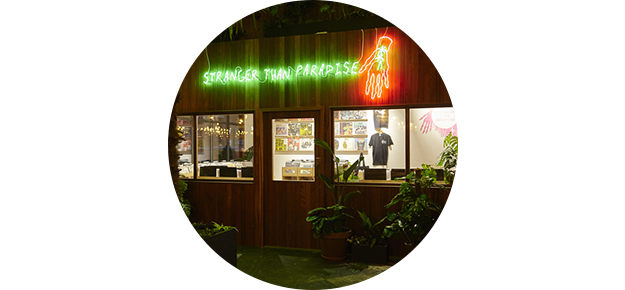 Stranger Than Paradise
What Mare Street Market's record store are playing
We've enlisted Noreen McShane, owner of Mare Street Market's resident record store Stranger Than Paradise, for this week's playlist. Hit play and expect to hear what's on rotation in store, from new reissues to 2018's emerging artists.
Listen now
Transart Foundation
The Transart Foundation, Houston
A new multidisciplinary space in Texas
Houston's museum district keeps on growing: there's The Menil Foundation, The Cy Twombly Gallery, The Houston Center For Photography, and now, the Transart Foundation. Dedicated to exploring the relationship between art and anthropology, the minimal, sculptural building has been designed to look like it could 'scatter like cards'. One to snap if you're in the area.
Find out more
Sponsored Listing
The House of Peroni: Alexander Fury
Join us for a talk from AnOther Magazine's Editor-in-Chief
If you keep up to date with what's happening in British fashion, it's very likely you've heard of Alexander Fury: he's one of the industry's most respected voices, and the Editor-in-Chief of AnOther Magazine. On 30th August he'll be joining us at The House of Peroni studio, home to their eight emerging designers, for a night of discussion on 'The Effort Behind Effortless Fashion', the fourth in a series of talks celebrating Peroni's new initiative. In true Italian style, there will be Peroni Nastro Azzurro and antipasti on hand for refreshments, so apply for tickets now by entering your details below.
Enter now
Hot Hot Heat
Time to embrace the sunshine
So we've heard the heatwave might last until October, and with that in mind we're dressing for the sun. Here's to the hot weather with these sunshine hues and neon brights.
Shop now
See you next week!
Want more from Urban Junkies?
For the latest restaurants, events, travel inspiration, product picks and playlists, visit our website.





(c) 2018 Urban Junkies. All rights reserved.

Reproductions of any portion of this website only with our express permission. Urban Junkies is a free weekly mailer. All listings and features are editorial: We do not receive any payment from venues, artists or promoters. Every effort has been made to ensure accuracy of information listed but we cannot accept responsibility for errors or omissions.