| | | |
| --- | --- | --- |
| | …means carnival. But as there will be no carnival this year, we're looking for other ways to keep our spirits high. UK travel to popular spots might be out due to availability, but elsewhere, it's never been a better time to take a trip. We have Favignana and Greece (anywhere small/local) on the cards, Puglia too. Whatever you do this month, make it a good one – after the last six months we've all had, we definitely deserve some balmy, carefree summer nights. Happy August all! | |



Charlie McKay, Joy
Re-work
The times, they are a-changin'
We all know lockdown has brought about change. With chefs, we're seeing some do something new, some collaborate, and some hone in. Chins up, forks out.
Read more
Plates
Bring the sun in…
Who are you, anyway if you don't have a plate these days, handpainted from one of the Italian summer greats: Da Adolfo, Lo Scoglio, La Tonnarella…we could go on. We won't complain though – most of our plate envy comes from Bellini Travel, whose owner has a truly charming, down to earth tone, highlighting the best that Italy has to offer (most of her recommendations are rustic greats too, which we love). Our solution if you're not making it to Italy this summer? Order some Italian crockery in, pour a crisp Italian white and voilà! Lon-coast.
Luca Dusi
Owner, Passione Vino

Luca, the vivacious, knowledgable owner of one of our favourite wine shops, Passione Vino, not only knows his wine, but he's great on restaurants too. After noticing a recent open fire weekend he had in Cornwall, and remembering one of his past long-table-in-the-field feasts, we asked him for his top five favourite global outdoor dining picks. Take note for instant August inspiration.

Luca's Top 5 Outdoor Dining

1. London Shell Co, London
It's a restaurant on a boat, run by bright and passionate siblings Leah and Harry.

2. Agriturismo Al Tiglio, Ponte in Valtellina
Family-run 15/20 seat restaurant, where everything – I really mean everything – is own produced: they grow cereals, grain and vegetables of all sorts; they breed cows, pigs, chickens, goats; make their own charcuterie, cheeses, butter, wine, breads, cakes, jams, honey; there's no menu, no wine list, no plastic, and an all wood fire…I truly love it.
Read more


Double Standard
Around Town
Wining and dining
Now, we aren't really ones to push bottomless options but two have caught our eye. 1) We salute Benares who have launched a bottomless menu, during the week (Tuesday and Wednesday). Why not. 2) The Standard's new Sunday bottomless brunch option (at Double Standard) includes Bloody Marys or prosecco and menu items like hot dogs and a burger with Bloody Mary ketchup (yes please); they have a great terrace, too. Other venues on our radar include Maida Vale's new Japanese pizza spot Tokyo Pizza (Wagyu or Kinoko aka Japanese mushrooms) which looks interesting, and Sabor's al Fresco (Sabor greats served in the courtyard) is worth a trip; it's as close to Spain as many of us are unfortunately going to get this summer and has a great festive vibe. Over at Somerset House, Spring has just launched a pink pop up in the courtyard with ice creams and ice lollies, toasties, granitas, and negronis. Lastly, some one-off dinners: Racine is at the Chelsea Physic Garden for one night only, and Kricket has just announced a chef guest series including nights with Andrew Wong (15 Sept), Vivek Singh ( 22 Sept) and Nuno Mendes (29 Sept); get booking.
More restaurants

Inflatable
Go for a ride
If this doesn't make you smile, we're not sure what will.
Lip inflatable
The Newt, Somerset
Close to Babington
But not Babington...
Are there ever rooms at Babington? Unless you are blessed with the number of the keeper of rooms (batphone!), it truly seems impossible. On a mission to be close to Babington, but not at Babington, we now have a list, should you be in the same dilemma. Click through…
Hotels close to Babington House
PLAYLIST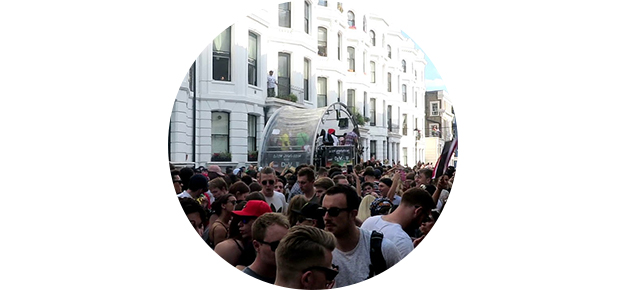 Carnival
We can pretend
We knew this time would come… the carnival that can't be. Sad as it may be (Deviation sound system we will miss you!), we still plan on getting through the bank holiday weekend with rum, prints, and good, good carnival tunes. Warm up starts now.
Press Play for MAV's carnival Mix

Haweswater Hotel
UK Travel
Haweswater Hotel
Want to go to the Lake District or Cornwall this month? HAHAHAHA. Good luck. We now have several hotels on speed dial, and it still seems pretty tough. BUT. Sept…There are more options, and for us, there's something about this hotel. It's not fancy, it's not well known, but it seems just right. Can't get in there? We have it on good authority that the Peak District is easier. Think it's time we become one of those people who book for 2021 (never).

Haweswater Hotel
Mambow
Restaurant Kits
This much we know
So, like anything in London, first we had none, and now we have a plethora. So far with restaurant kits this much we know. Do really think about if someone will be home on the day you order it for. If not, like any other delivery, it turns into a logistical gong. Do ask how many people it serves; the ones we've had so far could have fed at least a couple more people. Other than that, we've only had a couple, but Mambow – Malaysian bowls of flavourful greatness – was a definite one to remember (was so good to have such healthy, innovative flavours). For pasta, Nonna Tonda was impressive; fettuccine with Cornish sardines and fennel sauce with a pine nut pangrattato. Want an upgraded TV dinner for your night in? On Marquee Arts TV you can watch dance, opera and theatre on demand gratis (14 days).
TAKE THREE

Solo Holidays

But not the kind you're probably thinking. Born out of 'rona-necessity, these are holidays where you have the hotel to yourself (or in the case of the Maldives, with a small group). The below are our top 3 (we realise these are exorbitant, but still).

Castello di Ugento, Tuscany
Finca Cortesin, Andulucia
Milaidhoo Island or The Nautilus, Maldives

Be the king/queen of your castle! For €19, 8,500 a night.

67 suites, for €29,000 per night.

Private flight, 2-week half-board, spa treatment, excursion- £45K for 2. OUCH.







(c) 2020 Urban Junkies. All rights reserved.

Reproductions of any portion of this website only with our express permission. Urban Junkies is a free weekly mailer. All listings and features are editorial: We do not receive any payment from venues, artists or promoters. Every effort has been made to ensure accuracy of information listed but we cannot accept responsibility for errors or omissions.

We have updated our terms and conditions link and privacy policy link to make it easier for you to understand what information we collect, how we use it and what rights are available to you to control your information. The privacy and security of your information are very important to us. If you have any questions or comments, please send us a message by info@urbanjunkies.com. Thanks as always for reading UJ.