| | | |
| --- | --- | --- |
| | …getting used to all this sunshine! London certainly is a different place right now and it's time to make the most of it. If you don't have tickets to House Festival this Thursday, don't worry. It's the perfect excuse to take the afternoon off (everyone else got tickets!). We say find a pool instead. Come the weekend, we'll be checking out the new Hawker Union in Wood Green (from the Street Feast fam), which launched last week with a food rave – #UJLoves. And if you don't have tickets for Lovebox yet (Childish Gambino and N.E.R.D on Sat 14th), now's the time. Enjoy! | |

Virgil Abloh, Louis Vuitton SS19 Menswear
New Rules
Everything is not as it seems
The everyday is no longer what it used to be. From the first bitcoin art auctions to the next Warhols of our time, there are some new rules on the cultural playing field.
Read more
Gazelle
July Openings
New month, new openings
Last week we reviewed our favourite openings from June, and now we're looking forward to trying out some new summer spots. We're hoping to see Tony C's Gazelle finally open its doors this month (we hope!), alongside Kitty Fisher's seafood-orientated sophomore venture Cora Pearl (we'll take the Bloody Mary mackerel and the deviled crab) and ex-Zuma chef Endo Kazutoshi's 15-cover sushi spot.
Mark Gurney
Ahead of Salon's next Strictly Bangers night (natural wines + vinyl, #UJLoves) we speak to Mark Gurney, director and sommelier of the Brixton restaurant. The next event is on 5th July with Fran and Mat Roberts (Westerns Laundry/Primeur) – get your tickets here.
What should we be drinking this summer?
Decent wine in a box – white, rosé, red – all nicely chilled and ready to whip out at the nearest park/festival/BBQ. It uses less packaging, has a smaller carbon footprint and once opened it stays good for at least two weeks! I'm particularly fond of Andrew & Emma Nielsen's Du Grappin's "bagnums" and 5 litre BiBs. Superb value and quality.

All-time favourite London restaurant?
Oooof, too hard. But with a gun to my head, I'd say Lyle's for pure subtlety and craft.

Can you recommend us somewhere we might not have been?
Sakeya in Pop Brixton is a wonderful and tiny (5-6 standing places) Japanese fish bar. Niroko, the owner, is an artist with her knife and creates beautiful sushi and nigiri.

Read more


Photo: © Balthazar
4th July
Time to celebrate!
The 4th July is almost here so it's time to plan those celebrations. Start off at Carousel for their Asta residency: the Boston restaurant's head chef Alex Crabb (Noma, L'Espalier) will be serving up fine dining inspired by the American northwest – expect dishes like shrimp terrine and cold strawberry and tomato soup. It's a week long, but book for the 4th if you can. After, it's off to Red Rooster for some New Orleans style fun at their Block Party – think fried chicken, Jack Daniels and brass band beats. And if you want a quiet one? Pre-order one of Balthazar's giant homemade pies and stop by en-route home.
UJ List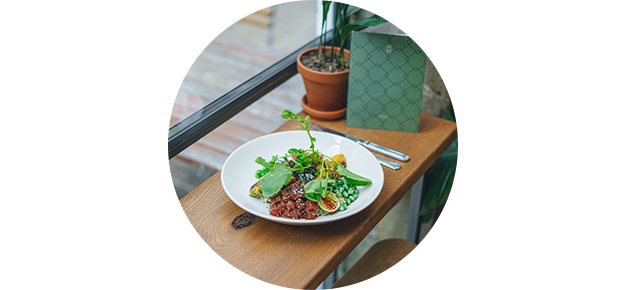 Summer Eats
What we're eating when the sun's out
Things have started to heat up in the city, and for once we don't feel like indulging in our favourite junk food or carbing it up. We're craving fresh, light bites, from poké to ceviche – so keep reading to see where to get your sunshine food fix.
Read more
Sponsored Listing
At the London Palladium
Don't miss out!
Sometimes you just need a big, theatrical night out to see one of the classics. We say book in for The King and I at the London Palladium sooner rather than later – they've just extended the run until 29th September, and it's your only chance to see it with the original Broadway stars – the Tony award-winning Kelli O'Hara and Oscar nominee Ken Watanabe. Need a bit of romance in your life? We'll see you there.
Book now
Photo: © Alasdair Mclellan
Palace x adidas Tennis
Wimbledon whites
Wimbledon is in full swing that means one thing: all eyes on the Palace x adidas Tennis collab. All the adidas players are wearing it this year, and you can get your hands on it too – it's released via the Palace store at 11am tomorrow. See you on the court!
See you next week!
Want more from Urban Junkies?
For the latest restaurants, events, travel inspiration, product picks and playlists, visit our website.





(c) 2018 Urban Junkies. All rights reserved.

Reproductions of any portion of this website only with our express permission. Urban Junkies is a free weekly mailer. All listings and features are editorial: We do not receive any payment from venues, artists or promoters. Every effort has been made to ensure accuracy of information listed but we cannot accept responsibility for errors or omissions.