Details
Opening hours
Sun-Thu: 12-11.30pm
Fri-Sat: 12-12
Address
9a St Thomas St, SE1 9RY
More info
020 3957 9932
Website | Instagram
Opened
December 2017
This is the first international outpost for Hong Kong's two Michelin-starred Duddell's, bringing some seriously upmarket Cantonese vibes to St Thomas Street.
Décor and Vibe
Housed within the converted St Thomas' Church, Duddell's is as striking as it sounds. High ceilings are a given, and the original stained-glass windows have been preserved and make for an impressive talking point whilst you dine. There are two dining levels – we'd recommend asking for a table on the top floor if it's available, as the banquette seating on the bottom level can feel a bit crowded. The surroundings might be grand, but the restaurant is buzzy and fun, with Jessie Ware and Childish Gambino on the stereo.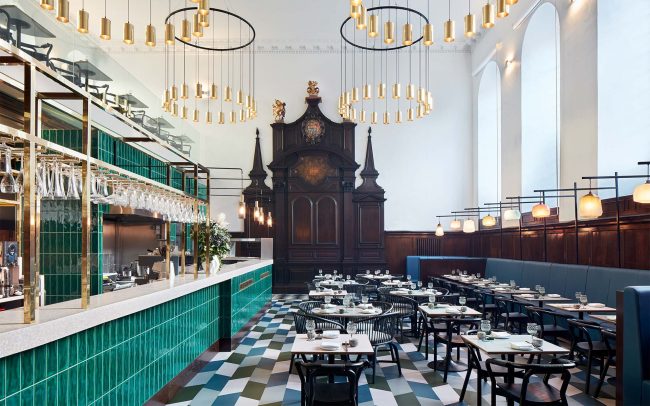 Photo: © Ed Reeve
Food
Although Duddell's is renowned for dim sum, you'll need to come here for lunch to get the full selection, ordered via a classic tick list menu. If you're in for dinner and want a taste of those famed dumplings, opt for the 'dim sum symphony' from the starters. The menu is extensive here and it's hard to know what to order if you haven't been before. We asked the staff for recommendations and ended up going for some Duddell's versions of Cantonese classics: salt and pepper squid, prawns with bottarga chilli sauce, monkfish in black bean sauce and – of course – that peking duck.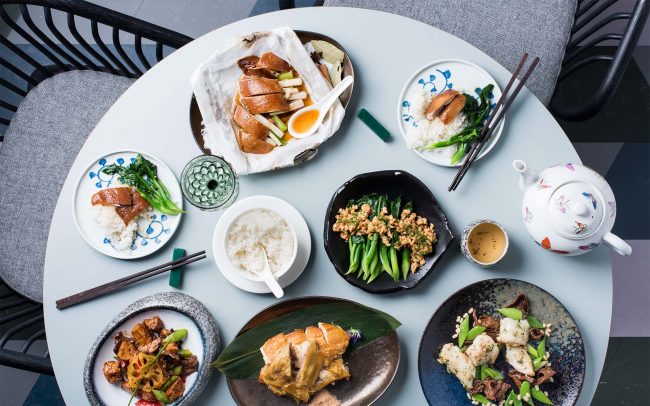 Drink
Although the cocktail list is innovative and surprising (the screwpine negroni is a highlight), if it's busy you can wait a while for these, so opt for wine if you're in a rush – the sommelier knows his stuff and is more than happy to make a suggestion from the concise wine list.
Highlight
Something we weren't expecting (and it was a nice surprise) is that when you order the aromatic duck, half of it is carved in front of you for pancakes, and half of it is served with your mains in a sauce of your choice. It's one of the best (and actually, most affordable) dishes on the menu, and it's deserving of the hype.
Top Tip
Don't just order from the chef's recommendations section – find out what the staff like too, and you might end up discovering a new favourite.