Details
Address
Baccarat Hotel New York, 28 West 53rd Street, New York, NY 10019
More info
The Hotel
As this is the home that Baccarat built, it's a truly luxe abode, as you'd expect. Think one part Blair Waldorf, one part Eyes Wide Shut, with a heavy dose of international mystery, and you'd be on the right path. True Upper East Side bling with a seriously sexy Parisian undercurrent. And as it only has 114 rooms, this is a very personal affair.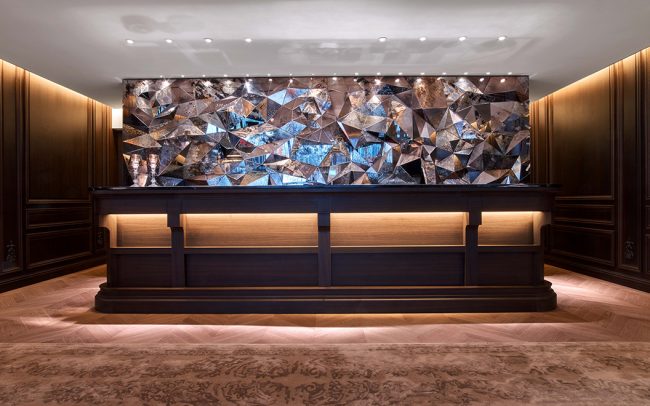 The Vibe
Smolderingly rich. The entrance alone is a good indication of what's to come. Choose door left, and it's the residences (yes, some people can actually afford to live here). Open the door to the right, and you're into Baccarat world. Moody black everything with a crystal wall, atmospheric modern fire, and an alluring musk scent. There's a standing candelabra the size of a large adult, plus mirrors and music. This vibe is hot. Head up to reception and Champagne is served in a flute you wouldn't want to drop. There's a subtle influx of well dressed guests and the 'hosts' (a.k.a. those at the check-in desk) are eloquent and all have that classic NYC grooming: glossy, polished, considered.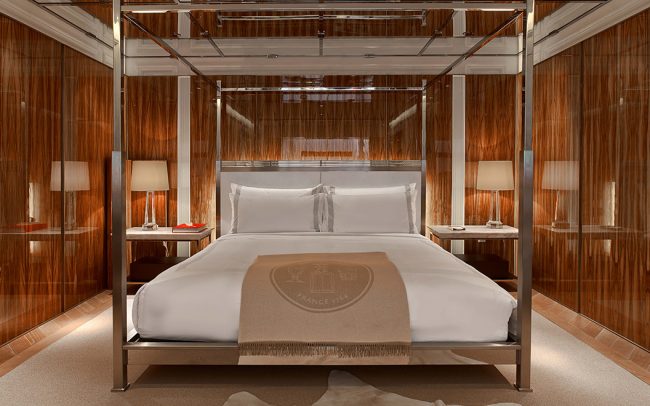 The Rooms
This is the room you can't bring yourself to leave. And if you like crystal, this is your playground. Illuminated crystal cake tier (secured to the desk), crystal glasses beside the sink, a chest filled with the perfect wine glass for any occasion. Bedding is smooth and silky, and (most) beds are four poster. There are one- and two-bed suites, should you be travelling with the fam. Products are Baccarat-made with a wax seal of approval (#UJLoves) and the furniture is plush. Rooms are largely cream, with red accents and dark wood. Washrooms are black and white and classic, with shower screens that can be raised or lowered for privacy. And the tech… the TV is more like a hologram that appears at the press of a button in the smoked mirror, and hidden in a bedside table 'book' is a handy iPhone-like device that controls most things, and also lets you text for anything else you might need (a blessing, as who really wants to talk).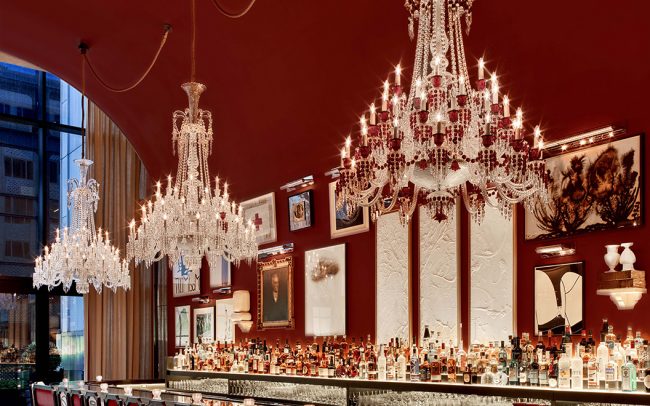 Restaurant and Bars
This is a serious after-work spot for the well-suited and heeled, with a smattering of understatedly elegant hotel guests. Start at the bustling bar or terrace, and stay to dine. You're here to treat yourself, so splurge. How about grilled cheese with truffle cream? Lobster beignets will do the trick, too. Oh, and caviar – you need caviar. UJ loved the decadent breakfasts and room service. And the pet menu. That's right. Your four-legged friend will receive only the finest here, of course.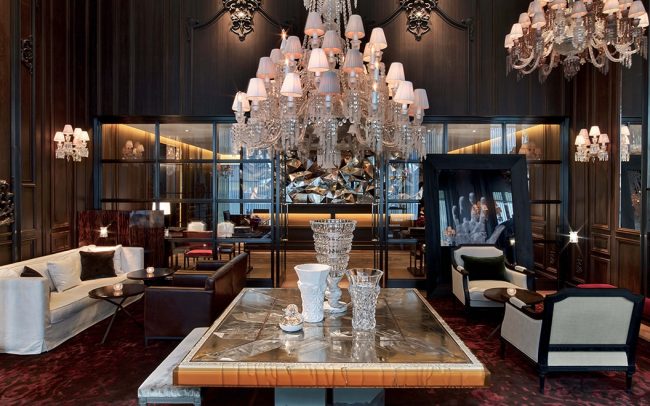 Highlights
UJ loved feeling like we lived here. You might not get to turn left (yet), but turning to the right, and feeling like this is your own Manhattan residence for a couple of days, is pretty special. Also, there were unexpectedly a large number of young cool peeps here, which in turn made the hotel feel very fresh.
Anything Else
There's an indoor pool with plush four poster day beds, and a Spa de La Mer, with renowned treatments including their Miracle Broth™ facial (rejuvenation and vitality acquired after $350 and 90 mins – we're in!). There's a gym with a rug that has – wait for it – a chandelier on it, and a chic courtesy car that will drive you anywhere within 15 blocks (if available).
The Details
Rates start from $773