Details
Address
79 Crosby Street
New York
NY 10012
More info
Forget arrogant hipster staff, and the 'cooler than thou', serve yourself kind of service that you might get from some of the 'edgier' spots in town. At Crosby Street, you'll feel like you've come home for the weekend; walking through the portered doors here is like getting a warm hug – a welcome reprieve from the chaos outside. This is a truly cosy, grown up affair, offering amazing service in the centre of town.
The Hotel
This is a Firmdale so you know what to expect: the usual Kit Kemp scheme of colourful clashing prints and fabrics, with collectable artwork, a screening room and here, a SoHo vibe throughout. You're close to everything – Balthazar's a stone's throw, and although they have a gym, you're also close to a plethora of fitness classes (Soulcycle, Barry's). You're a quick sprint to UJ faves Café Select (and it's little sister Rintintin – which has a great bar) and La Esquina, which is useful. By Chloe is close too, should you need a vegan fix. The hotel also has a kitchen garden on the 12th floor, for fresh fruit and veg for their restaurant.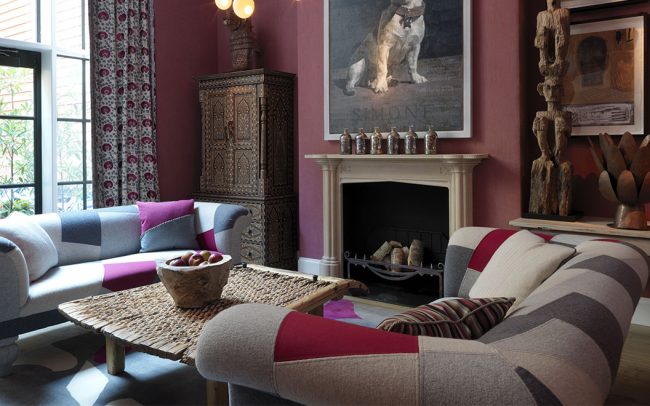 The Vibe
This hotel is busy from dawn to dusk; you can tell it's definitely a local media fave for dining, and courtyard (terrace and garden) drinking come the warmer months. However, it never feels hectic. The usual Firmdale guest-only honesty bar (with bartender) is here, meaning you can always also relax in the hotel's sitting room in peace.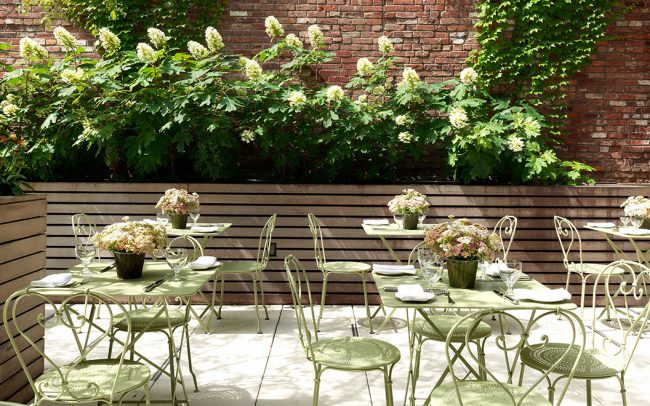 The Rooms
With floor to ceiling windows (many complete with window seats) right in the heart of SoHo, you really do feel like you're actually in the heart of it all. Bathrooms are shiny, moody marbles and most rooms are large by New York standards. Thread count as expected is high, and the room service menu has everything you want to eat for breakfast (think burrata scrambled eggs with arugula and truffle pecorino with hash browns), and then some. A highlight here is definitely the noise proofing. We didn't hear ANYTHING throughout our stay. We actually turned our speaker up – higher than acceptable – and went outside to test it. Not a peep. Again, you definitely won't get a sleep like this at some of the trendier haunts in town.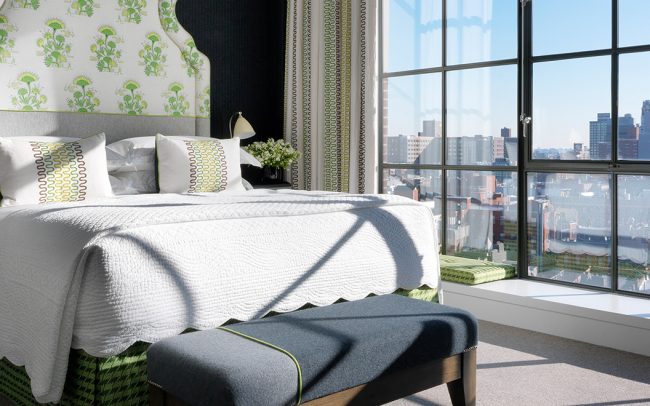 Anything Else?
The art here is amazing. There's a 12-foot bronze cat statue by Fernando Botero in front of the building, and an incredible 10-foot steel sculpture of a head made out of letters by Jaume Plensa. Keep your eyes open, and watch your hands! Also, try their newer NY property, The Whitby, in upper midtown, just two blocks from NYU.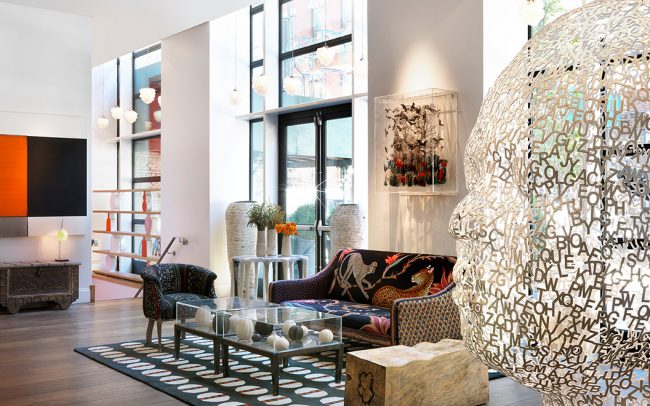 NY Tips
Want to know where to go in NYC? Check out our insider guides to NY's best restaurants and bars.