The story behind the renovation of Don Totu is so good it almost sounds fake. Milan-based Mauro and Chiara Bini fell in love with the building on their travels and decided to transform the former palazzo into a B&B which reflects their own passions as well as the history and culture of Salento, the surrounding area. The result is something which feels far more home than hotel: like you've been invited to stay with Mauro and Chiara, even though they still spend most of their time in the city.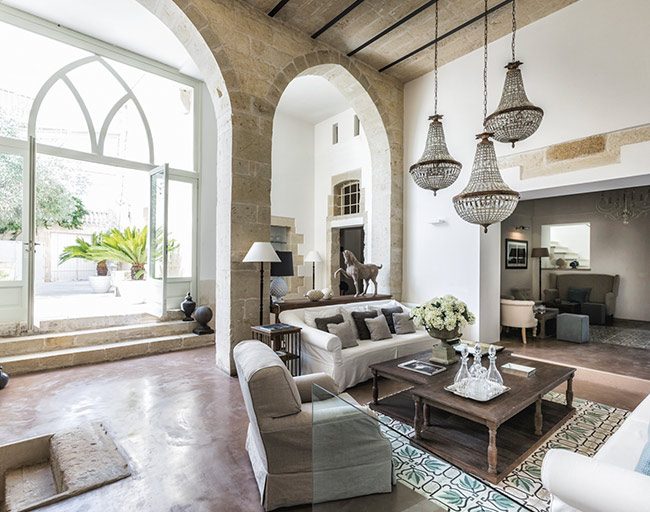 The Journey
You can fly direct from Gatwick to Bari on BA, which takes around three hours; the two-hour transfer from the airport can be arranged by Don Totu. As of June 3rd, a new BA route will be available straight to Brindisi, which is just 50 minutes away by car.
The Location
Don Totu is located in San Cassiano, Salento, which at first glance, seems like a quiet southern Italian village by the coast. A quick chat with Alessandra, the hotel's manager and a Salento local, reveals everything isn't quite as sleepy it seems: there's a cultural and social revolution going on in San Cassiano. 14 localities have joined forces to form SAC (sistemi ambientali e culturali), which is responsible for the renovation and upkeep of the local Parc de Padulli; bringing its olive groves back to life, and creating a cultural centre for the surrounding areas. Their website is mostly in Italian, but Alessandra can tell you all you need to know about the project, and show you around.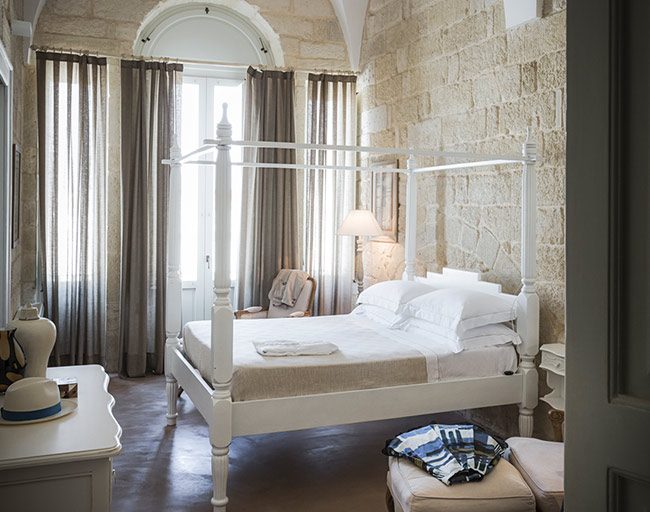 The Accommodation
From the outside, Don Totu looks like a humble building, no bigger than a Victorian terrace in Islington. We're told this is intentional – the building's facade is meant to give off no clues as to what's inside. Behind the unassuming exterior? A house that can sleep 14 in six bedrooms, with what feels like enough space to host way more. Don Totu is a sprawling, cavernous building, with seating areas tucked away around corners and unexpected details every way you turn. Each bedroom is huge, with its own character; some have vaulted ceilings in the region's traditional Vaulta Stellar style, some have original stone walls and wooden doors, some have their own private terrace. All are en-suite doubles, with the exception of the family room which can sleep four.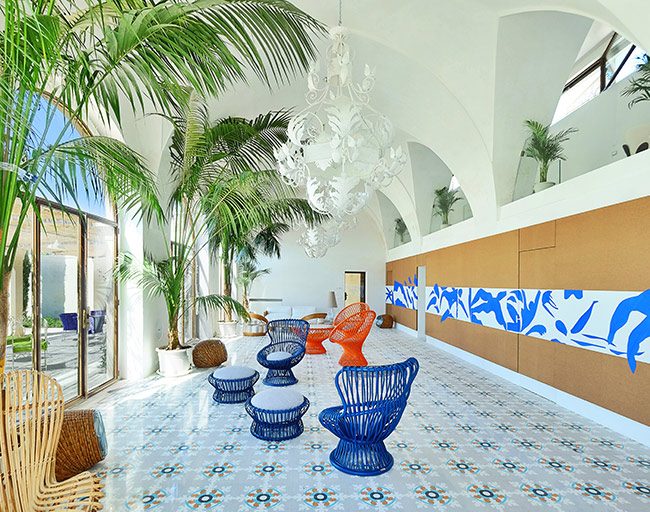 The Decor
Mauro and Chiara are Milan natives, and it shows. Subtle design touches are everywhere here. Eclectic but also harmonious, the interiors are a mixture of local ceramics, stone and original tiling – everything feels very muted and neutral. The furnishings are a real mixture but it works; ceramics by Salento natives are paired with rare pieces the duo picked up when travelling around the globe: think white stoneware cacti with bold African woven heads. The newly built pool house looks like a showroom imported from Milan Design Week: Gio Ponti's woven chairs are set against a backdrop inspired by Matisse's famous cut-outs, which Mauro wanted to incorporate after seeing them at the New York's MOMA. Point out any piece to the staff and we guarantee it has a story.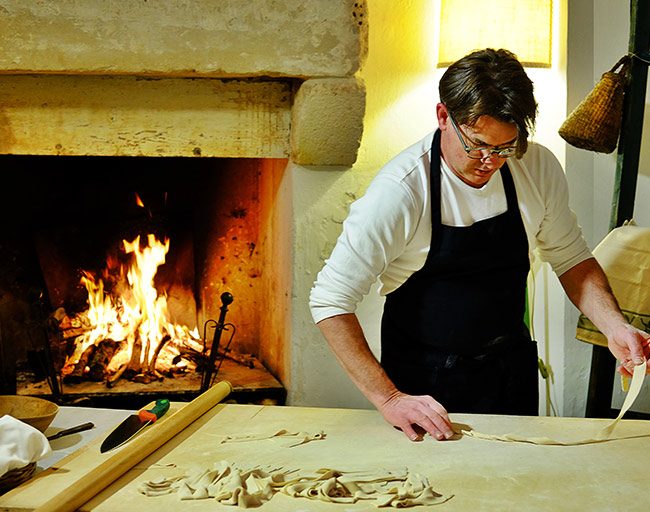 The Food
To keep local businesses thriving, the area's restaurant licensing is incredibly strict, which means Don Totu can only function as a B&B. That being said, you wouldn't want to stay in to eat here. The hotel can arrange transfers for you to one of their recommended local restaurants, or you can go exploring with the curated traveller's guide in your room. Our first night was spent at Farmacia dei Sani, a chic stone-arch restaurant about 30 minutes south of Don Totu, where the seasonal tasting menu included braised beef cheek with polenta, spaghetti with anchovy, pistachio and lemon and fresh aubergine ravioli.
The School
The next day we tried out Don Totu's cooking course with local chef Raffaele Fanciullo, which is offered as an option for all guests (minimum group size: four). You head off to the farmers' market and dairy farm in the AM to gather all the local veg, herbs and cheese needed for lunch and dinner. Raffaele had caught a rabbit earlier which was also to be used in our dinner; but other than that his style of cooking is pretty veg-heavy, making the most of what the area has to offer – including olive oil from Parc de Padulli. You then do food prep for lunch – an incredible selection of salads with burrata and stracciatella (the gooey part from the middle of the burrata) – then it's pasta prep and wine tasting for the evening meal, which included fried kale and ricotta, three fresh pasta dishes, and rabbit with pureed fava bean, a local speciality. The whole course costs €130 and includes lunch, dinner, wine, and the demonstrations by Raffaele.
Cooking and eating are at the heart of southern Italian culture, and Don Totu manages to incorporate this without ever feeling gimmicky.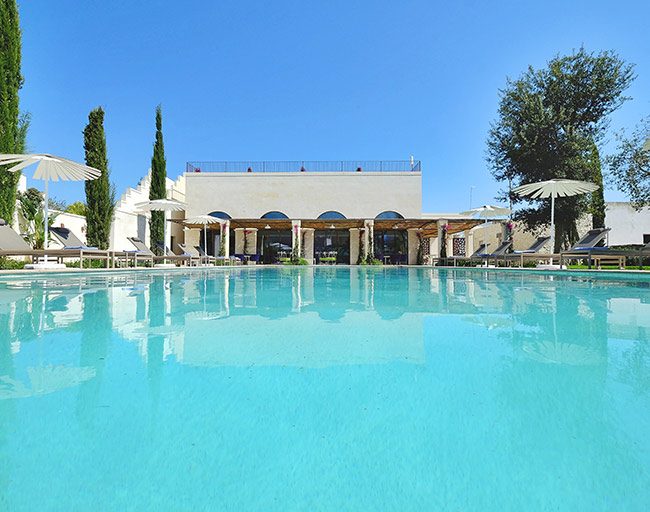 The Extras
For a six-bedroom B&B, Don Totu has the facilities of a five star hotel in the city. There's a spa with relaxation pool and steam room, which can be booked out for individual slots, a fully equipped gym with complimentary yoga classes each morning, and a huge kitchen which is stocked with soft drinks to keep you refreshed. The outdoor area is huge, with several seating areas, a strawberry patch, a spectacular pool and poolside bar, and the incredible pool house, which hosts an outdoor cinema on its rooftop (of course).
If you want to go exploring (trust us, you do), you can take a complimentary electric bicycle and see the local area. Or, if you're feeling adventurous, whizz around on one of their Vespa scooters and head to the coast, Italian style – all you have to pay is a minimal insurance fee.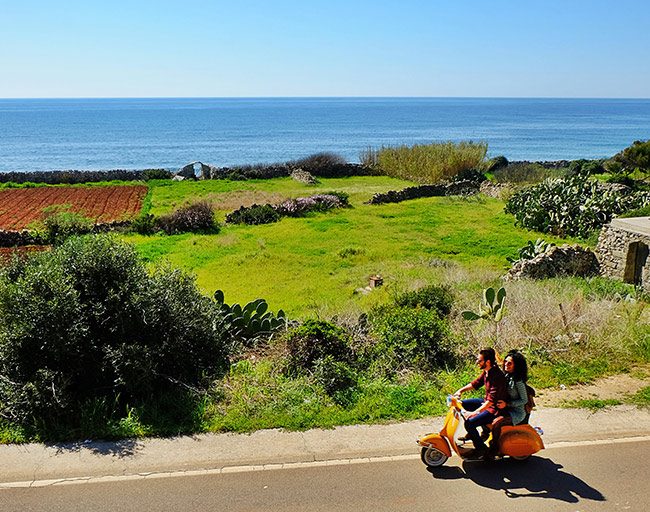 The Lowdown
Don Totu is tranquil without being boring, historical without being stuffy, and traditional with a global influence. It's ideal for couples, but would also make a great party venue – all six bedrooms can be hired out exclusively upon request.
The Details
Rooms at Don Totu start from €170 per room per night B&B. Ryanair flies from Stanstead to Brindisi (50 minute transfer) and BA flies from Gatwick to Bari (just over 2 hour transfer). From 3rd June, BA will fly from Heathrow to Brindisi. The Don Totu cooking course with Raffaele Fanciullo is available on May 4th and 18th, June 22nd, September 21st, October 5th, 12th and 26th at €130 per person, minimum four people.