Details
Double rooms from £184*/AED 875 in low season; and from £310*/AED1,478 in high season. Breakfast included.
For more information visit www.dukesdubai.com; www.visitdubai.com
*Prices in GBP according to today's exchange rate.
About
The acclaimed five-star DUKES London has found a new home in Dubai. The scenery may be different (sunshine!), but the English DNA is the same.
The Vibe
If you've stayed at one of the biggies on the Palm (Jumeriah) before, the size of DUKES Dubai will be a nice change. With 279 rooms and 229 apartments, this could almost be considered a boutique hotel by Dubai standards. Most of the time, the staff-to-client ratio seems to be on par, and the operation is slick: most of the department heads have been handpicked from the best, and there are English accents aplenty around.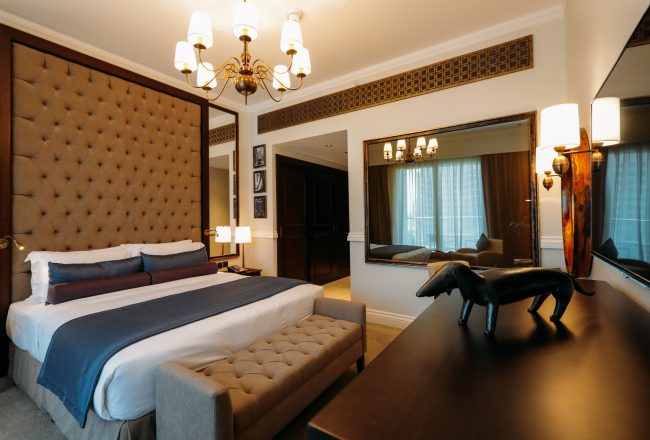 The Rooms
Rooms are small but perfectly formed, and you can tell they've been designed by someone who travels a lot. Washrooms are covered in a moody black tile (#UJLoves), and products and textiles are all English: Floris toiletries (#UJLoves again), Liberty Fabrics, London coffee table tomes. Terraces fit a table, and mini bars have Dairy Milk treats.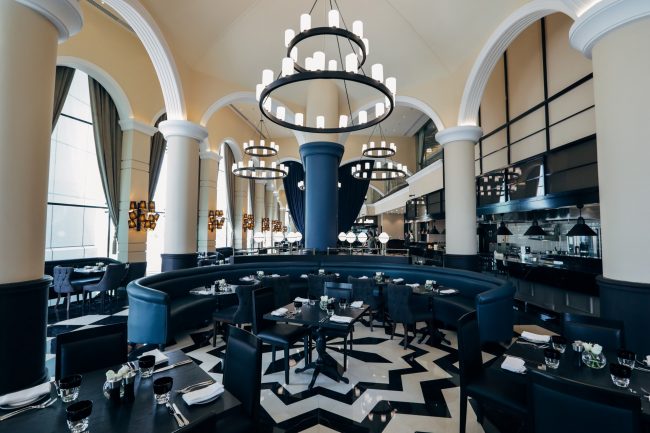 F&B
There are three restaurants here. The first is GBR, the new DUKES brand, soon to launch in London too. Here you'll find everything from posh fish and chips to grilled lobster with truffle mash. This is all-day dining at its finest, with a stellar breakfast that includes an extensive pastry selection (thanks to an in-house chef who rises at 1am for your enjoyment) and healthy options (fresh juice, chia pots). The décor is a bistro-style, clean, black-and-white and although it's large, the space feels bright and welcoming. The second is the soon-to-open Dubai outpost of Mumbai's acclaimed Khyber – which we were lucky to get a preview of; we can see the cosy nooks and fine cuisine becoming a local hit. The third restaurant is a steakhouse they've inherited, West 14th. Come for steak, or book in for Friday brunch (their Sunday lunch); locals spend the day dipping and dining and kids are entertained. There's also a Champagne and Tea lounge (pink, green, and gold, oh my!), and a Cigar and Whisky one too (you'll find us here).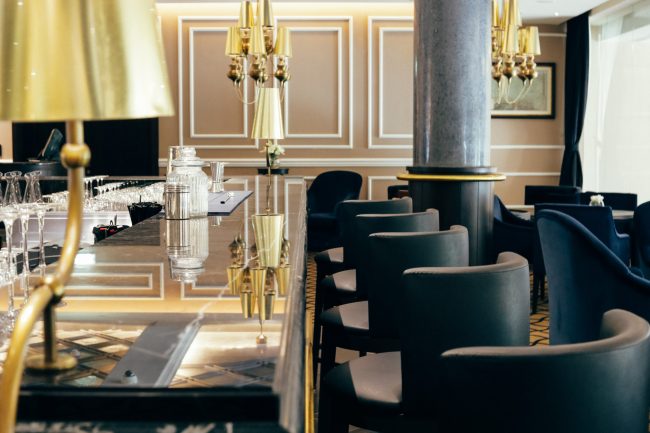 Highlights
DUKE's Bar! If you like the London version, you'll feel right at home here. The bar staff are Alessandro trained, the chairs are the same plush royal blue velvet, the Vesper is just as potent and the rules are the same: you can only have two (even though the pour is smaller here). The beach is also a plus (and we hear very unique here), and so is the outdoor infinity pool.
Anything Else
The spa, gym and upper deck pool weren't open yet, so stay tuned. There's construction all around – but this is Dubai, so no surprise. Make sure you ask for a sea view though, which should mean fewer cranes, more skyline.
Want to Go Off Campus?
Check out the new El Chiringuito, the Dubai outpost of the Ibiza fave.