Details
Address
Passeig Joan Carles I, 1, 07800 Eivissa, Illes Balears, Spain
More info
The Hotel
Neatly tucked off the Talamanca roundabout (a stone's throw from Pacha) this is a central, 38-bedroom abode.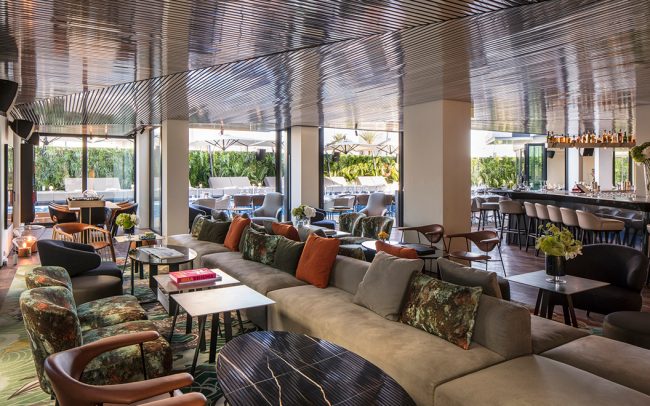 Photo: © Amit Geron
The Vibe
The reception is a subtle affair, tucked off the living room, which sets the tone for a fluid, personable vibe. The main restaurant – IZAKAYA Asian Kitchen & Bar – is a large counter, which makes for a sociable, relaxed dining atmosphere. There's a constant bustle, but yet things feel calm, even though you're in the centre of town.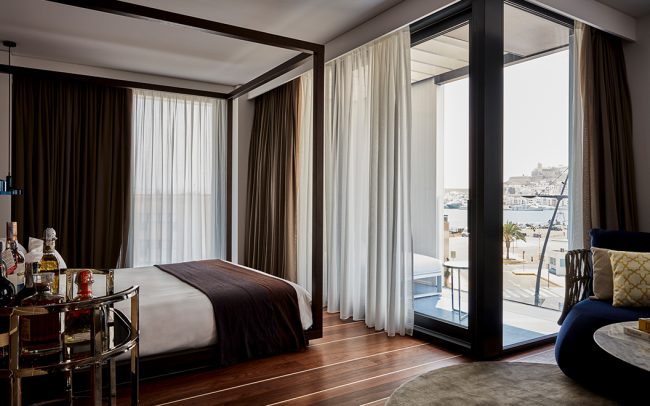 Photo: © Steve Herud
The Rooms
We had a superior room, which came with a chic four poster sunken bed, a sofa, and large bookcase. It felt like we lived here for two days. The luxe marble bathroom was larger than most London flats, and it felt like a room you could just hang out in. The sliding washroom/closet door made sure everything was tucked away nicely – for two people, you definitely feel like you have a lot of space. With two terraces, a speaker, and supplies to make drinks with (limes and lemons, shaker, spirits) you really could have a fun night in here (we did).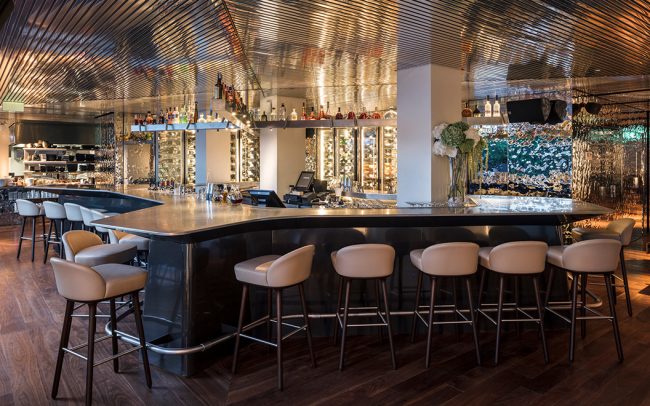 Photo: © Amit Geron
Food and Drink
IZAKAYA Asian Kitchen & Bar, by THE ENTOURAGE GROUP, is their Nikkei restaurant. Come here to go all out – there's wagyu paella on the menu – or keep it classic and stick to sushi rolls, ceviche and sashimi. Feel like you need a bit of grease? Head to their burger spot on site, THE BUTCHER, also by the same group. Think hard shakes, burgers, and cheesy fries – there's also a pool menu if you get hungry whilst relaxing. Breakfast is served by the pool and consists of a diverse buffet (handmade crisps included) and a menu for à la carte.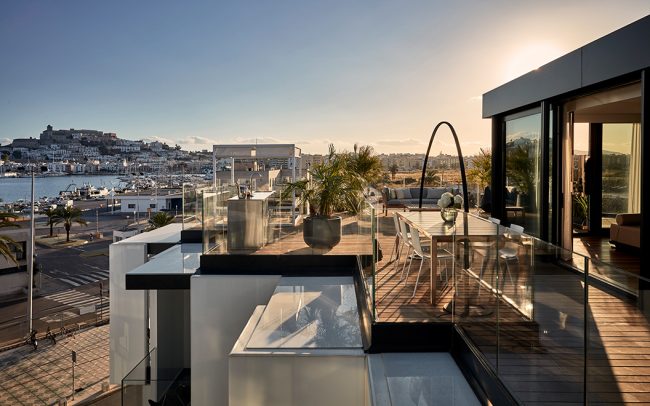 Photo: © Steve Herud
Highlights
The room – these pseudo mini apartments are a great place to base your stay. We're also partial to Talamanca beach – home to Nobu, The Fish Shack etc – and it's just a short walk away. If you have deep pockets, the two penthouse suites have 360 degree views of the old town, outdoor seating, and open air kitchens for entertaining. And if you're dining in the hotel, request an outdoor table by the pool.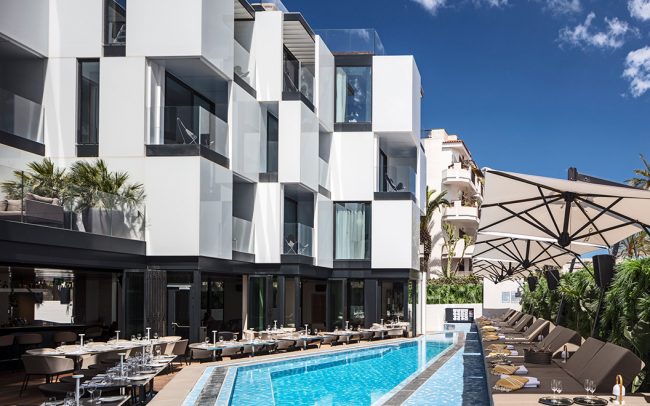 Photo: © Amit Geron
Anything Else
Hit the pool, if only to use the yellow and white striped towels (#UJLoves). And borrow a bike: it's strange that more hotels don't offer them as it's a great way to get to the beach. You're also close to a Passion Café, so a health fix is close by too. And keep on the lookout for the retreats here – they range from meditation, yoga and sportfishing – if you're after something more active.
One More Thing
Sir Explore is their new initiative that works with key locals (like ex Noma chef Boris Buono in Ibiza) to offer guests exceptional insider experiences that 'allow for a truly authentic insider perspective' (as they put it). Food, art, music, wellness, history – all bases are covered and the experiences are currently a unique offering for the island.