It's always the same. Mid July! How did we get here?!? After a recent whirlwind trip to the island, we can confirm: Ibiza in high season is bustling. And this year, there seems to be a whole lot of London – more than ever – on the island too. Spotted at CAN Art fair was India Rose James from Soho Revue Gallery with a stand; Joey Ghazal's MAINE Ibiza is in full swing; Yotam Ottolenghi will be at Atzaró 12 August, and UJ fave Angel Zapata Martin, ex-Barrafina, has a new spot in the marina. In other news, across the island prices may be high and the new may be steamrolling the old, but look hard enough and that authentic Ibiza is still there.

See you on the dancefloor.

xx Taryn and Team UJ xx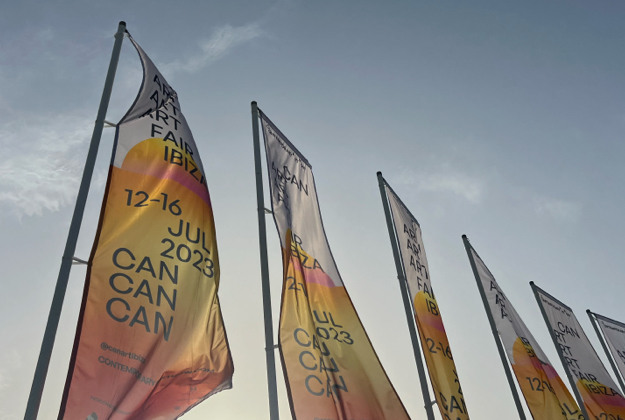 CAN Art Fair
CAN Art Fair

Years ago, when the idea of CAN Art Fair was being conceived, we heard that they wanted to make it like Art Basel for Ibiza…hmmmm. Sure, the money is in Ibiza, but would the galleries come? What would the production be like? We can report that after attending the preview night last week, they've done a great job. It did feel like Art Basel, but possibly a little more fun; Art Basel if it was on the Amnesia Terrace maybe. The drinks were flowing, the music was upbeat, the exhibition was on par with a smaller Frieze or AB, and best of all, people were really buying. We spoke to one gallery owner who said he's sold 5 of his 8 large pieces, and the fair hadn't even opened yet. And it feels like this is just the start for this fair: well done!

MORE INFO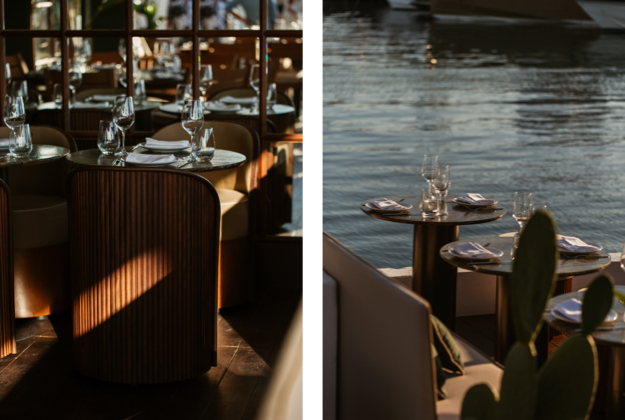 Lado

When we heard that Angel Zapata Martin – the head chef of Barrafina for many years, who only recently left – was leaving to go back to Spain, we were triste. He'd become part of the woodwork there, and had earned them a Michelin star. But great news just in: he's in fact moved to our other home, Ibiza! Opening last week in Marina Botafoch is Lado, the restaurant where he's now the head chef. Come here for yacht-front and old town views – and Angel's contemporary Med cooking. Get a table outside under the marina's twinkling lights and settle in.

MORE INFO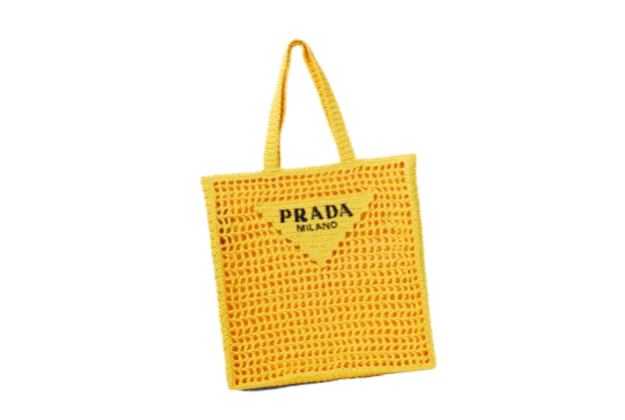 Beach Ready
Raffia

Beach ready raffia and woven goods.

SHOP NOW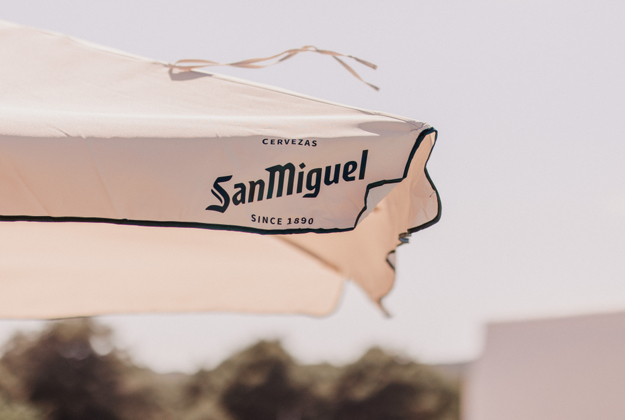 Natasha Marshall
Ibiza Sunset Activity
Partner content

As you already know, San Miguel are hosting a summer of sunset fun across Ibiza. If you're heading over to the White Isle, book into their San Miguel Sunset Experience at one of Ibiza's (and our) favourite sunset spots – Hostal La Torre – which includes a San Miguel Sundown Spritz on arrival, followed by tapas like chipirones and aguachile with prawns, which pair perfectly. San Miguel have also highlighted additional great sunset spots (Sunset Ashram and Cala Gracioneta, to name a few), and taken over a traditional finca – Las Cicadas – to create Casa San Miguel; stay tuned for experiences to be revealed throughout the summer.

FOLLOW SAN MIGUEL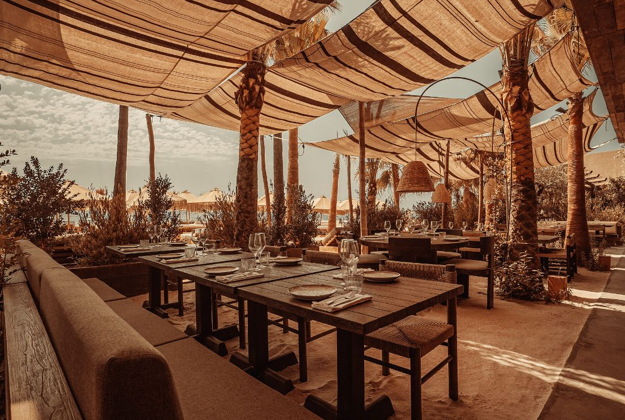 Playa Soleil

Not content with owning the number 1 club in the world (Hï) and the ever-popular day club (Ushuaïa), entrepreneur Yann Pissenem has opened Playa Soleil, ensuring that he truly has somewhere for people to go no matter what time of day it is. Taking over the legendary Bora Bora space on Playa d'en Bossa, Playa Soleil offers a chic, Tulum-style open-air dining room, daybeds, a shop, and importantly, a small open-front club space for weekly nights that include Guy Gerber's Rumors party (Fridays) and Melon Bomb's Sandia (Tuesdays). The main restaurant's menu has everything from paella to sashimi and eggs with caviar, and the beach chairs are serviced (with club prices on bottles it seemed). We're wondering if there will also be select after parties here…let's see! If anyone can pull it off, it will be Yann.

MORE INFO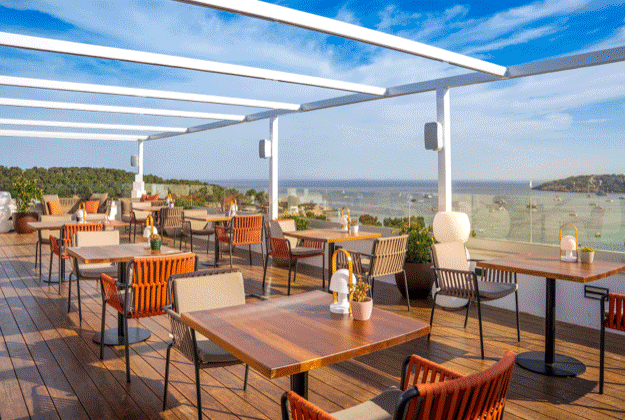 Ocean Drive Talamanca
'23 Updates
Partner content

Ocean Drive have made some changes, and they're good ones! Should you have a late or early flight and need somewhere to freshen up, they now have changing rooms downstairs, with showers. They've also upgraded their gym and massage facilities, and as of last year, you can have dinner at their rooftop Sky Bar, which has 360 views. You can have breakfast or use the pool up here too, for an additional fee. And should you want to throw a party, their new Piropo Club has a 70s vibe and room for 120 people. It's soundproof as well, meaning you won't have issues with the island's sound police. Get in touch with them if you need somewhere for your next brand event or party.

BOOK NOW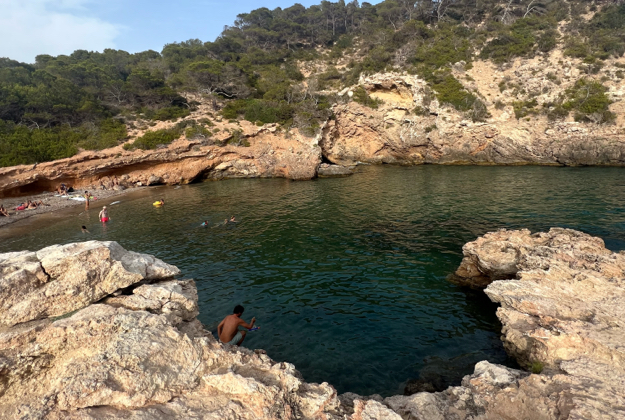 Cala Olivera

Close to Roca Lisa, and walkable from other east coast locations, put Cala Olivera on your list if you like your beaches laid back and low key. Here you'll find rocks for lounging, blue/green waters that are good for snorkeling, a small chiringuito for refreshments, and insiders and locals aplenty.

MORE INFO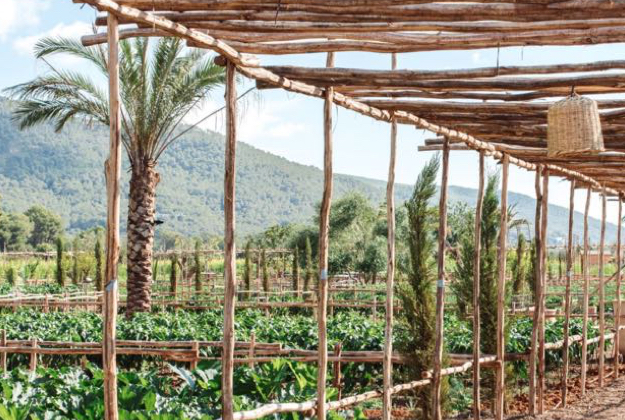 Atzaró
Ottolenghi at Atzaró
12 August
Partner content

On Saturday, 12 August, Yotam Ottolenghi will be creating a 5-course sharing dinner at the agroturismo Atzaró. Set in their organic vegetable garden, the dinner will start with drinks and music under the hotel's pine trees, followed by dinner in the garden, on long, beautifully decorated communal wooden tables. The vegetables for the evening's menu (view it here) will be mostly picked from Atzaró's vegetable garden and local wines will be served too. Yotam will also, of course, be there to do an intro, and guests will receive a signed copy of his book 'Flavour'. Book now for a magical night under the stars with Ottolenghi and Atzaró.

BOOK NOW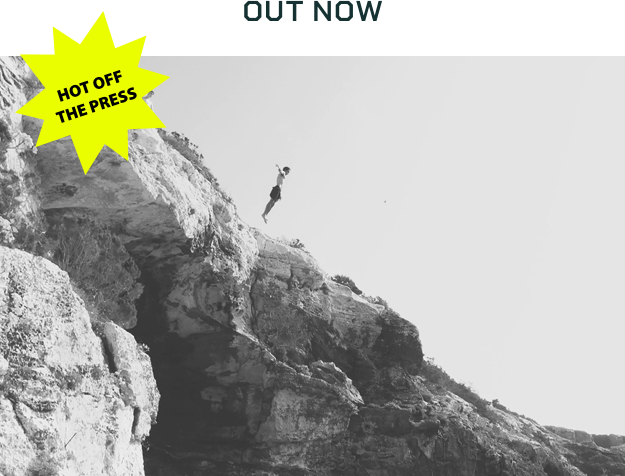 L'Officiel Ibiza

Keep your eyes peeled for L'Officiel Ibiza's second print mag, hot off the press! Edited by our friend Maya Boyd, they have three different covers: one with Burberry, one with Rosalia, and excitingly, one by Yves Yro with KU cover art from the '80s. In this issue, they look at 'themes of identity and evolution on an island which – for thousands of years – has been the mother of all reinvention'. Indeed.

MORE INFO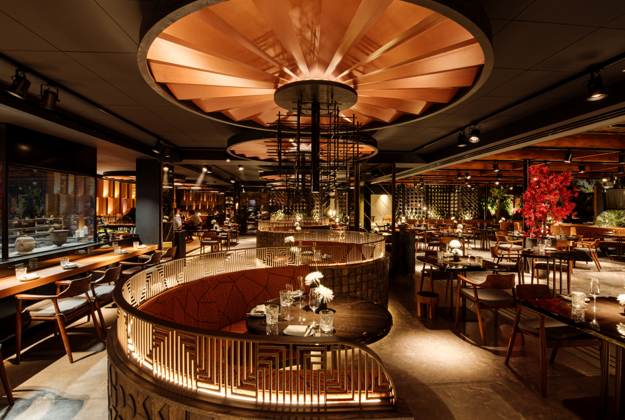 The OKU Restaurant
Updates
Partner content

When OKU opened on the west side of the island, it offered something much needed – a design-led hotel with a vibe and great restaurant, with easy access to those sunset views. Since its launch, the restaurant, with executive chef Mark Vaessen at the helm, has become a real island draw, and they refreshed the menu and venue design last year. The vibe is still slick, glossy and upbeat, but it now has circular booth-style seating, a bar, a sushi counter, and a DJ. They also have an omakase menu and bar menu, in addition to à la carte. As for other news, this year they also have a partnership with Notting Hill's Bodyism, offering daily classes and PTs, led by the excellent Bodyism trainers, as well as Bodyism shakes from the hotel's juice bar, with an Ibiza mark-up of course.

OKU IBIZA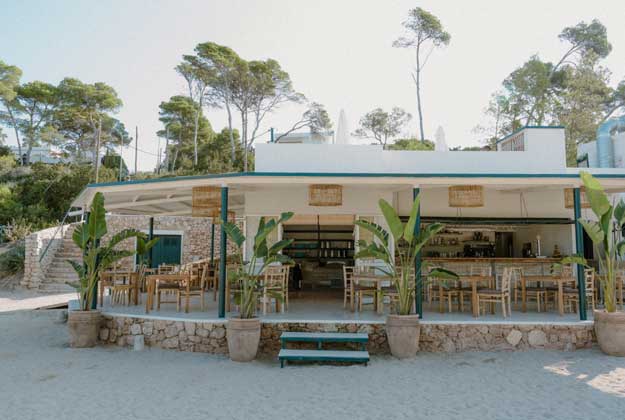 Gració
Gració

Cala Gració, which is essentially next to the aforementioned OKU, is a great cove on the west side of the island. Come her for reasonable chairs to rent and crystal waters to swim in – it's also always had an excellent, old-school chiringuito, which has now been taken over (as we hinted at, last UJ Ibiza issue) by the Grupo Mambo (Casa Maca, Cala Gracioneta, La Torre), called simply, Gració. They're really just getting started, so stay tuned….

GRACIÓ




Menorca

You know how we always try to give you some other Balearic picks, should you want to hop around: well, on our Menorca radar right now is Son Blanc. They have a farm, are organic, single-use plastic-free, and focus on low-impact, low-energy, sustainable tech, of course – but they also have nice rooms (14) with luxe things like chic outdoor tubs, and large terraces and balconies.

MORE INFO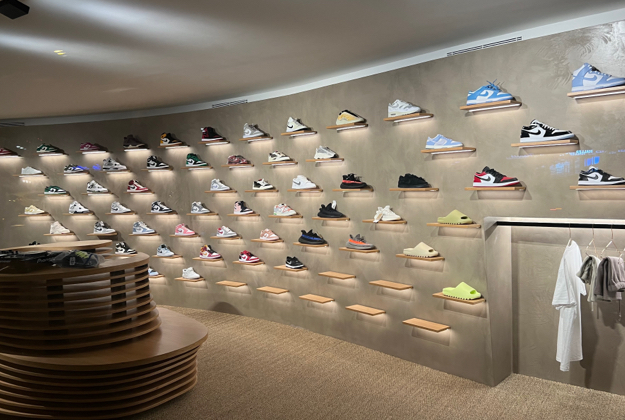 Dunks

If Ibiza '23 was a shoe, it would be a Nike Dunk, and this is the second store we've noticed that's dedicated to them. This one also has a barber in the corner, a DJ, and seemingly no name, which also feels quite Ibiza '23. It's located close to Marina Botafoch, across from the roundabout by Ocean Drive (the original) hotel.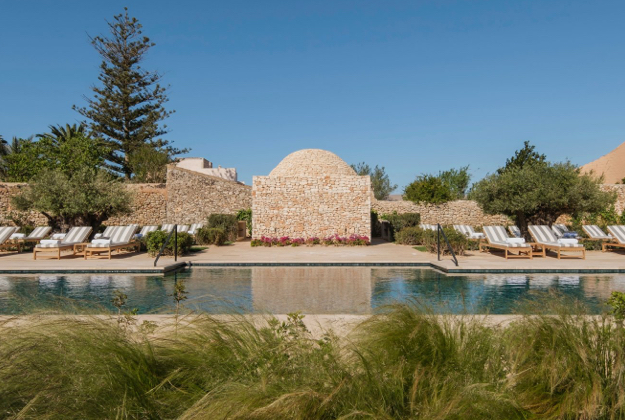 Mallorca

In Mallorca, we have our eyes on Can Ferrereta in Santanyí, a 5-star in a 17th-century mansion, with 32 rooms, a spa, olive trees, and sophisticated but laid back restaurant, Ocre.

MORE INFO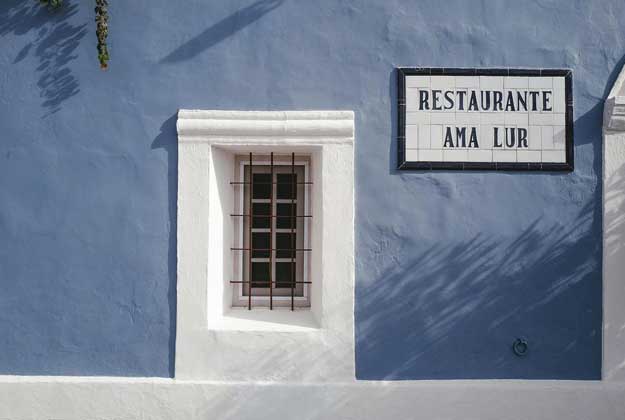 We're going to leave you with a little round up. La Cava in Ibiza town now has a gourmet grocery section; we're hearing good things about Casa Linda, at boutique hotel Jardin de Palerm; and news just in that Amalur, a haute-Italian restaurant in a house on the side of the road in Santa Gertrudis, just launched their terrace.

MORE INFO

(c) 2023 Urban Junkies. All rights reserved.

Reproductions of any portion of this website only with our express permission. Urban Junkies is a free weekly mailer. All listings and features are editorial: We do not receive any payment from venues, artists or promoters. Every effort has been made to ensure accuracy of information listed but we cannot accept responsibility for errors or omissions.

We have updated our terms and conditions link and privacy policy link to make it easier for you to understand what information we collect, how we use it and what rights are available to you to control your information. The privacy and security of your information are very important to us. If you have any questions or comments, please send us a message by info@urbanjunkies.com. Thanks as always for reading UJ.