Intro
When looking at villas in Ibiza, location is key. Many are extremely hard to find, meaning that unless you drive or have a driver, getting around is going to be tough. With the newish taxi apps, things are slightly better, but often they still don't pick up the signal where you are, which makes Las Cicadas, a villa that is a 10 minute walk to the local favourite town, Santa Gertrudis, a convenient choice.
The Villa
There are two main houses – one with a 16-seater dining table and a chef's kitchen, and one with a smaller kitchen and four bedrooms. There's also an additional 'arm' of the house that has two further atmospheric stone bedrooms with en suites; this is a great villa for a group. They have a pool with multiple seating areas, an outdoor BBQ space, a courtyard with room to entertain, and an area that would be perfect for a wedding or dinner event.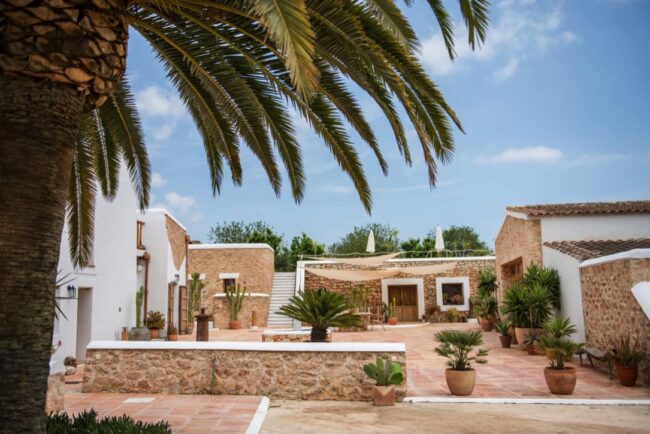 The Vibe
This is a 600 year old farmhouse that has retained its character: white finca exterior, stone walls, beams and a barn, but with updated décor (linens and mid-century mod / vintage furniture) that suits the property. It's a relaxed space that feels luxe but lived in. There are olive, fig and orange trees, as well as cacti and succulents dotted around.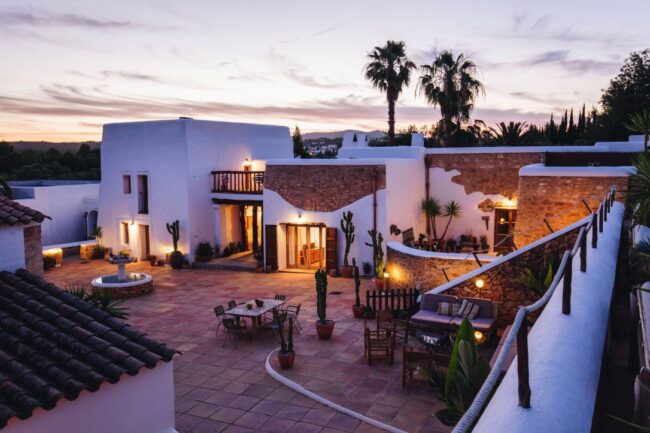 The Rooms
Four of the six rooms are en suite, and most have air conditioning. Tiles in the bathrooms are varied and uplifting (yellow, multicoloured and emerald), and there's a children's room with single beds that's good for sharing. The two sunken stone rooms feel special, if a little hot in the summer. We think this house would be great in the winter, too (fires and dim lighting).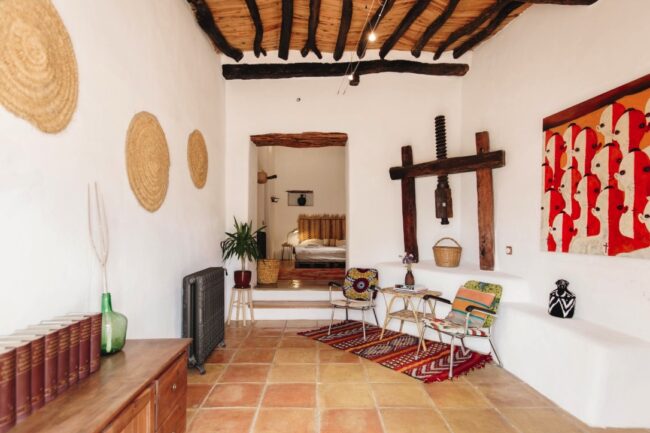 Close By
You are a 10-minute walk to Santa Gertrudis, which is a real highlight. There you'll find much-loved restaurants like Macao Café and Wild Beets, Finca La Plaza and numerous clothing and homewares shops, as well as galleries and other independent stores.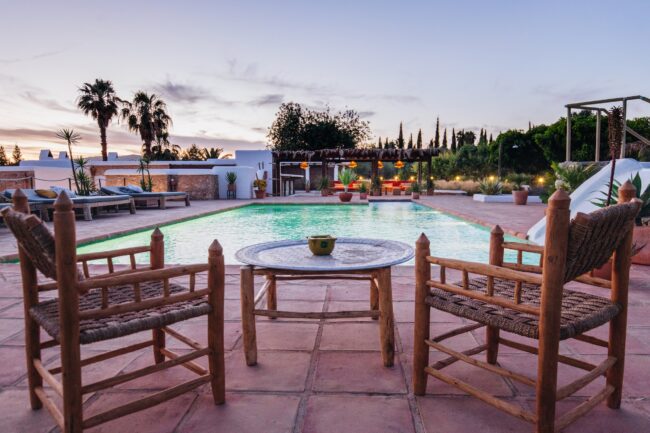 Highlights
This is a villa that's serviced like a hotel, which takes the hassle out of communal living when you are a group. They know the island well and can look after anything – boat, excursions, in-villa chefs, restaurant recommendations – and are just a phone call away, should you need anything. They also have a barn where they can host private events, which importantly doesn't have noise issues, and they can look after everything from DJs to catering.