| | | |
| --- | --- | --- |
| | We're feeling a little perkier now. With that in mind, you'll notice a triple-header of parties in our save the dates. Hope you have a dance. We also seem to be hungry, as this newsletter is filled with restaurant info – forks out. In other news, is the phrase Galentine's Day really making it into the vernacular? Please no. We do hope, however, that you have a good amour day, in whatever shape that takes. And if you haven't made it for a dumpling yet for CNY, we have a couple of places to note from some of our foodie faves below. Gung Hay Fat Choy! | |



Smokey Kudu
Heading South
Peckham's hottin' up
First came Frank's. And then Peckham Levels and Kudu. And now, with three new places in Peckham, the time has come to take a trip south.
Read more
Sussex
Sharing
Party for two
Just when it was becoming very du jour to eat alone (we've been advocates of this for years), we're seeing an increase on menus lately of items that are for 2+ people. The seafood paccheri at the new Pastaio Westfield, the whole brill, chateaubriand Wellington, or whole roast mallard at the new Sussex, or the paella at Arros QD. If you still feel like dining alone but don't want to miss out, we say go hungry and do your best.
More of what's on our radar
Kyle Stewart
Co-founder, Goodhood

You're likely familiar with Goodhood, the multi-brand retailer that started in 2007 and carries menswear, womenswear, lifestyle products and cosmetics. Always tuned into culture with their curated buy, their latest collab is with Tokyo's Flagstuff, part of a new guard of Tokyo brands. Together, they've created Goodstuff (keep up) and worked with the artist Kosuke Kawamura on a small collection (a jacket and Ts). We caught up with Kyle, Goodhood's co-founder, about work, life lessons, and his little black book.

Favourite thing about my job? I love being able to choose when and how I want to work.

I'd tell my younger self to have faith in yourself. Anything is possible. Also, as someone that really doesn't network, I'd tell my younger self that really, you can make an exceptional career out of having no talent and networking. So I'd say to younger Kyle, 'mate, you need to network. Stop thinking your work will get noticed.'
Read more


Sponsored Listing
NEW: Kingdom Festival
24-27 July
You know what sounds very 2020? Kingdom Festival! Set in the stunning grounds of Belvoir Castle near Grantham, Kingdom – by the founders of GALA fest – will bring together leading names from architecture, design, music and food, to collaborate, exchange ideas, and create positive change. Namaste. To get a taste of what to expect: Assemble, who won the Turner Prize for their work which re-invigorates overlooked spaces, will partner with south London record label Rhythm Section on the design, sound and execution of one of the main events. Expect more interesting pairings to be announced soon. Three days of creative collabs to inspire, with music and great food: sounds good to us. Line-up and location to be announced on 25 February.
More info and pre-sale tickets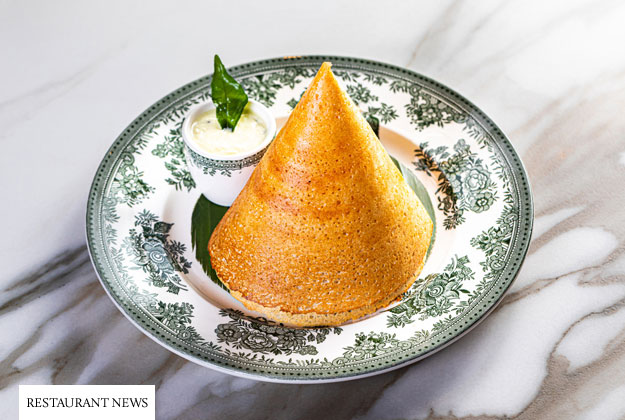 Gymkhana
Around Town
Wining and dining
Big news, Gymkhana is re-opening (18 Feb): same haute Indian, completely new look (reservations are being taken from today). Over at St Martins Lane, Gizzi Erskine has an 11-week pop up – The Nitery, a French/American/English-inspired haunt – going into the old Asia de Cuba from 13 Feb. Love Bar Douro? Their new city location just opened. On the bar front, Moto, a new 25-cover (plus bar seating) independent craft sake, cocktail and Japanese small plates spot in Covent Garden looks worth a whirl. Sarap opened last week (Filipino in Brixton Market; can't wait to get in), and the rather light, jovial looking Townsend recently opened in Whitechapel Gallery, with Joe Fox (the ex-head chef of Petersham Nurseries) at the helm. As for places we've been into recently: BaoziInn's new Chinatown location has the same amazing dan dan noodles, but isn't currently serving alcohol (consider yourself warned); The Cinema at Selfridges has some great, definitely not-fat-free popcorn (cheese and jalapeño, delish), and the new Brindisa Kitchen in Borough has a takeaway tortilla counter, we love.

Sponsored Listing
Brew LDN
27-29 Feb
Like cervezas? Then head to The Old Truman Brewery at the end of Feb (last Thursday-Saturday) to see and taste all that is good, great, and game-changing in beer. There will be over 150 exhibitors including indie/innovative breweries, cider producers, spirits and street food (grilled cheese from Two Belly and plant based eats from Vegan Nights), all accompanied by the soundtrack of DJs (Hoxton Radio DJs, DJ Artwork, Greg Wilson) and Old Dirty Brasstards, a 10-piece live drum and brass band. Expect tastings and a chef's table, low-ABV and vegan beers, and also some specials made just for the fest. Should you be in the industry, they're also searching for new talent for their BrewAccelerator support scheme.
More info
Billingsgate Fish Market
Rise and shine
We're not sure about the 4AM start, but for a one-off, we think a trip to Billingsgate looks worth the wake-up call. If you're interested in a fish course, they have a school close by, too.
More info
Sponsored Listing
Beat Hotel, Marrakech
19-22 March
If there's one new festival we heard a lot about last year, it was Beat Hotel. Taking over a boutique hotel in the outskirts of Marrakech, Beat is for anyone who wants to explore Marrakech while taking in the best parts of festivals: a handpicked selection of writers, musicians and restaurateurs. On the food front, they've enlisted some of London's finest – Berber & Q, El Pastor, and chefs like Neil Rankin (Temper) and Robin Gill (The Dairy). For artists, expect people and acts like Kate Tempest, Kindness, Jeremy Deller and Floating Points. If you're not up for an EDM rave but are up for a fun trip filled with sunshine, culture and creativity, this is for you. BEAT!
More info
Restaurant Events
Diaries out
On the event front, Bubbledogs is doing a Champagne tasting on 13 Feb, exploring Blanc de Blancs (4 glasses, with bar plates, for £60). Over at Harts Group HQ, tickets for the next Quo Vadis and friends event – with The Fordwich Arms (Clove Club alum, 19 Feb) – are now on sale. Their other upcoming events include collabs with Luca (11 March), Berenjak (1 April – YES), and Thomasina Miers (13 May); tickets go on sale a month before each event, be quick! Also part of Harts Group, The Drop in CDY is having a 'Tarti Parti' tonight from 6PM (free, no RSVP needed). There will be wines from the Alpine region of France and Switzerland, and tartiflette. Over at Carousel, the Butter Chicken Guru, Saransh Goila, is in residence until 15 Feb; and lastly, Koya City is running two Portuguese x Japanese Izakaya nights (9 and 10 Feb) with Koya's head chef Gustavo Tavares and renowned Portuguese chef Leandro Carreira, with Portuguese wines to accompany.
Amanwella
Sri Lanka
All about SL
With the recent launch of great Sri Lankan restaurants Paradise and Kolamba, and the soon-to-launch Hoppers King's Cross, we've got a trip to Sri Lanka on the mind. For 5-star luxe, we'd start at Amanwella, an Aman property with ocean views on the south coast. For safari, it'd be palm thatched villas at Chena Huts, which is close to the leopard hotspot, Yala National Park. For a break with friends, the five bed Camellia Hills set in a reservoir looks nice and for surf, it's Ceylon Sliders or The Kip.
More hotel reviews
Collegiate Chic
Varsity jackets
There's something about the new year that makes you think about school again, no? We're thinking about collegiate looks at least. For customisable and break the bank, it's LV; for sporty chic, it's NikeLab x Paris NBA; and for something timeless, we're going Saint Laurent.
Skin Matters
Highlight
We're hearing great things about Joanne/Skin Matters. And after looking at the treatments, we have to say it's the first time we've heard of photo rejuvenation. Intrigued? FLASH.
More info
H2O
Doing our part
This year we're going to start highlighting things we like that are also good for the environment. This week, it's Larq, the self-cleaning water bottle. 'Cause who wants a dirty one.
More info
Plum Valley
Chinese New Year
We have it on good authority…
If there's one thing we keep our eye on, it's a good dumpling. Recently, we've spotted @alicemarygrier (restaurant PR doyenne) at Joy King Lau for what looked like amazing cheung fun, and @jackson_boxer (who needs no intro but is chef patron of Orasay and Brunswick House) at Orient for a plethora of interesting dim sum finds. We also know @scully_chef (of Scully restaurant) loves Plum Valley (dim sum all day) – so do we. Enjoy! HNY.
More restaurant reviews
The Weekend

| | | |
| --- | --- | --- |
| | This week we're back in party mode – February! And for that reason, we have three parties. First up it's Music On at 338 this Sat – not sure about their spiel about a door picker policy (who are you, Berghain? Guess we'll now be banned), but it will be a good dance. Then it's Lee Burridge's All Day I Dream at Fabric on 9 Feb (big Sunday, 4PM to midnight), and lastly it's Honey D and Luke Solomon at Corsica Studios on Vday. Music On is sold out apart from VIP, and Honey D is only tix on the door left, but, like us, you know that where there's a will, there's a way. So if you want to go to either, we're sure you'll get there. Happy fiesta-ing. | |


TAKE THREE

Best of The Borough Market Kitchen
We ran around to check out the new section at Borough. Loved it! The below three stood out; we were especially fans of the stands with stools. We'll be back for Iraqi (Juma Kitchen), Indian veg/vegan (Horn OK Please), and Mexican (Tacos Padre), to start.

Mei Mei
SHUK
Brindisa Kitchen and Bar

Nasi Lemak
This was one of the best things we've eaten in ages, FACT!

Fish Tagine in Pita
We have it on good authority that this is next level

Escabeche
Marinated mussels with oyster mushrooms in romesco sauce







(c) 2020 Urban Junkies. All rights reserved.

Reproductions of any portion of this website only with our express permission. Urban Junkies is a free weekly mailer. All listings and features are editorial: We do not receive any payment from venues, artists or promoters. Every effort has been made to ensure accuracy of information listed but we cannot accept responsibility for errors or omissions.

We have updated our terms and conditions link and privacy policy link to make it easier for you to understand what information we collect, how we use it and what rights are available to you to control your information. The privacy and security of your information are very important to us. If you have any questions or comments, please send us a message by info@urbanjunkies.com. Thanks as always for reading UJ.