Claridge's has some of our favourite bars – The Fumoir, Claridge's Bar, The Painter's Room – but we've always come to the hotel more for drinks than dining. That's about to change though, with the new Claridge's Restaurant. Elegant and welcoming, this dining room is exactly where you want to be, for any occasion.
The Décor
If you ever went to Davies and Brook, they've switched things around. The now high-gloss tortoiseshell bar is still in the same location – at the front – but the entrance is now on the other side and the layout is different. The décor is another collaboration with the brilliant Bryan O'Sullivan Studio, and things have been stripped back, returning the dining room to its original design heritage: Art Deco, 20s glamour. And, with cosy banquette-style circular booth seating, and both pillows and tablecloths, this is definitely 'comfortable' glamour. There are stained glass 'starburst' skylights, brass and marble touches, and the door to the kitchen is left open, adding a connection between staff and diners. The acoustics are great here too, and the playlist provides background music, but you never struggle to hear, making this a perfect location for any gathering. This really is a truly special space.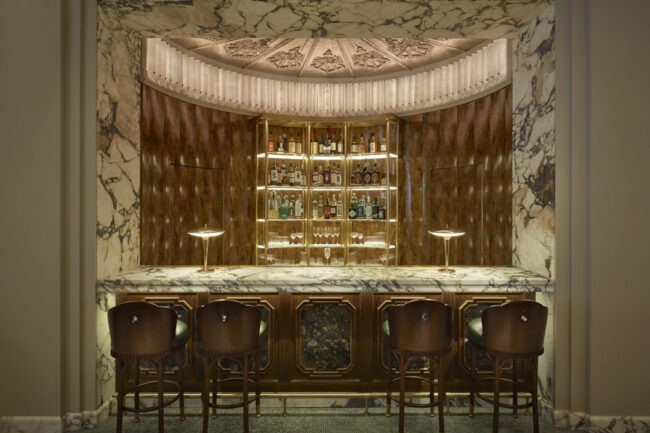 The Menu
Here they do contemporary British cooking, elevated as only Claridge's can. Brioche bread comes with butter in the shape of a crest, crumpets have truffle shavings, seafood is catch-of-the-day fresh, and plating is, as you'd expect, a work of art. Come here for whole turbot for two, grilled native lobster, steak au poivre with peppercorn sauce – or visit for something lighter: a plateau de fruits de mer with french fries, scallops, a cheese or charcuterie plate, or a dish of pumpkin agnolotti. The glassware, tableware, and silverware is, of course, considered and best in class.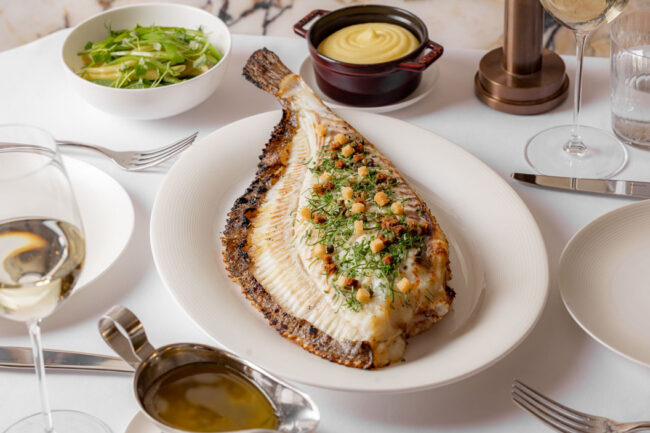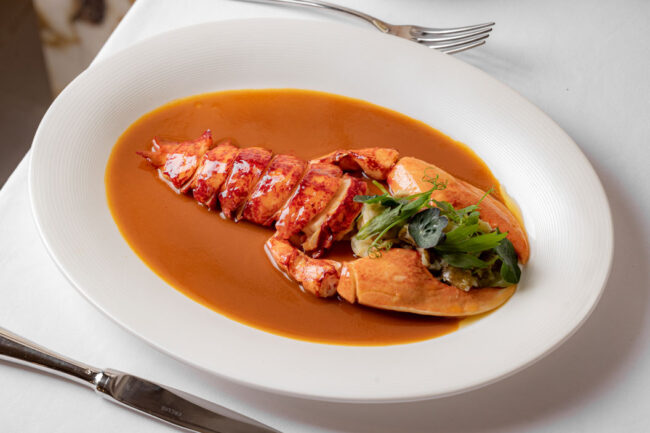 Highlights
The staff. We know, it's Claridge's, but it's still hard to get a team who operate this well together and, importantly, make anyone, from local to hotel guest, feel special. This is approachable silver service. The immaculately pressed shirts on the wait staff and crisp suits on the others look great, too, and suit the room.