Details
Opening hours
Mon: 8am-7pm
Tue-Fri: 8am-9pm
Sat: 9am-9pm
Sun: 9am-7pm
Address
94 Leonard Street, Shoreditch, EC2A 4RH
More info
0207 729 5678
Website | Instagram
Opened
September 2017
If you only try one raw vegan place, make it Essence: the 100% plant based dishes and cold pressed juices are remarkable in London in the fact that they are delicious, filling, and demand repeat visits. Owner Bart Roman enlisted the help of vegan pioneer Matthew Kinney to collaborate on the menu, while interiors were left to Andreas Bozarth Fornell (Acne Studios, Sandro). The interiors may look like a spaceship, but the food is both wholesome and refined – if this is the raw movement getting grounded, we're into it.
Décor and Vibe
Don't let the minimal chic and slightly clinical interiors put you off. The uncompromising furniture is such a leap from the 'trying to please everyone' approach London's meat-free movement is currently undergoing, that by the time we'd ordered a starter, the fold out tables and slightly intense hallway seating had grown on us. A dropped aluminium ceiling and concrete bar mean business – it's clean cut, confident and unafraid of itself – again, refreshing. Roman's obviously done his research, and Essence would definitely feel much more at home in California – in Shoreditch, it's still other-worldly.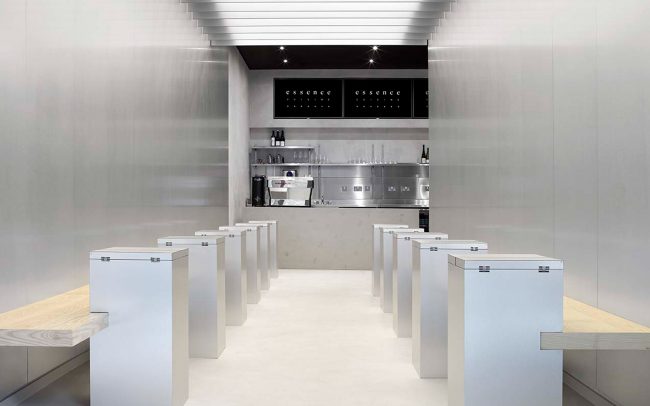 Food
On our first trip, general manager David Reid told us only 40% of their customers are vegan, so instead of labels, it's all about inclusivity. For breakfast, don't miss the garbanzo scramble (scrambled chickpeas with kale, green harissa, asparagus, and portobello anchovies), and at dinner, the raw heirloom tomato lasagne (layers of courgette and tomato topped with sun dried tomato marinara, pistachio pesto, and macadamia ricotta cream) is actually perfect for a rainy day in east London – in fact it was the macadamia ricotta that won us over. You won't find deep fried seitan or processed meat replacements here, and you'll feel better for it.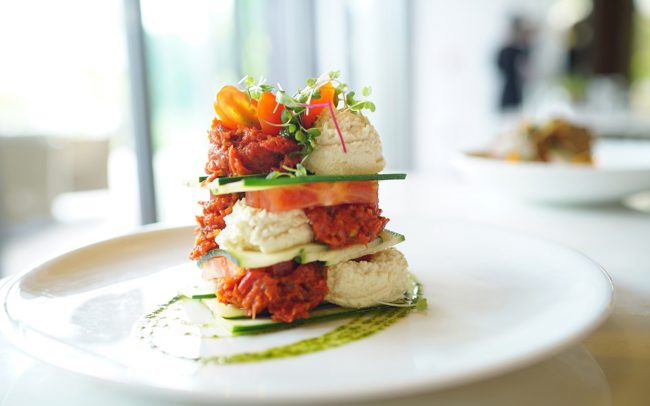 Raw heirloom tomato lasagne
Drink
Stop in for juices – an Intense Cacao (cashews, dates, cacao, Himalayan pink salt), or Intense Green (cucumber, celery, kale, lemon, parsley, spinach) are perfect post-workout. In the evening, switch to cold pressed cocktails and biodynamic wines with dinner.
Highlight
The garbanzo scramble is so delicately delicious, it'll soften even the hardiest of meat eaters to the raw cause.
Top Tip
They've just launched new takeaway range Essence Express, now available from Essence Cuisine as well as BLOK gyms in Shoreditch and Clapton, so you can pick up Essence goodness after a workout and on the go.