Want a bit of an Ivy feel, but with a focus on Italian, in the West End? Then Harry's Bar is a good choice. On James' Street, it makes the perfect post-Selfridges stop.
The Food and Drink
Start with zucchini frites and a tuna pizzette, then move onto lobster pasta, linguine vongole, chargrilled sea bass with mint and herb salad, whole lemon sole with Gavi di Gavi and clams, and pizzas with crisp, light crusts.
Side highlights include homemade mac and cheese, olive oil mashed potatoes and garlic and rosemary chips, and for dessert there are three different sundaes, profiteroles, olive oil and rosemary gelato with smoked olives (amazing), cannelloni, biscotti with vin santo, we could go on…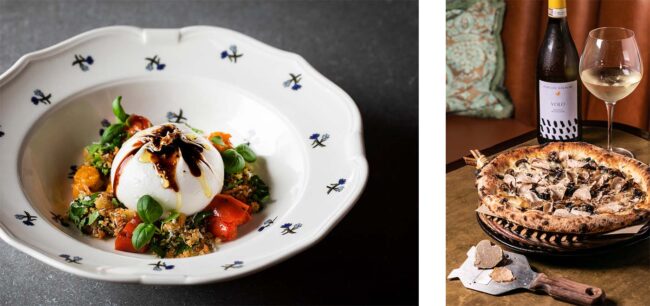 Vibes
Get a table on or by the terrace and watch the world go by. Décor is classic; copper and burnt orange, with warm lighting and brasserie chairs outside.