If you thought Four Seasons + Yannick Alléno (note: he has the second most Michelin stars in the world) = fancy, stuffy and heavy then think again, because this is relaxed, modern fine dining with a distinctly cordial vibe. In fact, it might just be one of the best new dining experiences to hit the capital in years. Read on.
The Décor/ Vibe
The colour scheme is largely light blues, whites, and beiges, with so many different textures – carpet, marble, plaster, wood and fabric panelling – which feels like a good fit for the contemporary space. Tables are large ovals or smaller circles and seating is plush. We say look around before you settle on a table – we'd suggest choosing something small over large, so you're not too spread out – and if you're two, we'd definitely opt for the wraparound bar for a first-hand view of the open kitchen. We loved the turquoise-accented porcelain plates and the evening pianist.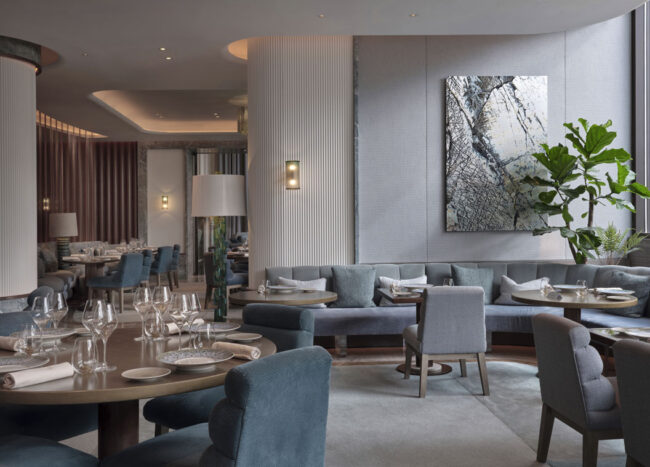 The Menu
The first decision is: do you want a tasting menu – there are a few – or to go à la carte? They say they are offering modern French dishes inspired by British seasonal produce, and this really is what they are doing. Make your menu selections, and be prepared for a surprise to be served with every course. The gazpacho is in an almost-gelatin form (with crunch), its flavours more pronounced than ever, with an icy cold celery sorbet on top and accompanied with jamon on toast. The beef stroganoff has a thin crust of basmati rice on the bottom, overlaid with bite-sized pieces of beef and finished with a healthy sprinkling of shoestring potatoes and paprika. The langoustine tart with osciètre caviar and smoked pike roe seemed like a classic, and the lobster linguine with bisque sauce, was, pleasantly, a much lighter version than one might expect with haute French cuisine. The desserts had elevated classics like crêpe and chocolate souflées, while others included interesting touches like crystalized mint and coconut sorbet with dill. The flavours… and the sizes! Eating in delicate portions keeps things balanced and enables you to really enjoy all three courses. And sleep at night.
The wine list of course was a tome, but ask your sommelier and you'll be not only on the right path, but also likely on an educational discovery (we loved talking to ours; he knew his regions and gave us things to think about. Washington Heights for wine? Let's try!).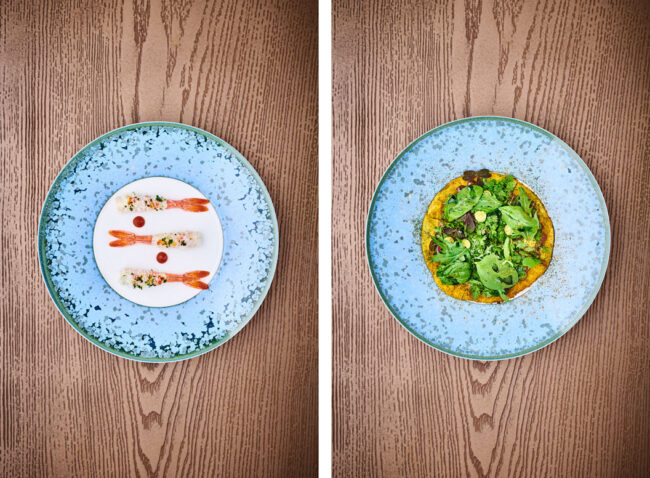 Highlights
The balance between an haute method and an approachable tone and environment was extremely noticeable. Very few places can achieve this, and with the staff, delivery, and overall vibe, they do it well here, which really puts the fun back into fine dining. We can see how you could come back and sit at the bar here, alone or with a date, or get a table with clients or people you'd love to see have a new culinary experience – because being able to surprise someone and see them delight in something new is worth the visit alone. The staff of course are also a highlight; anyone who works here takes great pride in what they do.
Top Tip
Want something lighter? Check out Bar Antoine for cocktails and comfort food. The space has DJs every Thursday/Friday/Sat, and is upbeat – a loving tribute, we are told, to the joyful spirit of Chef Yannick's late son, Antoine. Start here before moving on to dinner.