A glossy seafood bar from Boston that specialises in tinned fish comes to Mayfair. We had our doubts, but after visiting, this is one fun spot, with the restaurant pedigree behind it to make it somewhere you could become a regular at.
The Décor/Vibe
Come here at night, when this bustling restaurant really comes alive. Yes, it's Mayfair, so expect shoppers from Selfridges and tourists, but there are also locals, who – we're told – come almost every night. There's a real sense of conviviality at the bars here – diners talking amongst one another and to the staff – that is not typical for London spots. Maybe it's the Boston in the DNA? Who knows, but it's refreshing. Sit at the front bar for marble countertops and glossy backdrops. If you'd rather see the kitchen, hide yourself away on the back bar. They also have tables over two floors, should you not be a fan of the stool, while mini lamps and logo'd crockery elevate the everyday.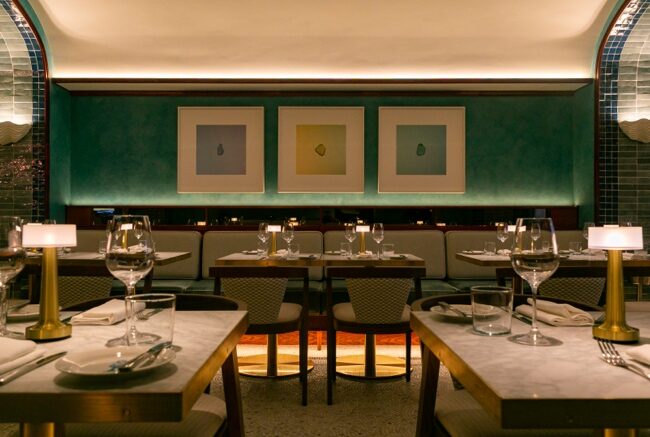 The Food and Drink
Here, they're known for having one of the largest selections of tinned seafood in the world; we heard around 150 different types – exact number TBC, but at any rate, it's a lot. Tuna? What kind? There are 25. Mussels? Octopus? You name it, they have it here, in a tin. Tins are served on wooden platters with a trio of salts, piquillo pepper jam, pickled peppers, lime and butter, with the freshest of fresh slices of French bread – we were instant converts and now feel a certain camaraderie with the locals, who already are.
Other highlights include whole fried sea bass, spicy tuna tartare and salmon with jalapeño and avocado oil from the raw bar, and gnocchi with caviar. They also have some eye-watering options including a £75 caviar grilled cheese, but hey, Mayfair. The American items like bagels with smoked salmon or pastrami, lobster rolls, shrimp cocktails, Waldorf Salad and waffles – here with lobster and corn butter – all looked well executed, too.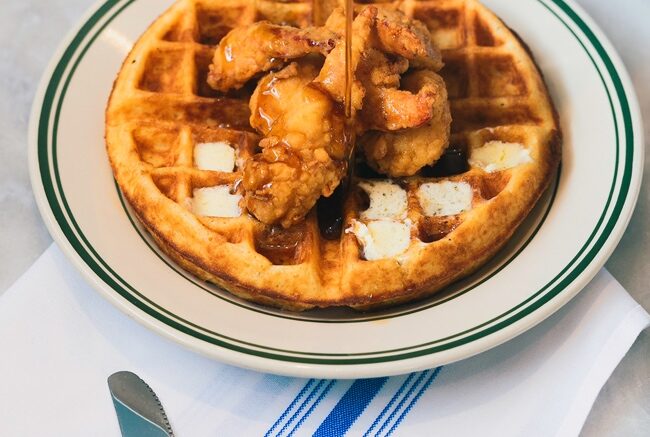 Highlights
The menu. Sure, there are some gimmicks in it, but overall, they have quite a few accessible items, meaning it's not just a place for those who might order caviar grilled cheese. We love the main bar – aim for the two seats furthest to the left, in the 'cove', so you can watch the entire restaurant. Their brunch menu looks interesting – breakfast carbonara and seafood towers – and should you be in the mood to splurge, you won't be short of caviar options here.