Avery Row is a nice surprise. Just off New Bond Street, nip in here for a reprieve from the bustling West End. From the US group Noble 33, which currently has two restaurants in LA, this is their first UK outpost.
The Décor / Vibe
Indoor olive trees and white brickwork mean you know you're in the Med, via Mayfair. Tablecloths are crisp, music is upbeat, and lighting is really, really good. The clientele is a mix of suited hedge funders and a more fun, fashion crowd. Overall, this is about as dressy as we've seen a crowd in a dining room lately.
The Menu
Menu highlights included their crudo section and homemade pasta dishes such as spaghetti with pistachio pesto, cappelletti with bone marrow, and cacio e pepe with truffle. There are comfort dishes like chicken and veal milanese, plates of parmesan and olives, as well as caviar and a break-the-bank Wagyu ribeye. A standout dish was actually the chopped salad, which is not only hard to find in London, but even more challenging to find an interesting one; this one packs a spicy punch. In fact, a lot of the dishes here did, which made a nice change.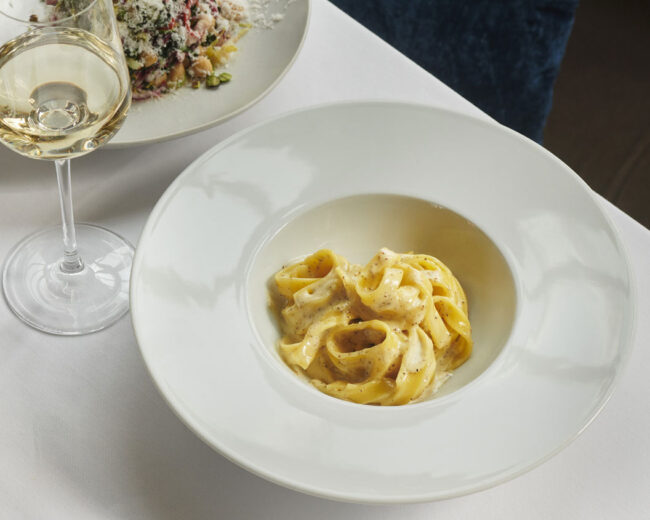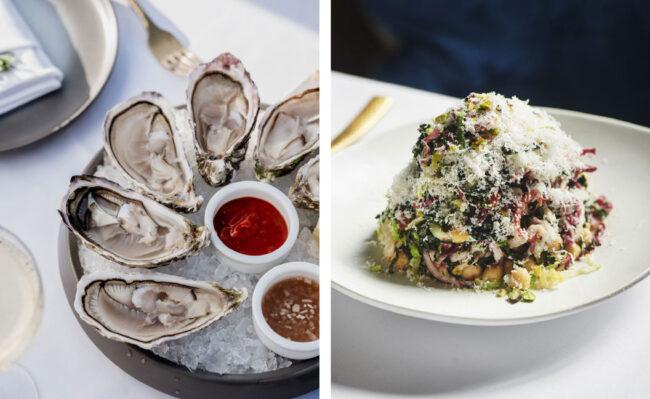 Drinks
The cocktail menu is illustrated, with an Italian focus; innovative drinks include things like the Sardinia (infused honeydew pisco, blanco vermouth, egg white, bergamot sphere) and the wine list is as you'd expect in Mayfair: extensive and served in beautiful, delicate glassware. Desserts include Italian staples like cannoli and tiramisu, as well as a gluten-free chocolate caprese (a tart-style cake).
Highlights
The rooftop. Called Sparrow's Nest, it offers a cosy birds-eye view of the area. There's a smaller menu served up here, and it's a great place to start the night.