Details
Opening hours
Mon-Sat: 7am-10.30pm
Address
Peckham Levels, 95A Rye Lane, SE15 4ST
More info
Opened
December 2017
Wildflower is the latest venture from Parched London (The Montpelier, Edwins in Borough), whose sites so far have only been in south London. It shows: they get the scene and what makes this side of the city tick. While Peckham has enough great pubs and street food stands to stop you from ever leaving, luxe and laid back is harder to come by. They've struck gold with head chef Joseph Ryan, who rose up through the ranks at Hoi Polloi and Salon Brixton before working a season upstairs at Frank's Bar leading their kitchen. His experience stops Wildflower from feeling try-hard or like a transplant from Hackney. It's all Peckham here.
Décor and Vibe
Live jazz on a Tuesday night, sat in a converted multi-storey car park in Peckham? We loved it. Wildflower shares its space with new venue Ghostnotes, which could sound cramped, but Parched have been careful. Open seven days a week from breakfast to last drinks, Wildflower achieves a lot, without being too thinly spread. In the evening, lights are dim with an orange hue, ceilings are low, everything is on wheels, and the transient nature of the smart canteen space (designed by Busby Webb) brings a fresh feel to dinner: watch the band or don't, stay for another cocktail or explore the rest of Peckham Levels (find that half pipe!).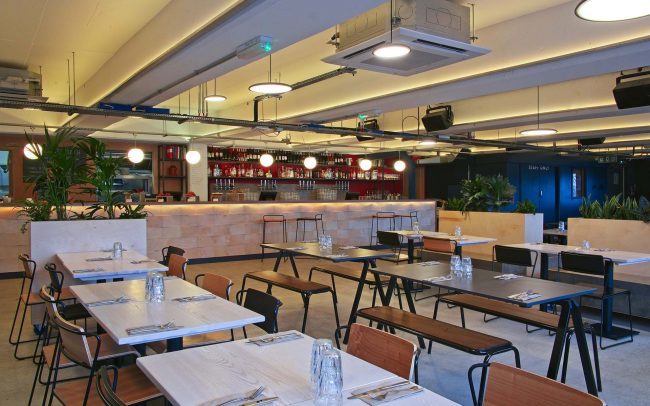 Food
The consistencies with Frank's are pleasing: thick wedges of flatbread with chilli oil and hummus (yes, flatbread to actually write home about) are identical to those served two floors above in the summer, and it brings a context to the restaurant that has the potential to feel a little lost in such a huge project (street food stands and bars sit just around the corner from Wildflower, so there's a lot of competition, even in house). In fact, the standard of food here does quite the opposite, setting Wildflower above and beyond its local counterparts. House layer potatoes (somewhere between dauphinois, fries and roasted) with aioli silence our table, swede fondue is referred to as 'witchcraft' (has anyone else ever made swede taste this good?!), mushroom ragu with soft polenta is the perfect understated comfort food and a salt baked celeriac with monk's beard and tiny pieces of pear and walnut completely steals the show. Even a bitter leaf salad, tossed with blood orange, dill and onion, has us rethinking how good seasonal leaves can be.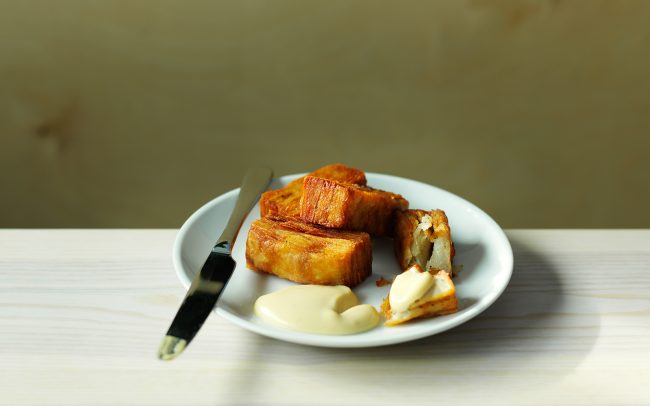 Drink
Do. There are just two cocktails suggested on the menu when we visit – a rhubarb bellini and a negroni, which were both delicious. The wine and beer list is full of vegan wines (rare for London), and the staff are happy to help with selections.
Highlight
We said it before with Essence Cuisine: the best vegetarian and vegan newcomers let you enjoy their food for what it is, arguments to the side. Wildflower is entirely vegetarian and mostly vegan, and you'd hardly realise. They've skipped the morals and gone straight to starters, making Wildflower a brilliantly inclusive spot. We'll be back to try the brunch, without an avocado in sight, as Wildflower only use produce found in Europe.
Top Tip
As the menu is so seasonal, order what catches your eye – it might not return! Also, it can feel tricky to find if you're a Peckham newbie (or it's been a few years since your last trip) – head to the staircase by the Rye Wax entrance and follow it up five floors.