Set on Collins, with 600 feet of oceanfront beach, the 1 Hotel South Beach is one of the most well-known hotels on the strip. A much-loved destination by locals, sports stars playing in town (and partying in cabañas by the rooftop pool), tourists, and longer-stay guests alike, this eco-conscious hotel has a lot going for it.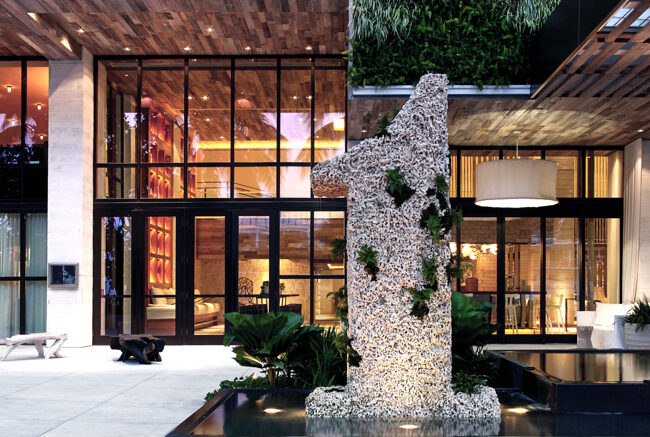 The Hotel
This is a big hotel. 425 guest rooms, including 168 studio suites and one 3,500 sq foot presidential suite. Just getting the hang of the elevator may take you until the end of your trip: this is a serious operation, moving a lot of people both day and night. Known for their commitment to eco everything, this translates into things you can see – taps for filtered water in your rooms so you aren't using plastics – and things you can't: they're 100% carbon neutral, and make large charitable donations to a variety of different partners like Oceanic Global and The Nature Conservancy.
The Vibe
For the amount of people passing through this hotel, it's a surprisingly chilled out sanctuary. Step through the doors, and you're welcomed into a space of billowy white and natural woods. This design is carried throughout the hotel.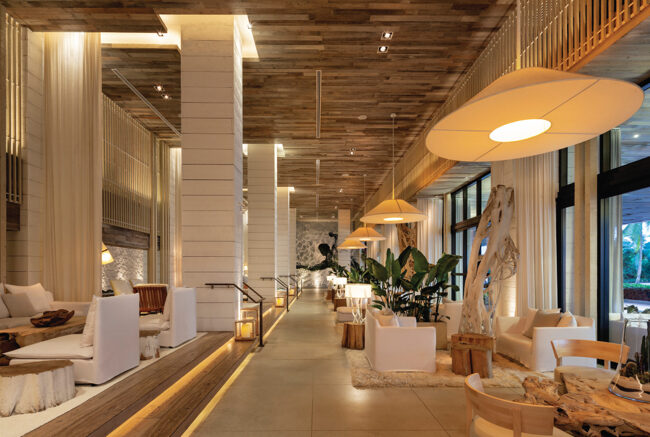 The Rooms
Rooms again are muted shades with furniture inspired by nature, bringing the outside in. Tables are made out of reclaimed wood, bedding is sustainably sourced, and there's greenery brought into everything from plants to amenities. Do opt for an oceanfront room if you can, and although all rooms are on the large size, the Junior Suites with sofas make you feel like you're in a flat. They have yoga mats and cosy cotton bathrobes and slippers, and if you're staying for longer, look at their residences, or Retreat Collection, which offers personal assistants with your stay.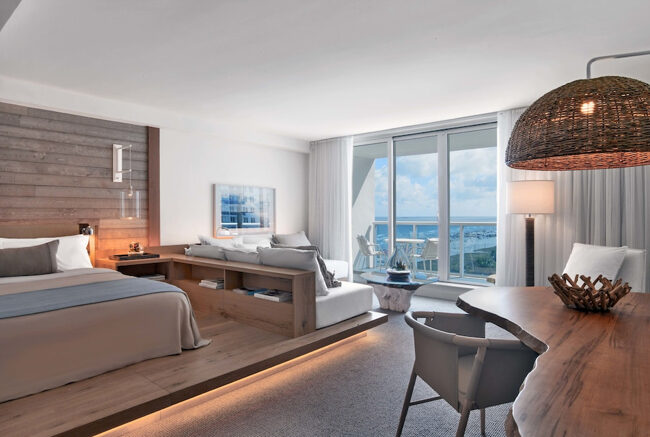 Food and Drink
There are several dining options here – around eight. Highlights include a day on the rooftop pool with sushi by your lounge chair, or lunch at their restaurant, WATR. For more feet in the sand, 1 Beach Club has reclaimed wood furniture in the forest on the beach, with great music later in the day, and a menu of sea-to-table Med fare, and you can also get drinks and snacks at their serviced chairs on the playa. For F&B to take away, their grab-and-go lobby shop Neighbors has juices and healthy pre-made dishes, and their lobby fruit stand serves fruit that would otherwise be discarded by producers: tastes great, but might not be Fresh Market-perfect (we love this supermarket in MIA) for consumer retail.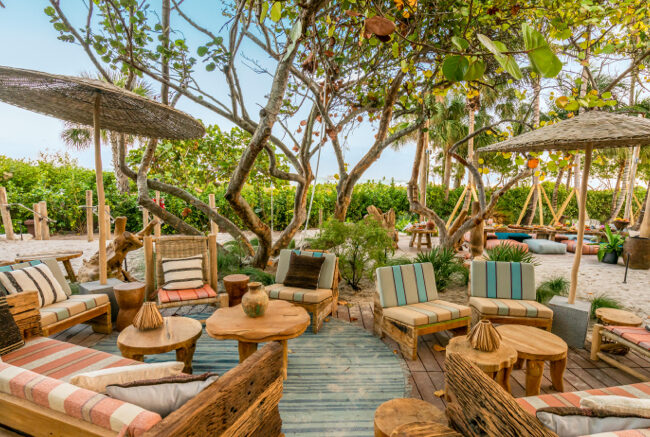 1 Beach Club
Highlights
The app! You can request things like housekeeping and turndown, and also – and this might be a hotel first that we've seen – for things to be removed from your minibar, which is smart. They have a great boutique at reception with labels like Zimmermann and Koral (athletics), with swimsuits and bags (including those from Notting Hill's The Jacksons) available in a shop close to the main deck. We love the rooftop pool – which is one of their three pools – too.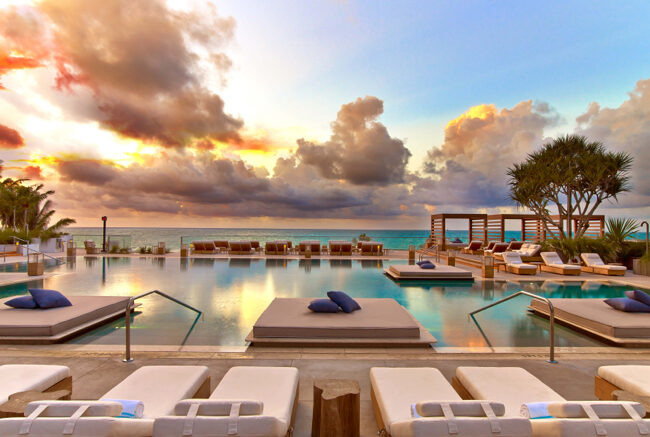 Anything Else
They have an extensive gym with boxing bags and PTs, a Bamford Spa, a salon, electric house car rides for short trips, nature based art, and memberships for locals.