Details
Address
1 Hotel Brooklyn Bridge, 60 Furman St, Brooklyn, NY 11201, USA
More info
The Hotel
Set within a short walking distance to the Brooklyn Bridge, this nature-loving newbie has jaw-dropping views of the East River, BK Bridge and the Manhattan Skyline. Plan to stare out the window a lot; it's mesmerising watching XXL freighters and life go by.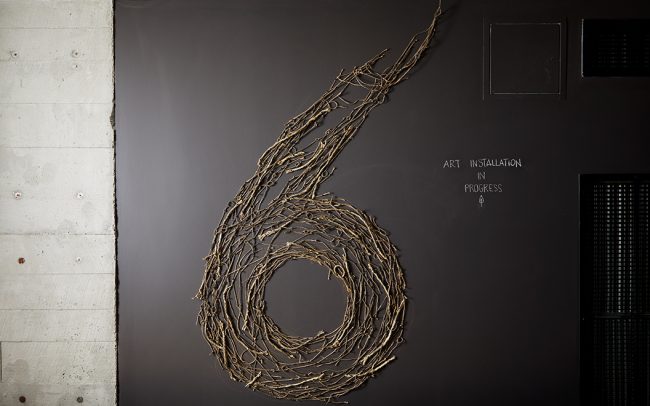 This is not where vintage rockers come to misbehave. This is for the mindful crowd. Every aspect of this hotel has been carefully considered. Wood is recycled, mattresses are hemp blends, there's enough greenery inside to think you're in Central Park and there's recycling and repurposing aplenty. But it's not all granola. The rooftop turns into a type of club at night (well, they have bottle service and a door person) and the lobby is bustling with cocktails from early eve. Overall, this is a very 2017 spot. The future of stylish, eco-conscious travel.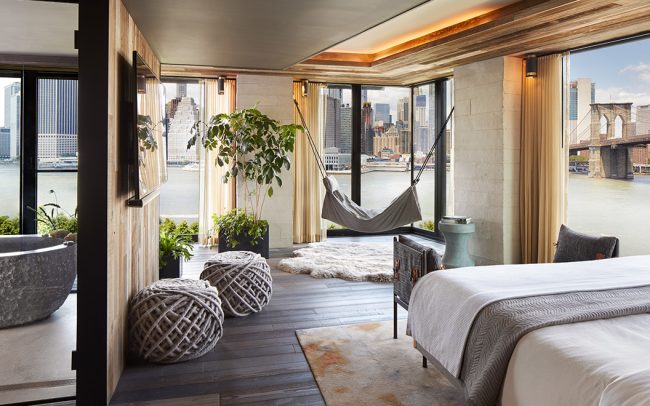 The Rooms
Here at UJ it takes a lot to bowl us over. But these views. We literally couldn't stop staring out the windows (be sure to request a room with a view!). And the best part, the windows opened, and you almost felt like you were on the water – we had to play No Sleep Till Brooklyn to celebrate. Rooms are spacious and felt like they had been feng shuied – there is a flow to the layout that feels very Zen. Mindful replacements were also seen throughout: instead of water bottles, it's a filtered tap stylishly built into the wall, disposable slippers are replaced by warm socks (to keep), keys are made from recycled wood, hangers from recycled wrapping paper. We could continue but you get the gist. There is a small moss garden by the washroom, and chairs are of the ergonomic or backless kind (use your core!). Mini bars goods are all from ma and pa shops and lights are energy savers. There's even a timer in the shower to remind you that a little less time means a lot more water for others…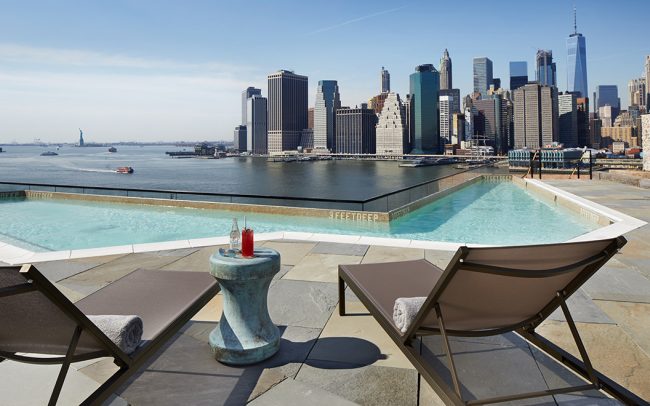 Restaurant and Bars
The main restaurant wasn't open yet, but the casual farm-to-table Neighbor Café serves everything from pressed juices and chia pots to homemade sriracha and egg bagel breakfasts; this is a feel-good grab-and-go or sit-and-linger space. The 1 Rooftop, also home to the Plunge Pool (#UJLoves), serves drinks and a casual menu of shoestring fries, hot dogs and lobster rolls. On weekends, by day (1-6PM) it turns into a hipster urban pool party with DJs; by night, it's more of a club-like space (book ahead if you plan on sitting anywhere). Either way, you can't beat the views from here.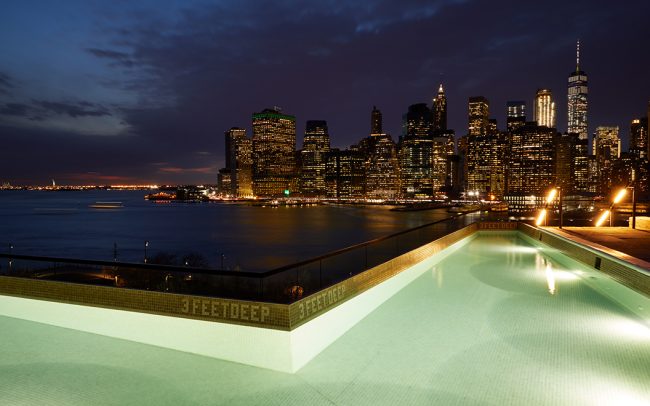 Highlights
The dogs. Everyone has a dog here – and they even have 'yappy hour' (stop) events to entertain them. The greenery everywhere is a calming change, and the efforts put into operating in the best way for the planet possible is inspirational. And you really can't beat this rooftop.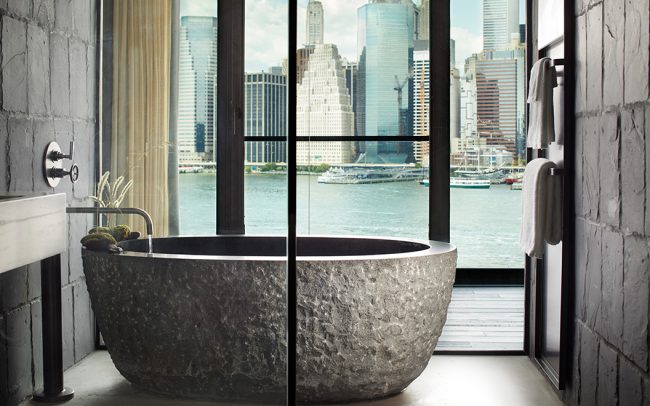 Anything Else
There's a screening room, a 24-hour gym, a bike valet, Teslas, and a Bamford Haybarn Spa coming soon.
The Details
Rates start from $350