Ask any stylish Ibiza frequenter what their favourite Ibiza agroturismo is, and Cas Gasi will almost always feature. Chic, bohemian, luxe and rural, this boutique hotel definitely stands out. And it's not only the property people talk about – Margaret Von Korff (a Barcelona native, with German heritage and an Ibicenco husband), Cas Gasi's founder, is also somewhat of an island legend: she is style personified, with a sophisticated, welcoming vibe. When we asked Margaret if she had a press release for the property, her answer ("we have a LinkedIn page?") was telling. This is not the kind of place that needs press – people find it.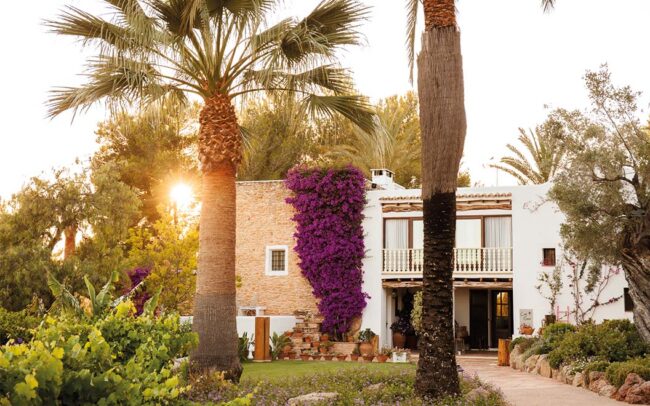 The Property
Situated close to Santa Gertrudis and San Rafael, Cas Gasi is away from it all, but centrally located. Tucked away down a dirt road, pass through the regal entrance gates to find the property which dates back to 1880, and still bears the name of the family that owned it for generations. Bought by Margaret and her husband in the late 80s, they turned it into a boutique hotel after 10 years in residence, and the country house has been restored in a way that stays true to its traditional Ibicencan roots. Surrounded by foliage of all sorts – palms, and pines, bougainvillea and olive trees; they have 4 hectares of land – it truly feels like a hidden, tropical / Balearaic oasis.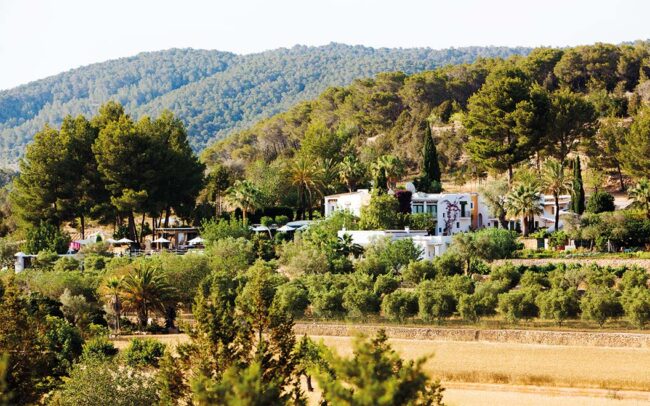 The Vibe
Margaret is confident with her taste and it shows. Striking touches make this a timeless, ever-evolving space. A yellow wall where the sun hits just right. Eggshell blue shutters, offset by crisp whites. Mint green wooden doors from Morocco and fabrics from France. Sorbet-coloured folding chairs and a logo that feels important and fitting. Artwork by local artists and family heirlooms, with books wherever you look. The combinations (stripes and florals) feel chic and contemporary and nature complements the design. The central living room is lived in, and the fireplace crackles.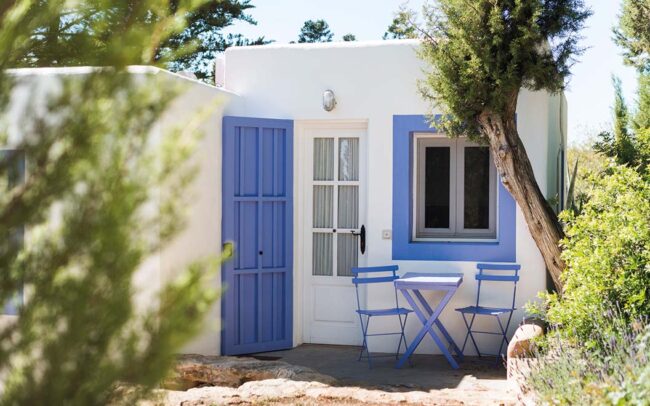 The Rooms
Rooms are either in the main house or dotted around in other structures, and no two are alike.
The deluxe junior suites might just be the best 'rooms' in Ibiza. Layouts vary, but one has a standalone tub, multiple terraces, including one with an outdoor shower (and a sitting area, no less), and one with views that stretch over the hilly countryside; it's the perfect, private sunset spot. They also have their own driveways, meaning this can be one private stay should you want to hide away.
All rooms have feathersoft duvets and crisp sheets, and there are the usual modern cons like Marshall speakers, Nespressos, and mini bars. Floors are terracotta stone, and walls are whitewashed.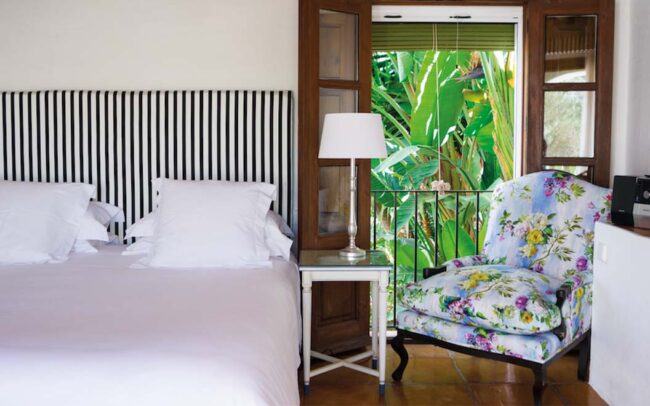 Restaurant
With their own organic farm, dining here is about the ingredients.
Breakfast is extensive, with menu items like a tofu scramble with tomato and onions, vegan pancakes with berries, açaí bowls, and eggs benedict on brioche. They also have all the usual '22 options – gluten-free, almond/oat/rice milks, turkey bacon – and any place that serves cheese platters for breakfast is a friend of ours.
For dinner, sit in their intimate well-lit dining room or under the olive trees. They have different set menus, or you can order à la carte; they also have a chef's bar around the open kitchen.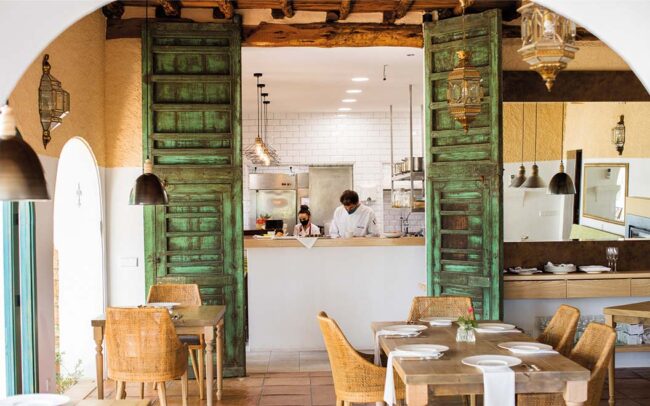 Sustainability
Sustainability has always been at the core of everything they do, with their organic farm being over 20 years old. Highlights include their electric cars (to rent, for transfers, or for use as on-property buggies), usage of solar panels and photovoltaic energy (converts electricity from sunlight), and their pools are treated with salt instead of chemicals. Lights are kept low at night and fires add heat to the communal space in winter.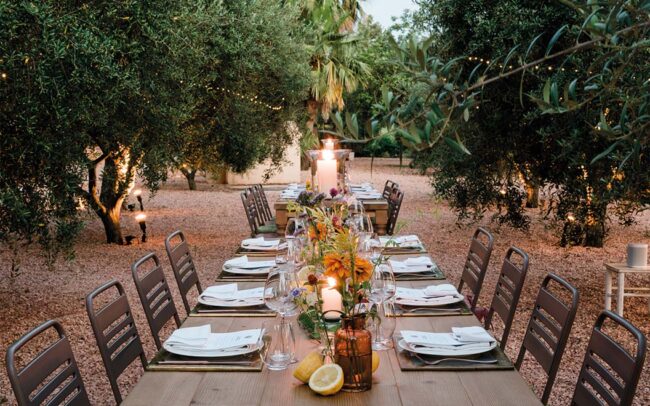 Highlights
This agroturismo attracts a special crowd. And the privacy offered here, especially in the suites, is truly unique.
Anything Else
They have a spa with treatments, a sauna and jacuzzi and a yoga deck, with 8:30 AM yoga daily. Opt for a massage outside, followed by a dip in the heated pool. If you want to make a day of it, they have different packages, some which also include a tasting lunch or dinner menu.