Located directly across from Pacha, El Hotel has long been where top tier talent stay, namely those playing at Pacha. A facelift of sorts, however, was much needed, and the result sees a change in décor, but the Pacha spirit throughout, thankfully, remains the same.
The Hotel
The iconic exterior is instantly recognisable and houses a small pool, restaurant (more breakfast, snacks, and drinks), 57 rooms, and a new boulangerie. The cherries at the entrance let you know exactly whose house you're in. Vamos!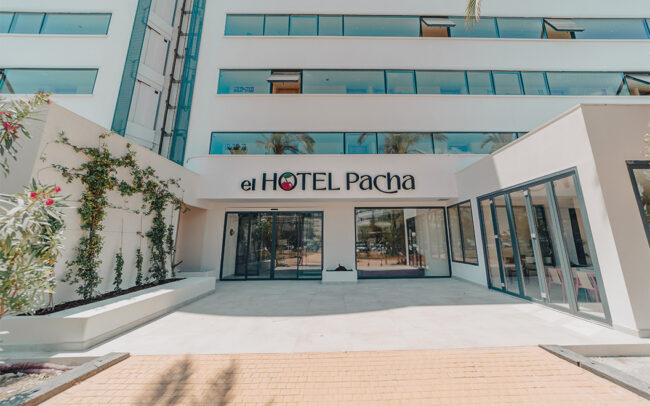 The Vibe
Pacha has always had a fun spirit – the heartbeat of the island – and you feel that here. Even the mornings have a (good) DJ, and the crowd here is the type that do touch the bottles with breakfast (and they aren't rowdy youth either, they're just seemingly the joie de vivre crew, we love). You can tell the brand still has more free rein than some of the more corporate names in town. This is the kind of hotel that you could end up having drinks with your neighbour.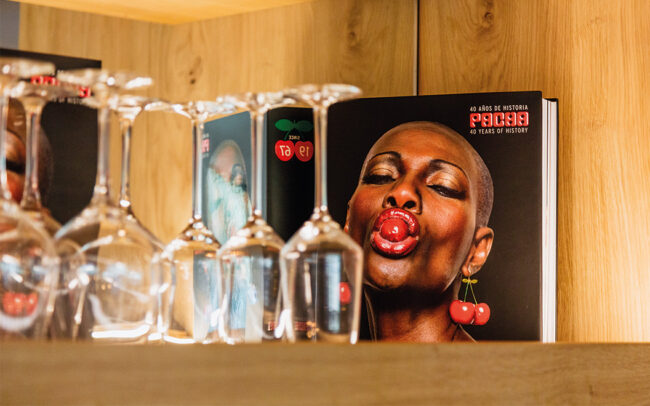 The Rooms
The all white has been traded for earthy tones; the design overall is now more in line with their sister hotel Destino. Cream concrete keeps it light and cool, and chairs on the terrace offer an inner-city (so to speak) chill out space.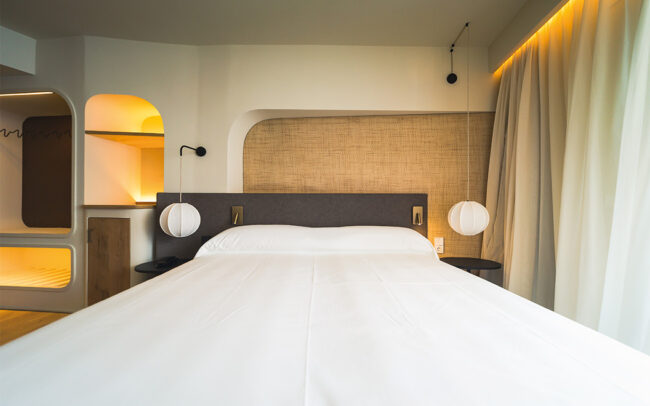 Food and Drink
The F&B offering is pretty basic, but breakfasts are simple but good, there is room service, and across the street is the main Pacha restaurant, which has also had an update (in its menu more than design: it's now contemporary Med rather than Japanese), so dining well is close by.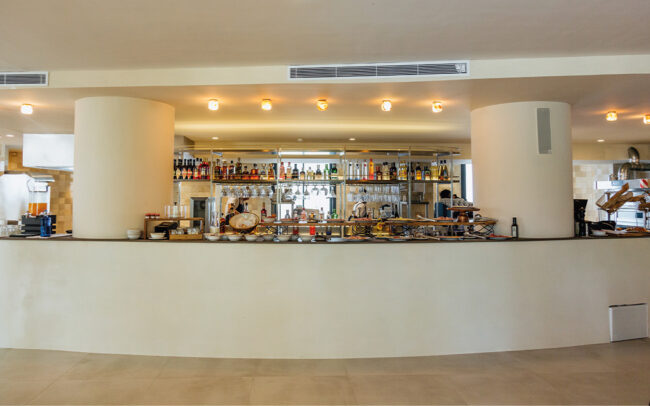 Highlights
The spirit of Pacha! We noticed an older gentleman in his slippers and bathrobe at breakfast, sipping cava. More of this please.
Anything Else
If you'd like to use the (larger) pool at their neighbouring sister property Destino, you just have to book in advance. They'll sort free entrance into Pacha as long as you go early (by midnight). A better hack might be to book in at the Pacha restaurant across the street – and assuming you hit the minimum spend, they'll let you into the club after dinner for free. Which likely works better for timing, as no one wants to be at Pacha by 12 really.