Details
Address
Plaça de Cort, 07001 Palma, Illes Balears, Spain
More info
The Hotel
This is the first hotel (opened March 2018) from the Grupo Cappuccino, a Spanish company  known for its restaurants and cafés. With only 32 guest rooms, this is a boutique hotel in the heart of historic Palma.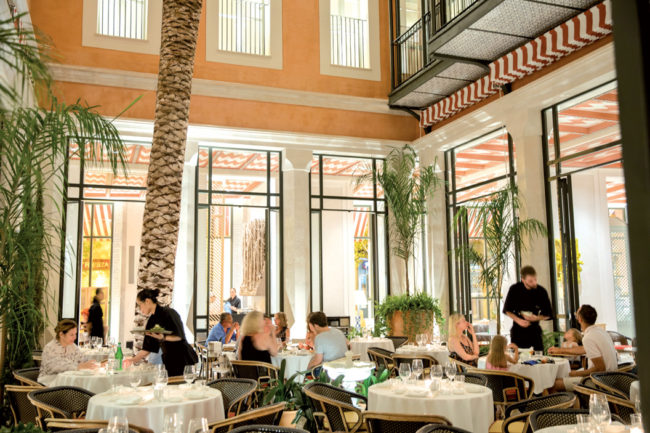 The Vibe
You know the kind of place that you walk by and think I think 'I'd like to stay there' and book in? That's this (and what we did!). As it's right off the bustling Plaza de Cort, the hotel benefits from an overflow of the energy from the square. The central courtyard has a hint of Art Deco, and the huge palm trees are perfect for its vast ceiling-less (in the summer months) space. This feels like an XXL, well-serviced flat in the centre of town. There is a definite nod to the Firmdale style of pattern clashing interiors and there is custom furniture, excellent tiling and striping, throughout.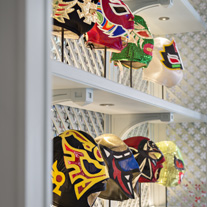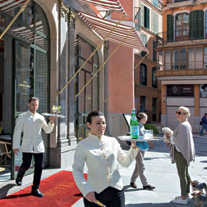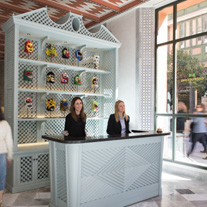 The Rooms
There's a lot to like here. Our room was simple (not all are, some seem to have pattern-covered everything), but it's the attention to detail that got us. A one-flick custom switch to turn off all lights. A glossy red Nespresso machine, Floris products, a robe that you'd definitely buy (we love their logo) and a professional hair dryer, which was a nice change – so many five-stars scrimp in this department and it's noticed. Water is provided for the coffee machine (like Wi-Fi, it's something we don't expect to be charged for, but often are), and a real highlight was the colour palette, which had a Kate Spade preppy feel (a salmon and lime green 'do not disturb' sign was a worthy souvenir). Baths were deep, sinks had a vintage feel and the handblown glass yellow toothbrush holder is for sale, as are the logo'd laundry bags and hangers; guess we aren't the only ones who like the logo! Every room also has views of the historic quarter, so you truly feel like you're part of the city here.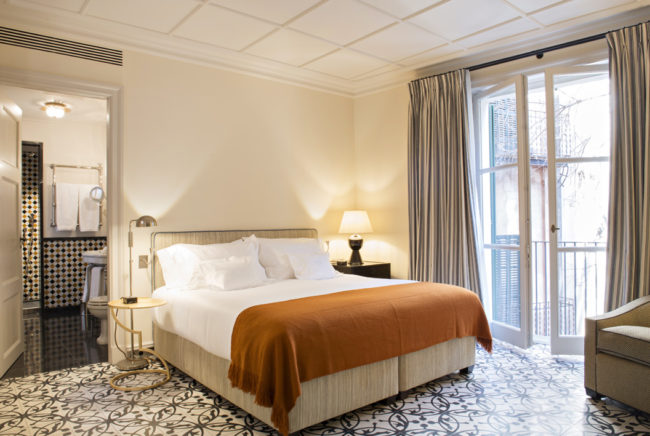 Food and Drink
There's a Japanese restaurant, Tahini, that is supposedly one of Palma's best, and there's the Cappuccino Grand Café, serving the type of traditional food the group is known for. Both are open until midnight.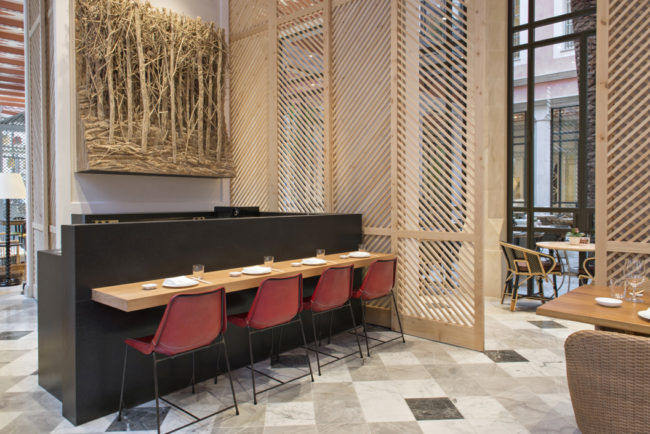 Highlights
Don't miss the rooftop pool! With a backdrop of the cathedral, red apple sun loungers and a sapphire blue pool, this is an Instagrammers dream! UJ also loved the outdoor shower and the spa treatments and personal training fees seemed rather – dare we say – reasonable, we were even tempted to get a last-minute PT! The owner supposedly has one of the largest private art collections in a Spanish hotel, so do look around the ground floor. We loved the lucha libre mask collection at reception.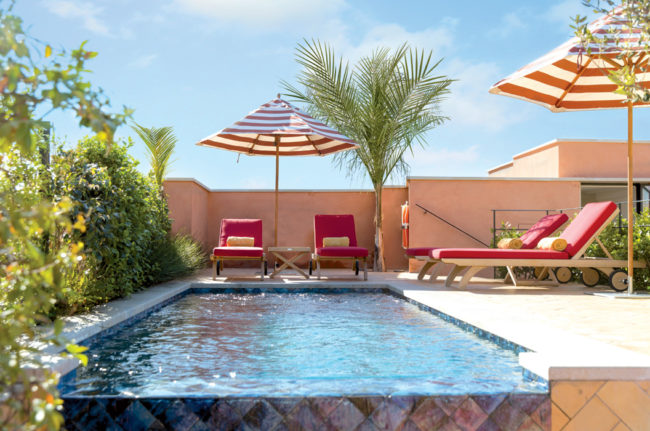 Anything Else
We love Palma! So easy to get around, so many local haunts to check out and you are a hop skip and a jump to the cathedral. If you're a Barrafina fan like we are, head straight for El Camino, by its owner, Eddie Hart, which is approx. four minutes from the hotel.