Details
Rooms from €350 per night including breakfast (low season rate)
More info
+34 971 195 200
Website
The Hotel
Set on the west side of the island, this all-suites newbie stands out for its prime waterfront location in front of the island's favourite mystical rock (and third most magnetic place on earth, they say), Es Vedrà. With 186 suites, four bars, two restaurants, two main pools (including one infinity pool), a spa and in-hotel delivery service, this really is a complete luxe compound.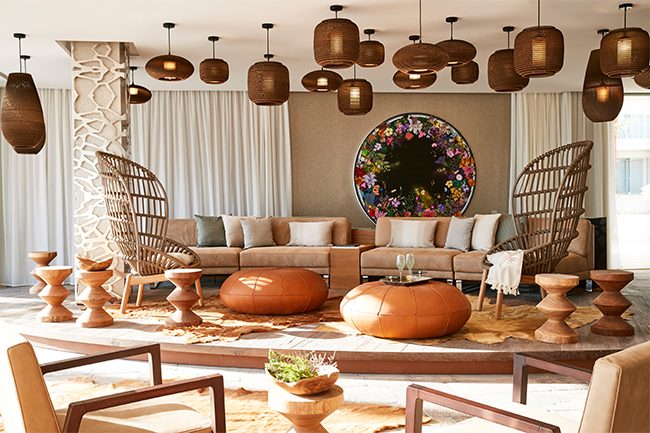 The Vibe
The vibe here is definitely nautical. The Pershing Yacht Terrace is modelled after their boat, all charcoal and sleek, aerodynamic lines; the resort staff wear yacht crew-inspired looks (it works) and there's a sea wind from day to night, which makes the summer heat bearable. This is a slick op, with great service to match. As it's a new hotel, the clientele (for now) seems to be mainly members of The Leading Hotels of the World, and when we were there this meant lots of Americans. It's definitely family friendly, too.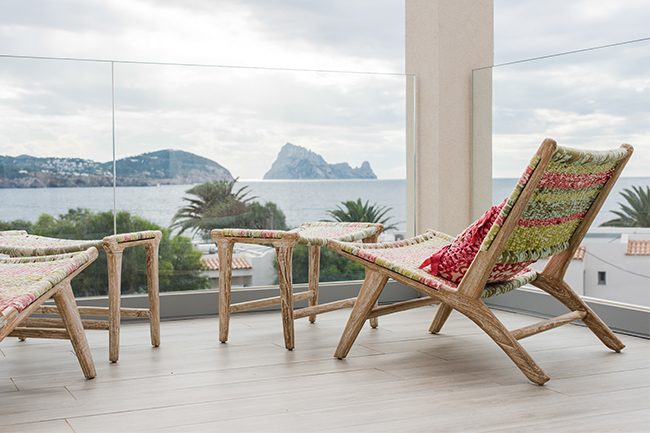 The Rooms
Want to feel like you live in Ibiza? This is your spot. All rooms come complete with sitting rooms, mini kitchens (great wine fridges and drinking accessories, but no stove), terraces, and walk-in showers with Molton Brown everything. Coffeemakers brew Illy, wines in the fridge are full of bottles like Whispering Angel, there's a full fruit basket, and lemons for your drinks. If you need a speaker (Bose), ask the front desk.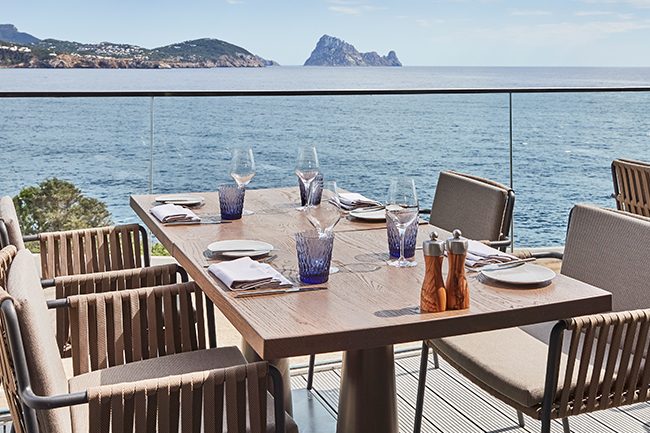 Food and Drink
Head to The View for European fine dining, Korean cooking techniques and Japanese robata grill, or visit The Cone Club for something more casual (Med/Middle Eastern/Asian sharing plates); both have stellar views. For breakfast, it's the usual extensive buffet with cava. Or an opt for the (also included) à la carte menu complete with poached eggs and asparagus, shakshuka, pancakes, waffles and eggs benedict. Breakfast is served until noon, so there's no need to rush. If you don't feel like leaving your room, there are delivery bikes that will whip your request to you, à la Deliveroo.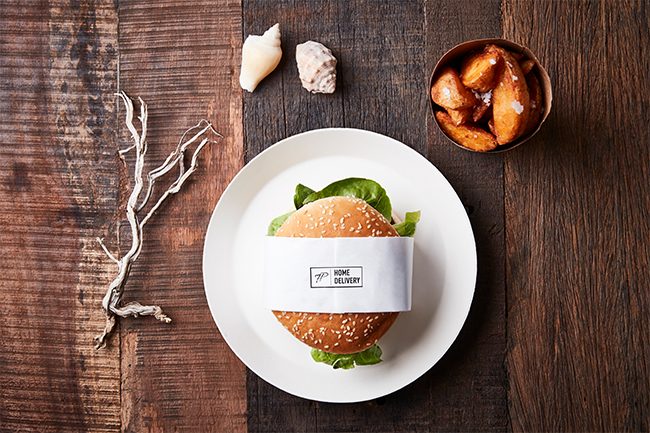 The Area
There are three beaches close by – Cala Colodar (rocky beach, day beds, lots of locals, and a shack-like chiringuito that accepts cards), Cala Conta (big beach that's great for swimming and home to Sunset Ashram, which offers one of the best sunsets around), and UJ fave Cala Escondida (small cove, less crowded, great shack with reasonable snacks; bring cash).
The Spa
From treatments and fitness to yoga with views and a hair salon, their Pure Seven spa is a complete offering. They also have running trails, paddle boarding, and retreats, and if you've forgotten anything, they have swimsuits, suncreams, cover ups and IBZ books in their shop.
Highlights
Es Vedrà! Staring at this magnificent rock all day is truly mesmerising. We've drunk the Kool-Aid – the rock really does have a magnetic pull! The hotel's yacht also looks great should you feel like hitting the high seas, and the room keys – which you wear as a wristband – were definitely useful. No more replacing demagnetised, lost keys in the early hours.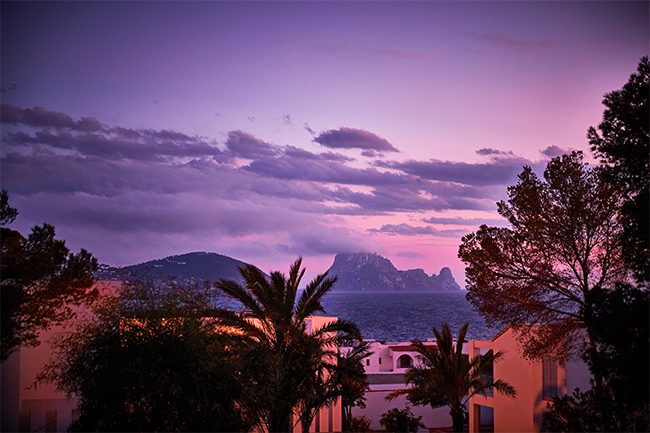 Anything Else?
The concierges here were very knowledgeable and the in-room print guides were extremely helpful. They listed their favourite restaurants in Ibiza, as well as those close by – all with drive times by them. This is VERY important in Ibiza, as a 30-minute taxi ride can make a casual dinner quite expensive. Several locations are also difficult to get taxis from at night, so best to arrange a driver, or be prepared to wait if you aren't driving.