Details
Rates start from €150,000 (+10% VAT) for 7-nights based on 10 people sharing. The price includes all food and beverages consumed, an unlimited selection of house wine, beer, champagne and spirits, and private transfers to / from Ibiza Airport.
For the ultimate weekend package rates start from £85,000 for a 3-night stay based on 10 people sharing. The price includes private transfers, all meals, house wine, beer, spirits and champagne, 1 full-day excursion onboard the 33m Mangusta yacht, lunch at El Chiringuito for 10 people, VIP table at Pacha for 10 people, and a private yoga class for 10 people.
More info
The only private island off Ibiza. Whether it be for a special event or a blingin' getaway with friends, Tagomago is one special spot.
Intro
Looking to get away from it all? You've come to the right spot. If you love music like we do, you'll likely find it hard to stick to a night in in Ibiza. Not here. Even if you want to go out, it's a boat or helicopter ride, and you likely can't drive or fly yourself, so these things are more difficult to do – meaning, take away the option of going out out, and relaxing becomes a whole lot easier.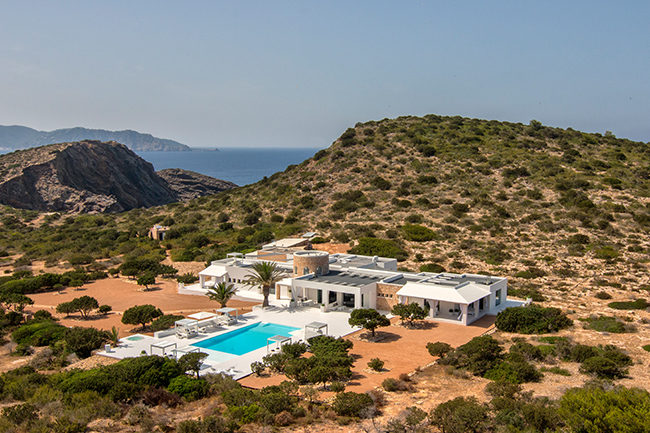 The Villa
The villa is surrounded by 148 acres of woodland and is only 900 metres (that's five minutes in a boat) off Ibiza. It has five en-suite bedrooms (four with views), a pool with Balinese daybeds, two outdoor dining areas, professional kitchen, indoor/outdoor living room, rooftop, office, and speakers throughout. The décor is purposefully white and light, meaning it can be easily customised should you be doing an event here, and the artwork on the walls are of the Miró type (as in, lots of originals). The bathrooms are luxe (Bulgari products, tubs, charcoal tiles, bathrobes) and each room has a minibar, which is appreciated in a villa.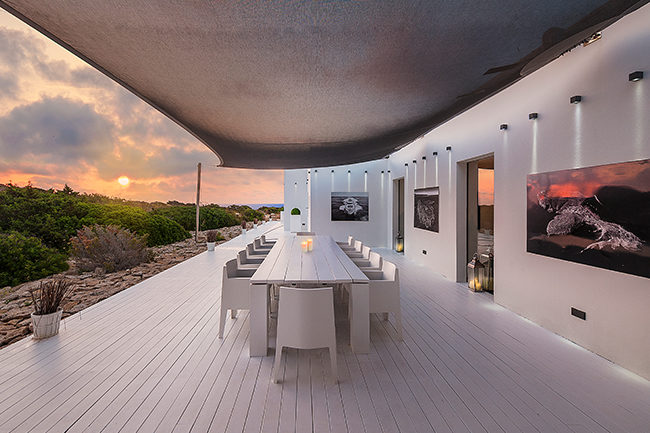 Staff
The villa comes with a boat, captain, chef, butler and cleaning staff – you will want for nothing here. Leave your room and it's cleaned. Want an Aperol on the roof, and it magically appears. BBQ for lunch and romantic picnic by the historic 1909 lighthouse for dinner: no problem.
To Do
As you have a captain and small boat for the duration of your stay, use it! Touring around Ibiza or heading over to Formentera, going out for lunch or to a local beach: just say the word. The island also has a trail that allows you to run three points, should you be after some ad hoc fitness, and they can also arrange diving, fishing, yoga, and massage treatments. We're pretty sure that if you can think of it, they can arrange it.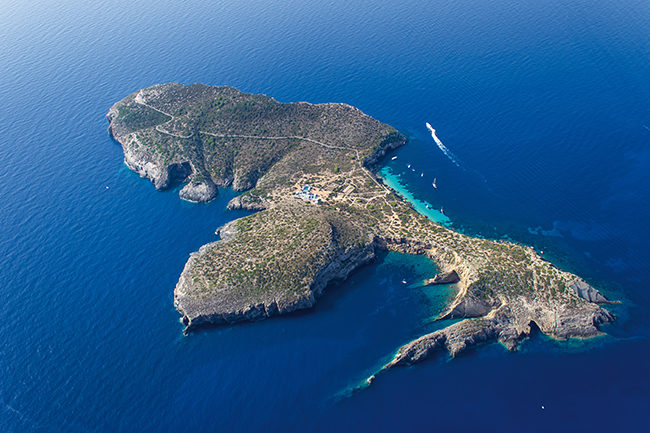 Highlights
It goes without saying, but the location. Being on your own island, truly feels like a great privilege, and a hike up to the lighthouse at night is memorable. The staff are amazing and top tier: the chef has worked all over the world and cooks light and fresh which is a nice change, and the captain is experienced and also knows his local tips- so finding a lunch spot, day trip or any other advice becomes easy.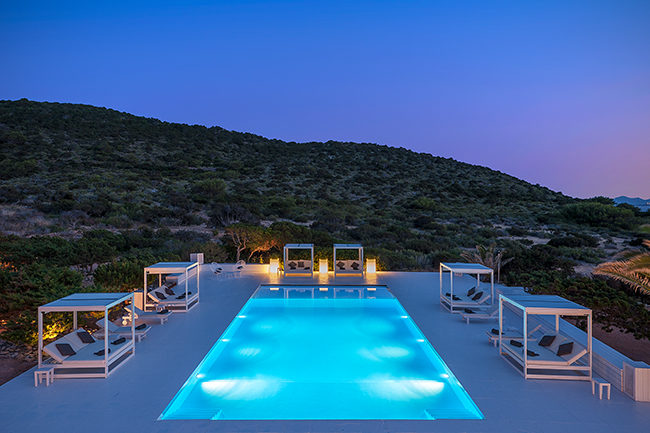 Anything Else
The staff are here to look after you, so don't be afraid to ask. Want different playlists played throughout the house or anything cuisine wise that you love? Ask. They can also arrange chefs/mixologists and staff, should you want to splash for something special. Formentera is 30 minutes away and the pick-up boat transfer spots Cala Mastella (when it's rough) and Pou des Lleó (when it's not) are both very quaint, not crowded beaches, so make sure spend some time there. If you can bag a table at the famed El Bigote on Cala Mastella, even better.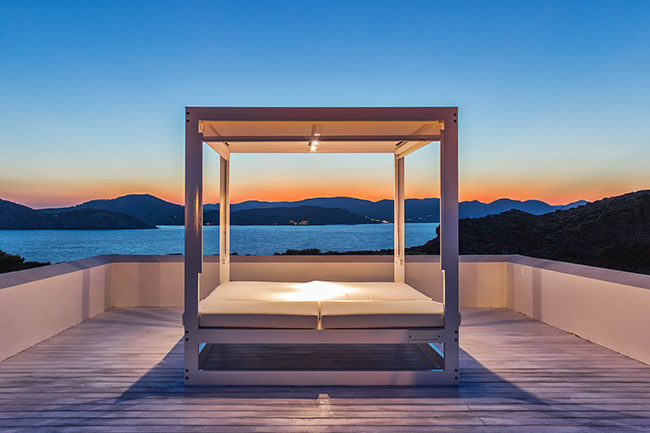 Ultimate Weekend Package
This new package includes a full day onboard Tagomago's 33m Mangusta yacht to explore hidden beaches and coves, VIP access to Pacha, lunch at El Chiringuito, and a private yoga teacher for sunrise yoga sessions on the villa's sprawling rooftop terrace. Meals will be prepared by Tagomago's resident chef and with the yacht, you can swim in the crystal-clear water, jet- ski, snorkel, paddle board and have sunset drinks at Es Vedrà.