Set in the vibrant El Poblado district in Medellín, this is where most of the boutique hotels are, as well as nightclubs, restaurants, shops and bars. This area feels buuuuuuuusy – great if you want to be in the centre of things. But do expect traffic and a serious bustle.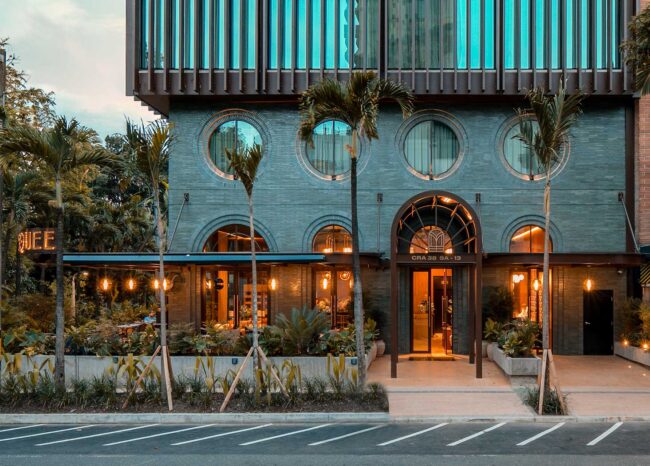 The Hotel
A skyscraper in the hills of Medellín, The Marquee feels like you're exactly where you should be when visiting this city. With only 42 rooms over four floors, it feels like an oasis from the action outside.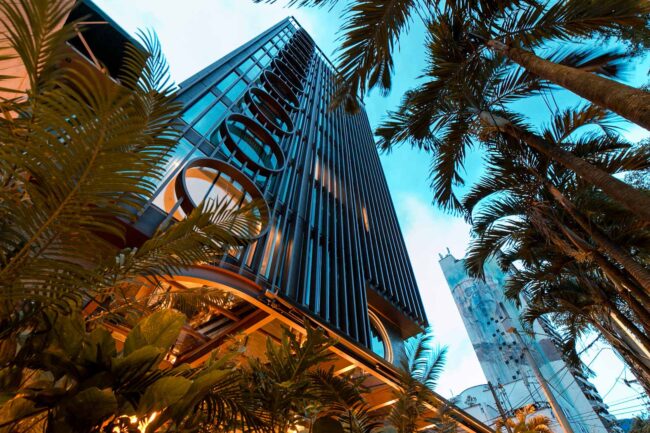 The Vibe
This hotel has a definite pulse. Go immediately up to the rooftop terrace for (almost) 360 skyscraper/ mountain views. You really are in the heart of it. With a jacuzzi, slender city pool and rooftop bar, it's the perfect twilight spot to take in the shimmering lights. The ground floor Parisian style bistro, complete with sunny terrace, is a great, calm place to start your day.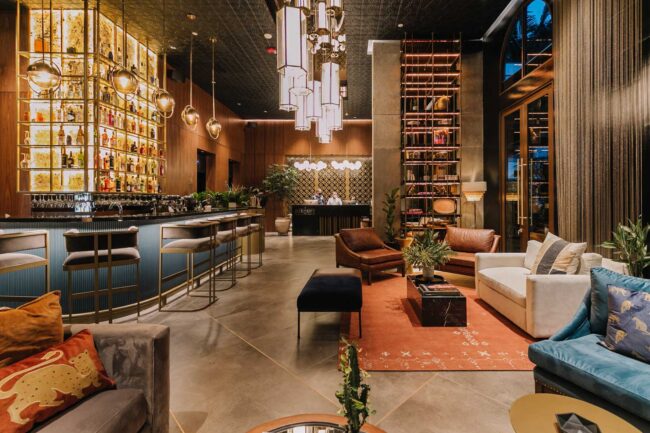 The Rooms
Ask to be high up (6th floor or higher) as again, you are in the nightlife district and you can hear music any lower. The Corner Suite with wraparound windows allows you to immerse yourself, and they have rooms with jacuzzi baths, too. Mini bars have cervezas and soft drinks (gratis), as well as larger bottles of spirits to purchase, should you be either thirsty or entertaining. Furnishings are plush, and floor to ceiling windows by the showers in some rooms feel special too. Blackout curtains are always welcome. There are no slippers, so BYO, and no coffee machines in rooms mean you get to try Colombian coffee elsewhere, which is good.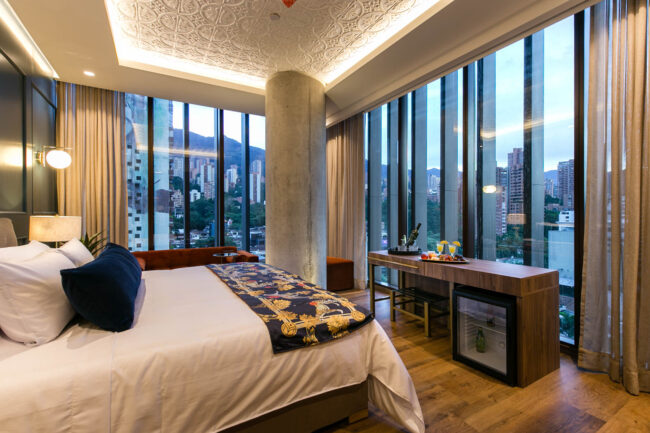 Food and Drink
They have an Italian restaurant (with a Colombian slant), Abbicco by Carmen, that also serves breakfast, and a pool menu with the usual easy-to-eat fare on the roof. Carmen is the restaurant that is said to have reinvented the Colombian dining scene (the owners own Carmen, Moshi, and Don Diablo – all on any must dine Colombian list), and here, they have lent their touch to add authentic Colombian flair (in the methodology, flavours and produce used) to classic Italian recipes.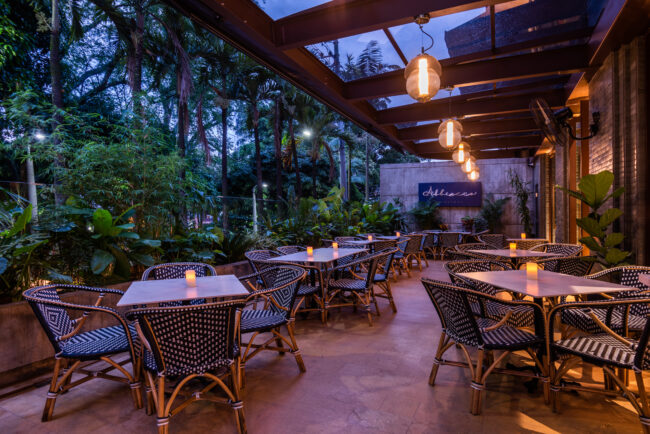 Hotel Highlights
The roof. The staff are great too.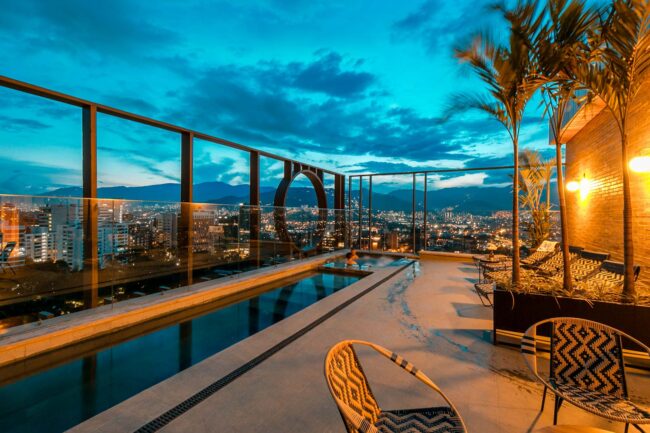 Anything Else
They don't have phones in rooms; instead, you are supposed to communicate with WhatsApp, which they actually respond very quickly to. You can pay to use a neighbouring gym at The Charlee Hotel close by.
Medellín Highlight
Comuna 13. It supposedly used to be one of the most dangerous neighbourhoods in the world, controlled by gangs and drug lords until 2002. Since then, via a raid and the installation of escalators that now connect the hilly sprawling barrios with the city, it's become a tourist attraction, with street entertainment and history-led graffiti art. Get a local guide and go.