We've long wanted to try The Ranch Malibu. Known for its no options week-long programme of hikes and fitness, it's been a long-time fave of influential folk who are trying to reset in five-star comfort. Launched this spring, The Ranch Italy is their first permanent international location.
The Location
Ever heard of Fiuggi? Neither (embarrassingly) had we. Known for their thermal water, Fiuggi is a spa town one hour south of Rome. Here you'll find old school hotels (there's a real Wes Anderson vibe here) and seafood restaurants, plus several picturesque towns close by, too.
The Hotel
The Ranch Italy's basecamp is at Palazzo Fiuggi Wellness Medical Retreat, a regal hotel perched hilltop, surrounded by 20 acres of greenery. Here, they mean business on the health front: there's no alcohol or snack food around (in-room mini bars only have water), and the spa menu is 45 pages long; ask and you can pretty much receive it here. Standard rooms look out onto the park and have marble bathrooms and classic crests.  Their gym is light and state of the art, and the spa and its facilities, renowned.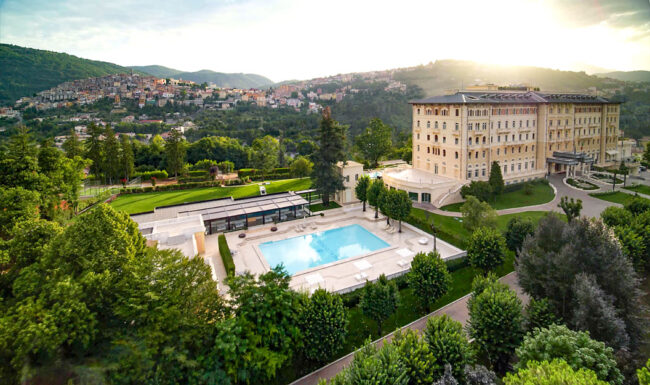 The Programme
An example daily schedule is: 5:30AM wake up (they call your room), followed by a stretch class, breakfast, then foot care, a drive to the hike, and a hike until noon. Lunch is at 1PM, followed by an afternoon of three optional sessions (one massage, one fitness, one yoga), and additional spa time for cold plunges and infrared and dry saunas. Then it's dinner and bed.
The Hikes
There are four-hour hikes every day, and they do a great job of finding varied terrain that keeps the week interesting. The excellent staff provide poles, radios, red flags to show the way, and a daily snack (which you'll want). These hikes are not easy, but they're doable – you're here to push yourself, so the level was just right. Pace yourself and enjoy the ride! The flags mean you can go at your own pace instead of moving as a group, which is very helpful.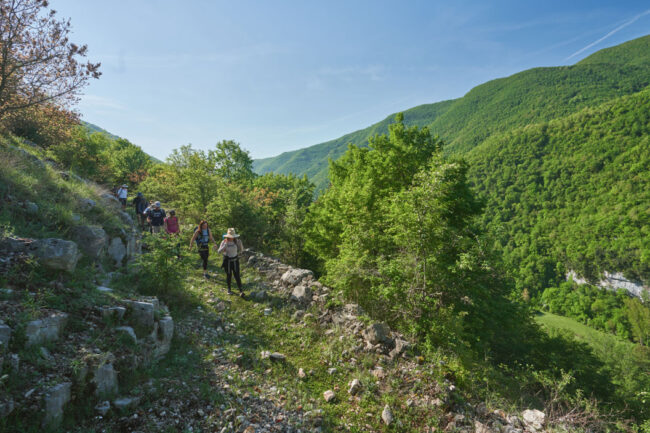 The Afternoons
After exerting yourself in the mornings, a schedule is put up with massage times: you get one daily, which helps recovery. You can then build the rest of your afternoon around that. There was surprisingly enough time to feel like you had a chance to relax every day.
The Medical Component
As this is a medical retreat, you are measured on day one, and they do an ECG and take blood before you start. You have a session with first-rate doctors who go through your results with you, and are given your measurements at the end, too, in case you want to see your progress in numbers. You can also book in for additional (paid) things (scans, more bloodwork), should they feel it's a good idea.
The Food and Drink
There's no coffee or alcohol, but the nutrient-dense, plant-based diet has been created by The Ranch team, and is executed by 3-Michelin starred chef Heinz Beck's Palazzo Fiuggi team, and is delicious and surprisingly filling. There's unlimited herbal tea (wahey!), salt and pepper, chilli flakes (key), and fruit, should you need it.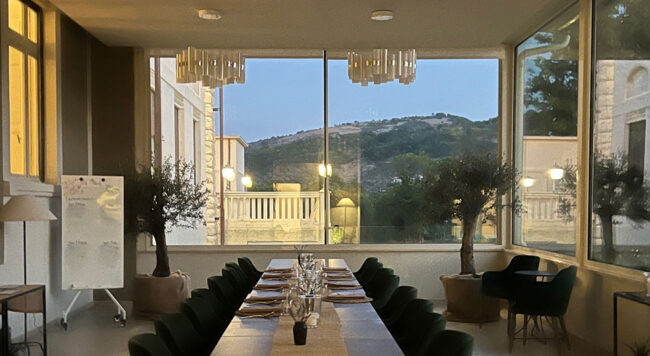 The Vibe
The vibe overall is Malibu meets Italy, in both design and personnel: some of the staff are local and some have come over from Malibu. The elegant white Ranch Room is chic and calming, and the long dining room table is surrounded by views of the historic town.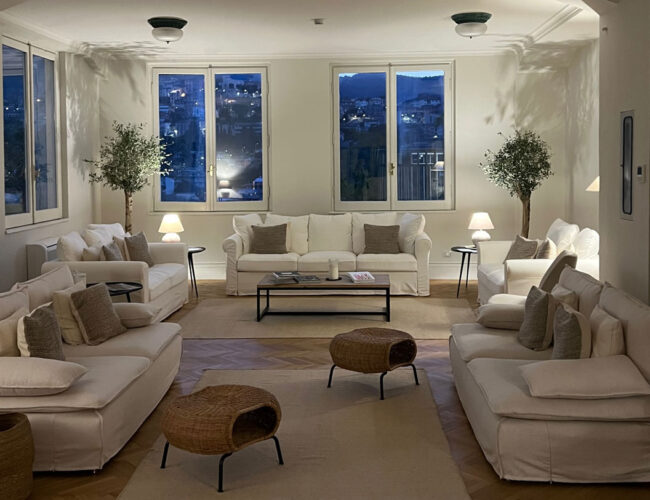 Highlights
It's good to challenge yourself! And here you will. It definitely attracts a 'type' of person (those wanting to spend their holiday bettering themselves) and the people and staff were a definite highlight. We also managed to do a local race in a neighbouring town, which was memorable. The feet-care morning station too was truly luxe: getting help with protecting your feet sure beats trying to do it yourself. Good feet = good trip.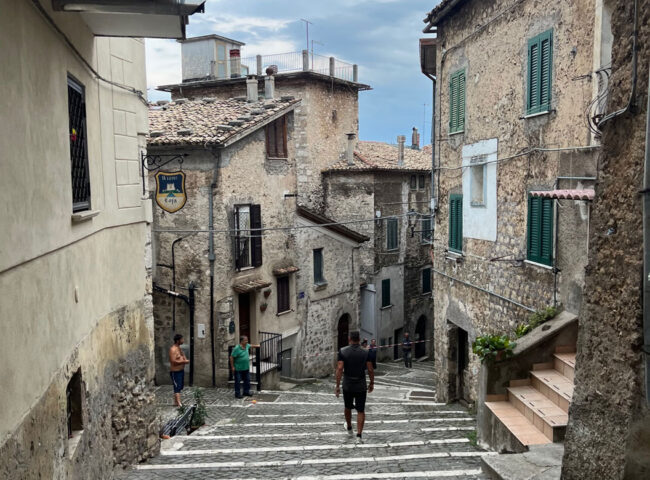 What to Wear
Everything is casual. Workout clothes by day, and laid-back clothes and comfortable shoes at night. Do pack a lot of fitness clothes though, especially during the summer; they have a laundry service with a 24-hour turnaround.
What to Pack
Keep your hydration pack light: anything with a hip belt, and not much else. They suggest Osprey or Camelbak. And try to get hiking shoes or boots that you have worn a lot on varied terrain. Failing that, bring a few pairs, as you'll quickly see if they work. In the summer, trail running shoes seemed to be the footwear of choice for most people.

Anything Else
We booked a treat night elsewhere afterwards so we had a goal in sight, and this worked really well for motivation. We wished we'd taken a night in Rome on the way there, too (we're hearing good things about the new Soho House Rome). Most people went alone on our visit, so don't be shy about doing so; you'll be in great company. The Ranch seems to have an excellent return rate, as we had several 'Ranchers' in our group who had been several times.  They're also opening another location in NY/the Hudson Valley in 2023, with shorter three- and four-day options, which sounds great.