Jersey might not be first on your destination tick list (isn't it just where people hide cash?), but this welcoming 14th century manor house – and the wild beaches and quaint town surrounding it – might just change that. We weren't expecting to love it as much as we did.
The Journey
If you want to get out of the UK for the weekend but don't have time for a full city break (it can often seem pointless when you get out of work late on a Friday), Jersey is ideal. It's around a 30-minute flight from London (though it can take up to an hour depending on winds), and there are plenty of flights operating out of London Gatwick and London City Airport.
The Location
Jersey is tiny, so everything is close together – the landscape goes from cute, cobbled town to woodland to rugged beach within a few minutes. You're surrounded by coast, which is where the action happens on Jersey. It's all about local produce here – speak to the concierge if you want to go on a beach foraging trip with a local experts Wild Adventures (which we highly recommend). Seaweed, oysters, lobster and flatfish are readily available if you know where to look – and if you're feeling brave, you'll have the opportunity to build a fire and cook what you've just caught on the beach, washed down with some of forager Kazz's homemade elderflower wine. Or, head down to the harbour, where the catch of the day is sold, and you can sample some local crab for lunch. If you want to stay closer to home, just grab some of Longueville's Hunter wellies from the back door, and go wandering on their walking trails.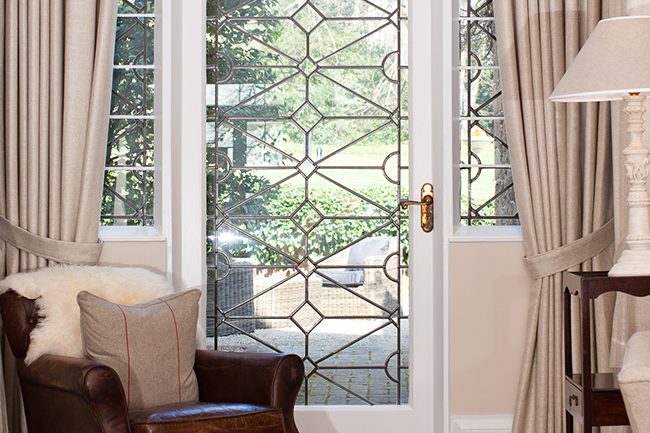 The Accommodation
There are only 30 rooms here (despite the size of the property) and as a result, you'll end up with more space than you bargained for. Each Deluxe Room (the third biggest category) feels more like a suite, with a lounge area as standard. This is a boutique hotel, so there's no uniformity here; it's all about the rustic charm. If you want to go all out, or have family and friends to stay too, opt for their impressive Cottage Suite – an entirely separate cottage dating back 500 years, complete with original Norman front door.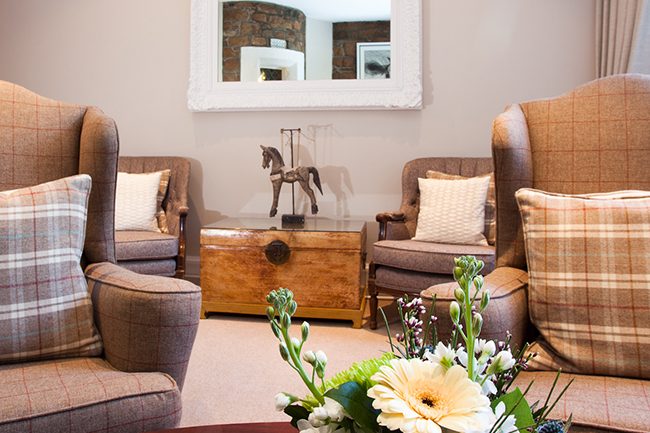 The Décor
As a restored 14th century manor house, it kind of goes without saying that Longueville Manor is impressive – but it's far from stuffy. The decor is simple and cosy, and the vibe is infinitely welcoming. If you need a pick-me-up post flight, settle into a cosy armchair by the fire in the living room before heading up to your room.
The Food
In our experience, in-hotel dining can sometimes be inferior to doing your research and venturing out. That is definitely not the case at Longueville. Head chef Andrew Baird is all about local produce, and due to its proximity to the coast on all sides, you can expect to be served some seriously good seafood here. An unexpected highlight is the custom-made cheese trolley, which offers a huge selection – arranged on different levels and set out by flavour profile (seriously organised). Cheese lovers, take note.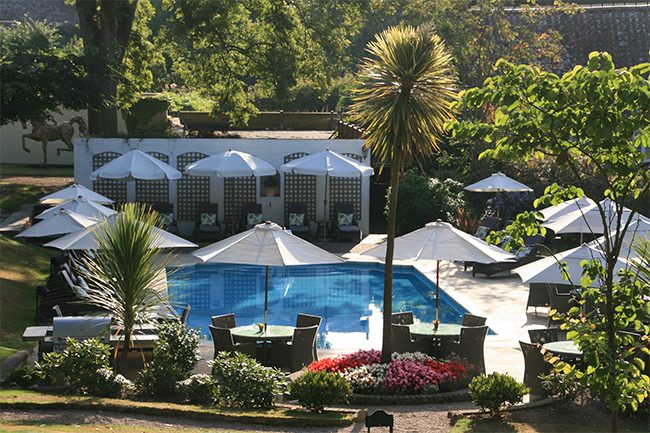 The Spa
When you're done roaming the rugged beaches, exploring the surrounding woodland and playing tennis on the outdoor court, you deserve some serious R&R. If the weather permits, swim in the outdoor (heated) pool or have a glass of fizz in the jacuzzi (surely mandatory). You can also book in for a bespoke massage treatment at the spa, perfect for relaxing the muscles if you decided a stint in the on-site gym was for you.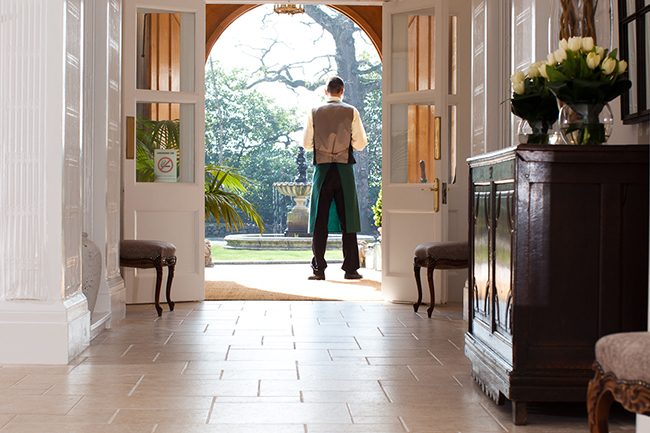 The Details
Nightly rates at Longueville Manor start from £195, based on two sharing and on a bed & breakfast basis.
The new Signature Massage Collection with Manomara consists of a lavender 'Relax' Massage and a rosemary 'Uplift' Massage, both of which are priced at £65 for 60 minutes.