The term 'boutique hotel' is thrown around a lot but this one truly seems to fit that category. Not five star but not four. More character than a chain; less polish than a big brand. Petunia caters to those looking for a more authentic Ibiza experience that's away from the crowds, with unbeatable views.
The Hotel
Drive down a windy dirt road on the southwest side of the island, and as views of Es Vedrá become closer, you've arrived. If you love the magical rock, this is as good as it gets. The hotel has 41 rooms, a pool, three restaurants and a taco truck, a shop, and the closest beach is about a five minute walk.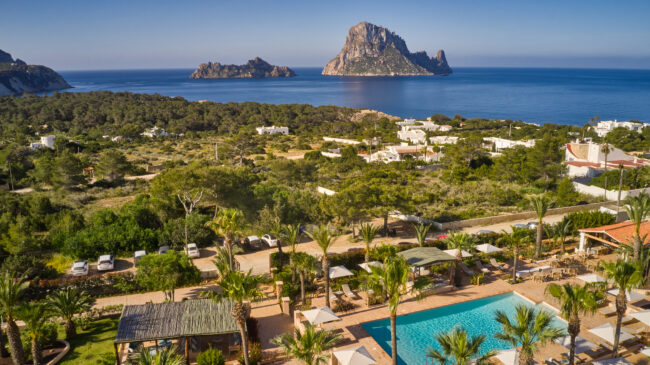 Ana Lui
The Vibe
The clientele are more parents on holiday (kids aren't allowed here), not friends on a party weekend away. Signs seem hand painted and crafty, reception is cordial (if small: just one desk for the total room count), and the overall vibe is laidback. Feels like a compact, independent resort in a way.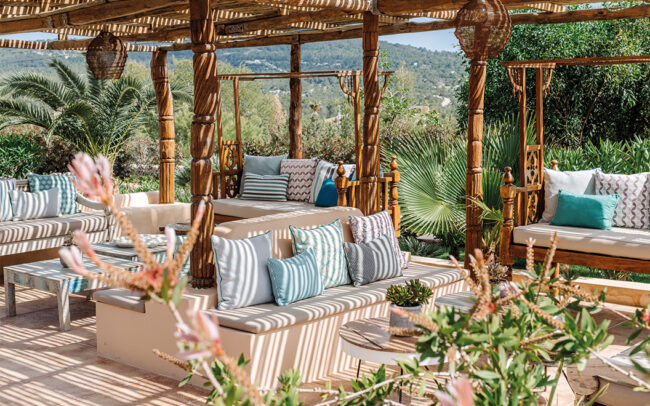 Ana Lui
The Rooms
Some of the suites have great outdoor spaces and views, they have two-bed finca-style rooms, and doubles with direct sea views. Furniture and fittings in rooms are eclectic and feel authentic – whitewashed woods, straw lamps, patterned cushions, and woven baskets; do opt for a larger room if budgets allow, as the bathrooms seem to be more updated, and extra space is always good.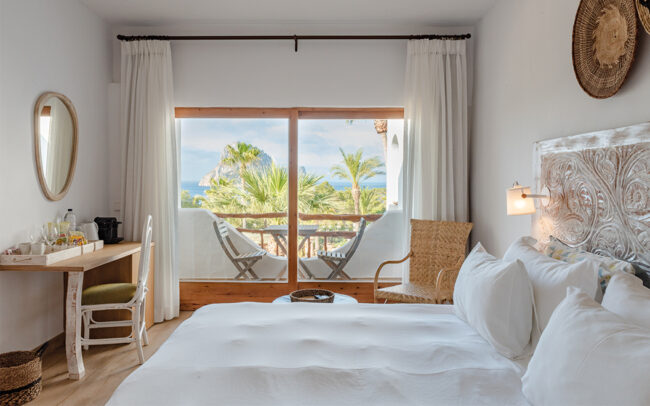 Ana Lui
Food and Drink
For a small hotel, there's a lot of choice. There's La Maison Escondida – a Mediterranean restaurant with contemporary touches, with indoor / outdoor seating; Los Olivos Trattoria, an outdoor pizzeria / Italian; the Miranda Rooftop (amazing sushi with views of Es V), the Es Vedrá bar (drinks, oysters, cheese and charcuterie), and a taco truck with ceviches and tacos.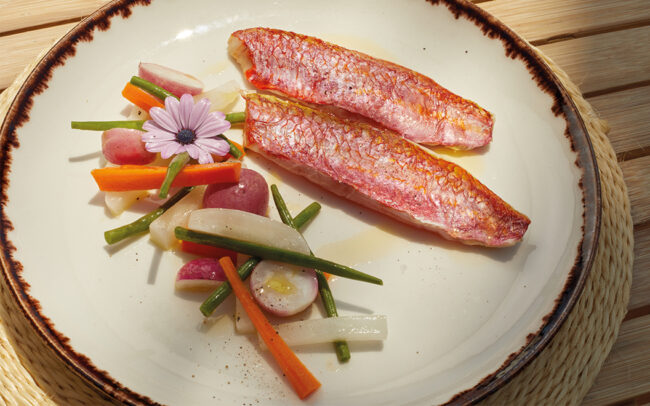 Highlights
They're on it on the environmental front. Solar panels and filtered water, garden-to-table dining, and eco cleaning products. They're also close to one of our favourite beaches, Cala Carbó (with an amazing restaurant, Balneario), have bikes you can borrow (just BYO backpack so you can bring a bag), and the (thankfully) under-hyped restaurant, Es Boldado is nearby. As for price, with the skyrocketing hotel prices of Ibiza 2022, their starting rates are almost reasonable, too.
Anything Else
Read our interview from 2020 with Petunia's director Anna Na here.