Just back from a packed week in Ibiza, and we can report that there's a real air of positivity around. Maybe it's the first real season since Covid (is it?) or more like the first real year that the plague is feeling like a thing of the almost distant past. Whatever it is, this year is already feeling like it's going to be one for the books. Every year, Circoloco have a slogan, and this year, it's Good News, which feels 100% spot on. And with that, let the season commence!

xx Taryn and Team UJ xx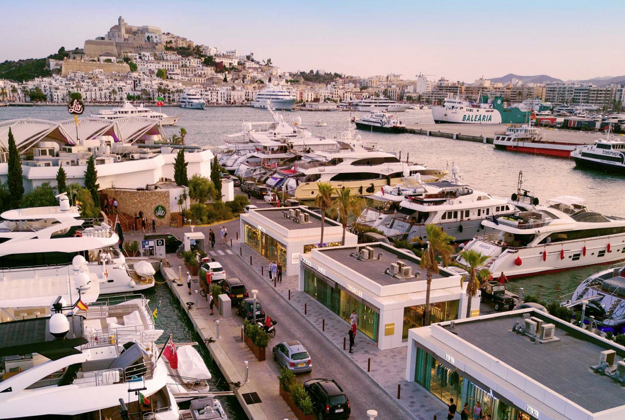 Marina Botafoch
Brands

We're going to start with something we noticed: new high street shops. Back in the day, if your bag was lost, you had two options. Zara or Mango (maybe Bershka at a push), or beach/rave wear found in town or around – for your whole stay. Now, more and more, we're seeing the brands moving in. Two to note: on Vara de Rey in town, there's now a Maje and Sandro. They fit into the aesthetic of the street, so, so far, it seems okay. Additionally, we've noticed some more urban stores around with trainers, as well as some designer second hand stores. It also seems like Marina Botafoch will continue to be the location for designer pop ups – Gucci et al – and we're hearing it will just continue to expand. Let's see… At least there are more places to get an emergency wardrobe, which, if you come to Ibiza a lot, you're going to need.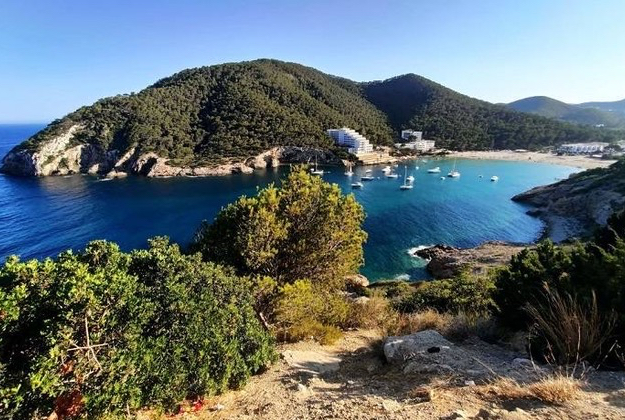 Cala Llonga
'23 Overview

So, for what's new: you know the Mondrian? Well, it's coming to a great cove in Cala Llonga. Joining it is the music hotel Hyde (with 400 keys) too, both slated to open later this summer. Mar y Sal has been updated, Ocean Drive (the original) has been renovated for its 20th anniversary, Montesol has had its Experimental refurb (more on that below), and even Pikes has had a much-needed update – they've modernised the tech and luxed up the fabrics and furnishings, but kept the eccentric touches they're known for. We're also hearing that Fincadelica will have news soon too, stay tuned.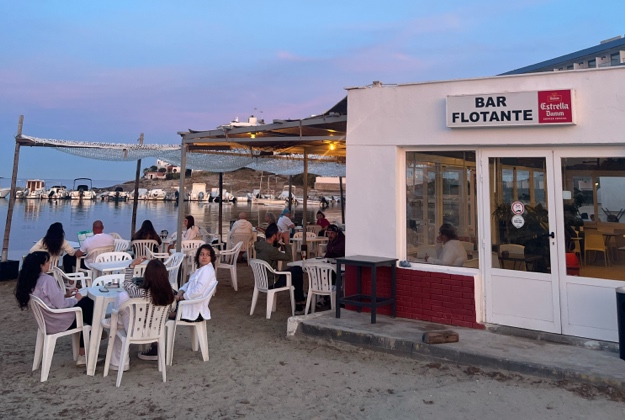 '23 Overview

So the good news: Bar Flotante, our Talamanca feet-in-the-sand fave, is back. We think it's been bought/has new owners, but everything seems to be the same – RELIEF. Zuma has returned for another season too, and Zazú, the newbie that people seem to be talking about, might actually get you to Playa d'en Bossa. We also saw a Novikov going into The Gran. No comment. Two hotels that seem to have had a bit of a rejig on the F&B front (or at least new names for the restaurants): the W Hotel in Ibiza has new owners, and their restaurants are now called Fire (farm and flames) and Steps (veg forward) – so same as before, really – and at Six Senses, Eyal Shani's HaSalon has become North. Also at Six Senses, The Beach Caves still have sushi, there's a new Italian-inspired menu at The Orchard, and a Spanish by day menu at La Plaza. There's a Passion café now in Ibiza town (not sure when this opened) and they have a new Middle Eastern restaurant in Santa Gertrudis called Yalla. Oh, and news just in, Nieves Barragán Mohacho of London's Sabor acclaim is at the helm of Nobu Ibiza Bay's new pop-up restaurant, Gusto, opening 31 May. This space has been a rotating door for restaurants (Peyotito, BiBo), so we're excited to see how this one develops. TBC.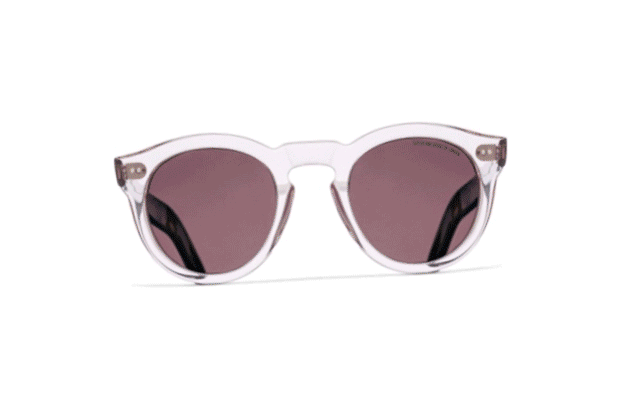 Sunglasses

After seeing every second person with Prada shades over IMS weekend, we have well and truly parked ours. Back to some Gucci and LV bling then. We're also thinking of frames with less visible logos/branding.

SHOP NOW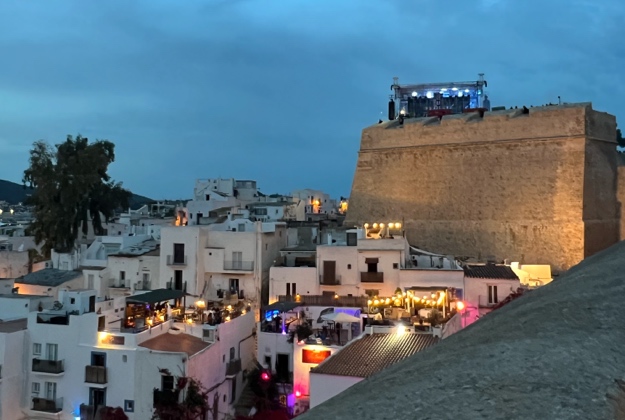 '23 Overview

As we said before, the vibes were high this year at IMS, the three-day music conference that really kicks off the Ibiza season. Highlights included a 40 years of Mixmag celebration (congrats guys), a talk with the eloquent Grimes, words from Miami's favourite David Sinopoli (owner of Space, Factory Town, III Points, Jolene), DJ Fat Tony in conversation with Sarah Story about his book, the health on offer from Art of Areté – think breathwork, meditation, and new ambient music from leading DJs – as well as the usual sunshine, networking drinks, and of course the finale at Dalt Vila. Now in its second year in its new home at Destino and with recent investment from Beatport, IMS truly felt like it's had a gloss up: feeling very slick and settled at its new location.

MORE INFO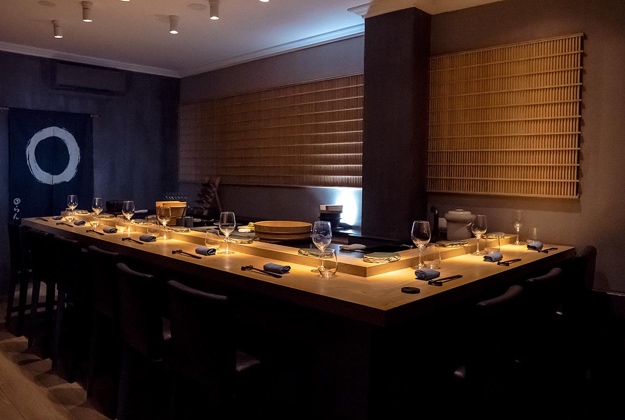 Omakase by Walt

We've been stalking poor Walt on Instagram: he didn't have online booking capabilities before (we think?), and although we still haven't managed to book into his eight-seater omakase bar, now that he has online booking, he'll be happy to know that we will keep trying that way. We hear it's an amazing night, but be sure you have time (and like your dining companion) as it takes about three hours.

BOOK NOW
with DJ Fat Tony

It was great to have Tony at IMS this year. He's been coming to Ibiza since 1983/84, so he knows his way around. We caught up with him after his book talk to chat about all things music and Ibiza. Catch him this summer at Glitterbox (9 nights) and other parties (Lio, etc) and follow him on Instagram for timely updates.

Here are a few of his favourite things:

1) Favourite Hotel

'OD Talamanca – I ****ing love it. Three swimming pools, the roof, and you get treated with such respect. It just is what it is.' We couldn't agree more.

READ MORE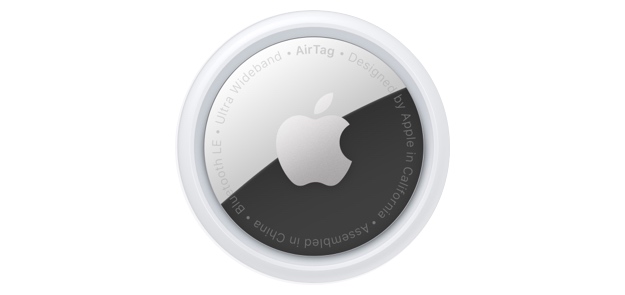 Apple

Luggage Tags

So, when your bag goes missing, waiting for it to be sorted at the airport and then sent to your hotel is half the pain. BUT if you have a luggage tag in your bag, you can see when it arrives, and normally sweet talk your way into picking it up early. A very good travel hack indeed (thanks Jag).

BUY NOW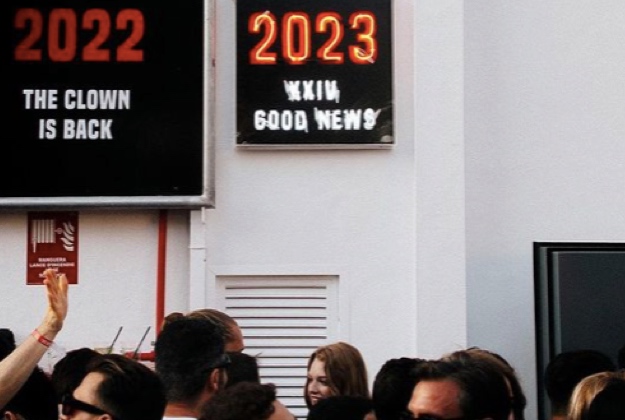 Photo by @markkleyser
Our Ibiza Fiesta Schedule

This is more for those who are new to our Ibiza club night picks. For us, it's Solomun + 1 @Pacha Sunday, Circoloco @DC10 Monday, our boys The Martinez Brothers (and whoever is in the WC, or water closet disco to those who don't know the club) @Hï Tuesday, Jamie Jones @Amnesia Wed, and DC10 for Solid Grooves Thursday… with maybe the occasional Music On, Fridays @Pacha. We will say this though: although you know we aren't about VIP in Ibiza, with nights as busy as they are, having backstage at Circoloco and some kind of access or, we guess, a table at Hï will definitely make your life more comfortable. For something new, the new club this year is Akasha at Las Dalias – and with an opening party with Sven Väth on 1 June – looks like it could be on the right path; great music, in a market, with tickets at 20€… smells like old Ibiza.

IBIZA SPOTLIGHT PARTY CALENDAR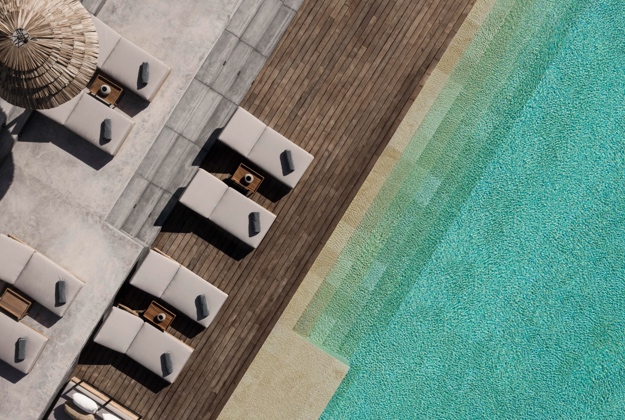 OKU
Round Up

You know we like that balance. New things to mention on the wellbeing front: hiking! Seems it's not only us that has the bug. Nobu now has Holistic Hike retreats – three nights and they're actually reasonably priced for Nobu (finishes today unfortunately), and Mikasa is running monthly guided hikes for 60€ pp (waiting for new dates). OKU has teamed up with Notting Hill's Bodyism, meaning there will be Bodyism trainers in residence at OKU in June and July for classes (pilates, yoga, sculpt), PT sessions, signature shakes and more. This is a much-needed service on the island; may we see more of this. Six Senses also has some interesting new retreats for this season, including the upcoming Mastermind Your Life in Three Easy Steps (ha, yes please), and Young Forever with Dr Mark Hyman.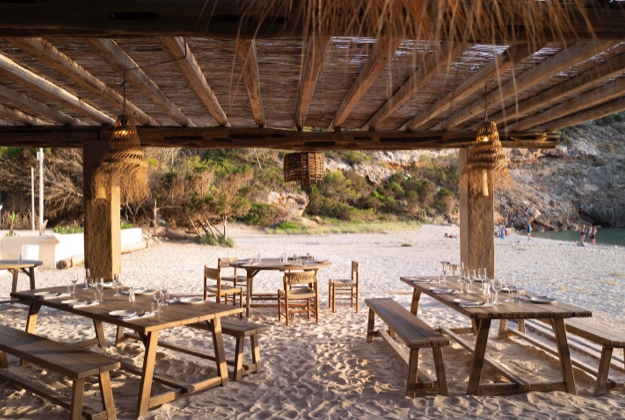 El Silencio

We love the cove, Cala Molí, that El Silencio is in. Sure, depending on where you are, it may seem a bit far, but plan a day of it and this is a great spot. We say go for a late lunch to try their new Med open-fire menu with Argentinian flavours, and stay until the sun goes down. This year, there will be a small new omakase, and cabaret by the former director of a show at Crazy Horse, as well as the usual sunset DJs. Grand opening is 15 June, book a table now.

MORE INFO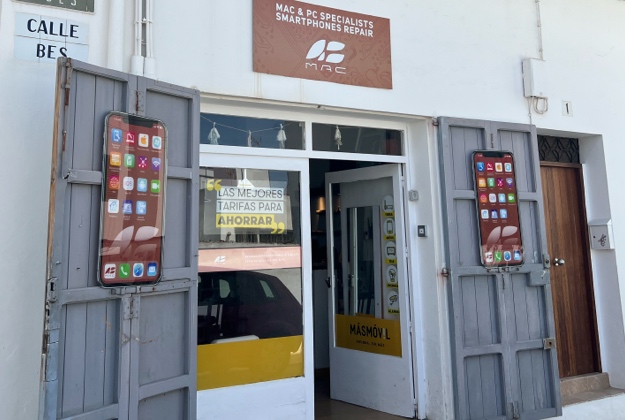 Tech Help

So, this won't be for everyone. But if your trip involves work, and you happen to need something, there's now a large MAC supplier store, Intecat, in town (as well as its sibling in Santa Eulalia). Only caveat here is, they only seem to have the latest things, so if you need an old plug like we did, you're likely out of luck. Maya Boyd however alerted us to (and saved the day) this gem of a Mac shop – ASmac – just by Dalt Vila on 1 Carrer de Bes. Save this address; you might need it – and thank us and Maya later.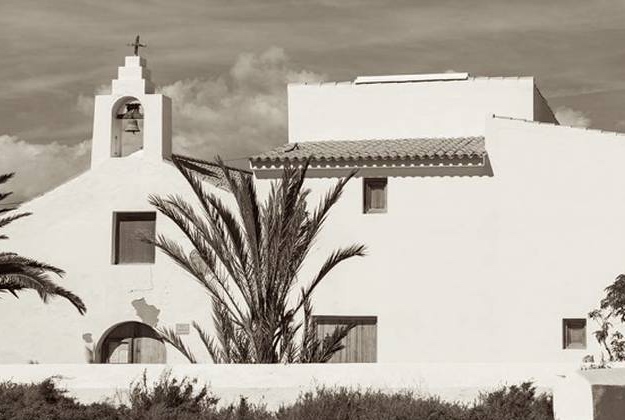 MAINE

We're excited to see how this one translates. Joey Ghazal, founder of The Maine in Mayfair (as well as a roster of other restaurants), is opening MAINE in Ibiza. And from what we've heard so far – it has 200 covers in an 18th century, carefully restored Ibiza-style whitewashed church by the salt flats of Salinas, with an atmospheric rooftop, garden, menu with signature dishes and new Med additions, a healthy menu by day and DJs at night – sounds like it could be our new pre-DC10 meeting spot. Opens in June.

MORE INFO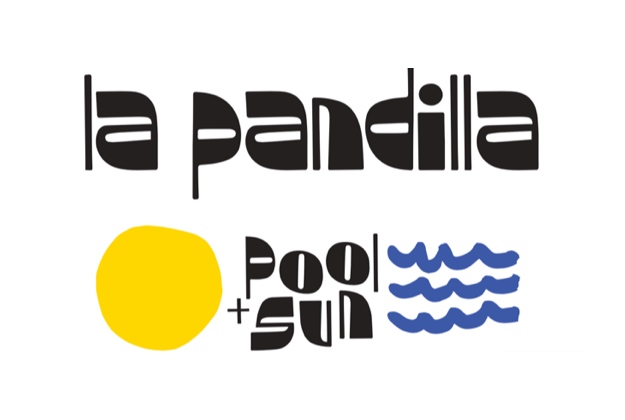 La Pandilla

Another one Maya alerted us to: La Pandilla. First, we love the Brady Bunch-styled website. Casitas and creative residencies is what they say they are and it's the casitas part that we're especially interested in. They have 10 casitas around the property, which each hold 2-10 people, and combined, can house 65 people. We love this: a hideaway with a cluster of (quite basic) villas together, that also has the perks of a boutique hotel (restaurant, etc).

MORE INFO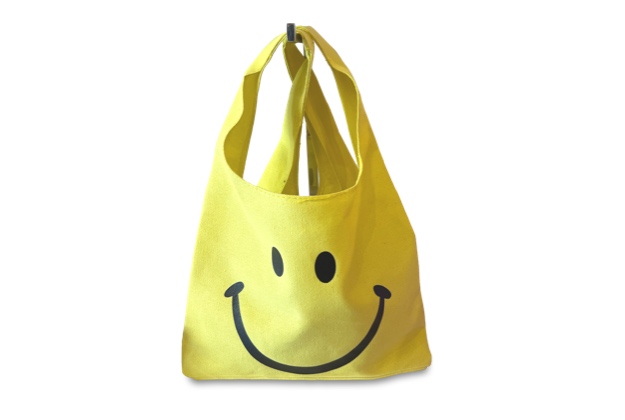 Wares

If this is the year of Good News, it also seems to be the year where tech chic is introducing a bit of colour. Spotted was tech DJ Adam Beyer backstage in a mustard T, and we traded our black garms for bright yellows, greens and, well, almost anything but black. It's a whole new world.

(c) 2023 Urban Junkies. All rights reserved.

Reproductions of any portion of this website only with our express permission. Urban Junkies is a free weekly mailer. All listings and features are editorial: We do not receive any payment from venues, artists or promoters. Every effort has been made to ensure accuracy of information listed but we cannot accept responsibility for errors or omissions.

We have updated our terms and conditions link and privacy policy link to make it easier for you to understand what information we collect, how we use it and what rights are available to you to control your information. The privacy and security of your information are very important to us. If you have any questions or comments, please send us a message by info@urbanjunkies.com. Thanks as always for reading UJ.