| | | |
| --- | --- | --- |
| | Event fatigue is setting in already. How to pace, brace for the holidays: that's the topic of today. We liked Kate Spicer's feature in last week's Sunday Times Style magazine – The Return of Booze – and we agree, it does seem like drinking is back, but it's a more aware drinking: hyper aware of what one wants (make ours a Clase Azul Reposado Tequila please). In other news, we have Madrid on the mind – hope our features inspire you to make a trip to the capital – and we've also got a trip to Lisbon on the cards, to check out the recently renovated Barrio Alto, with five new Nuno F&B outlets, no less. Go Nuno. Lastly, last week saw Carnaby Street switch on their ocean themed, Project Zero partnered, 100% sustainable lights. And just like that, the season has begun. Have a good week. | |



The Standard, Huruvalhi Maldives
The Maldives are FUN
We're serious
Maldives, that holidayland for newlyweds and the coupled up, has long been a destination for those wanting a quiet romantic time. BUT, it looks like change might be on the horizon. Click through.
Read more
Arcade Food Theatre
Food Courts
We're looking at you!
First came the Arcade Food Theatre, and truth be told, we were (surprisingly) blown away. Then came the Seven Dials Food Market (which seems less designer/more polished street feast – we'll be there for the Monty's Deli), and now there are three more on the horizon. On 18th November, The Borough Market Kitchen will open with 20 traders and a communal dining space including dumplings from Iraq at JUMA Kitchen, and in central LDN, Market Hall West End is also opening a couple days before, on 15 Nov. Claiming to be the UK's biggest food hall, there are a lot of greats on their roster, and a rooftop bar too. And lastly, in Bishopsgate, Eataly will be opening in 2020. Lunch times have certainly changed.
Erik Schilp
Rotganzen Studio Designers, NYC

NY based Erik Schlip is one of the three designers at Rotganzen, the studio that has worked with The Veuve Clicquot Souvenir Bar, a Champagne bar that's the creative vision of the multi-talented St. Vincent. Erik's taken the time, pre-bar launch, to give us some of his favourite NY and global spots, and some professional hindsight.

For restaurants, I like… Olmsted in Brooklyn (casual) and The Modern in the MoMA (upmarket).

I'd tell my younger self to be your own boss as soon as you can. Working for someone else is just a waste of your time and talent.

With Souvenir, I was most excited about… working with St. Vincent and the amazing talent, including Matty Bovan who's done the costumes, Pippa Guy who has created a bespoke Champagne cocktail and Kirk and Keeley from Plates London who have worked on the food pairing – none of whom we had met before.
Read more


Pacific
Around Town
Wining and dining
First of all, we're hearing rave reviews about Snackbar x Farmshop. With things like kimchi & Stichelton toasties and breakfast tacos on the menu, we need to get to Dalston STAT. Other things we're excited about: the opening Hot May, which is essentially a posh hot pot place in Knightsbridge, Bong Bong's Manila Kanteen (not to be confused with Bunga Bunga), and the new Lina Stores in King's Cross.
Read more
City File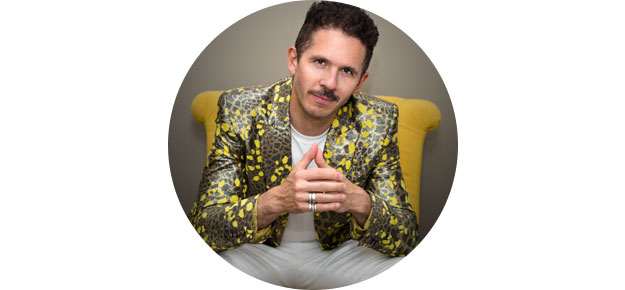 Madrid
With Andrew Armstrong
After a recent trip to Madrid, we've had Madrid on the mind (more on that later), and Andrew Armstrong, producer, DJ, damn good interior designer and Madrid resident, gave us some of his favourite spots. Bookmark this now.
Read more

Kaspar's at The Savoy
Americana Menus
For your radar
We're not sure when Thanksgiving became a thing here, but we're into the menus that are coming through. Any excuse to eat, right? Here are our top three: Kaspar's at The Savoy has an impressive menu (£75), including a double corn souffle with smoked avocado main, which sounds divine. Two Lights has a menu that includes a Jerusalem artichoke, black truffle soup starter (£45), and Joe Allen's is serving a more traditional menu also at £45 (we think that dining room would be perfect for Thanksgiving). And for dessert, it's got to be pecan pie at Balthazar. One for dessert, one to takeaway and Barry's the next day.
Aloft Madrid Gran Via
Madrid
Book now
We recently got back from a great weekend at Aloft Madrid Gran Via, where we were introduced to the brilliant Mala Rodríguez, who performed on their rooftop terrace, which has 360 views. As a location to say goodbye to the summer, it was up there. Read all about our time here. In other MAD Hotel news, Hotel Urban 5* GL has an autumn warming seafood menu at their Glass restaurant, with Michelin-starred Angel Leon at the helm, and over at BLESS, they have a new password/key entry late night spot, Fetén Clandestine Club. If you go, let us know how it is.
Aloft Madrid Gran Via Review
GUCCI
Que Color!
We'd like these, please. That is all.
Gucci
UJ Playlist


España
Get inspired
Ever since being introduced to Mala at Aloft Madrid, we can't get her out of our head! A kind of predecessor to the brilliant Rosalía (maybe?!), these two bring the Spanish vibes in. We've put together a mix of great artists, all from Spain. Hope this inspires you to book those flights: Madrid back alley roaming and vermouth quaffing is just a two-hour flight away. Venga!
Press play

Four Seasons Whistler
Hotels
Here there everywhere
We'll keep this one quick. One of our favourite hotels, Four Seasons Whistler, has updated its take on the classic mountain lodge, which is good news, as it needed a refurb. In Paris, Mama is about to launch its 12th property with Mama West; rooms start from £99 and bookings are being taken from December. In Lisbon, Nuno Mendes is Creative Director of the F&B of the recently expanded and revamped Barrio Alto Hotel, which has five new Nuno-approved dining spots, which sounds worth the trip alone.
More hotels
Save the Dates

| | | |
| --- | --- | --- |
| | It's a bit of a mixed bag this week. First, HOLD UP. There's a new club in central London that opened last week quite under the radar. Orange Yard has taken over what used to be The Borderline, and has a v. hard-to-get 6AM licence – we say it's worth popping in, no matter who's playing. Need a new wreath this year? Hotel Café Royal is doing workshops that include using Diptyque ovals. Smells good. And at the National, Elena Ferrante's famed novel has been made into a two-part play. Get in. | |


Take Three

| | | |
| --- | --- | --- |
| | It's beginning to look a lot like… | |








(c) 2019 Urban Junkies. All rights reserved.

Reproductions of any portion of this website only with our express permission. Urban Junkies is a free weekly mailer. All listings and features are editorial: We do not receive any payment from venues, artists or promoters. Every effort has been made to ensure accuracy of information listed but we cannot accept responsibility for errors or omissions.

We have updated our terms and conditions link and privacy policy link to make it easier for you to understand what information we collect, how we use it and what rights are available to you to control your information. The privacy and security of your information are very important to us. If you have any questions or comments, please send us a message by info@urbanjunkies.com. Thanks as always for reading UJ.