Intro
Super yachts, baklava and huge swathes of turquoise coastline to explore? Bodrum isn't a hard sell – or little known, but it's a different story off-season. Travel in early spring or late autumn and journey out of the city, up to the northern coast of the peninsula. Here you'll find an Aegean haven that's far from the beaten track. Seek out the bay of Göltürkbükü and its neighbours – Gümüşlük and Yalikavak, where we found boutique hotels tucked into hillsides, laid-back wellness centres and an established bohemia for anyone in need of serotonin.
The tourism industry in Bodrum is only a generation old, and it's mostly happened through word of mouth with Turks, who we found seeing out the season until the last weeks of October. So before the crowds arrive (or after they depart), there's plenty of time to get in some sunshine.
Hidden gem
Göltürkbükü and the nearby bays of Gümüşlük and Yalikavak are still relatively off the beaten track – and that's part of the appeal. You'll need a car (whether it's a hire or at your disposal) and you will spend a fair amount of time driving around the bays to find the next little-known cove or coastal village. Trust us, it's worth it — going off season means you get even more of the area to yourself.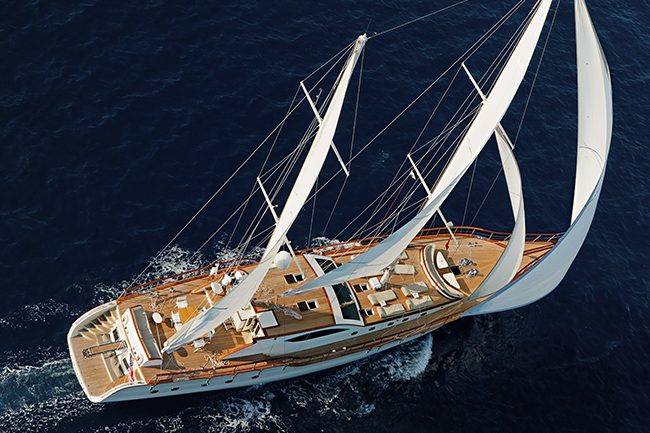 Catch Miss B from the Caresse Luxury Resort and Spa to explore nearby coves and islands
Yachting
For anyone that really wants to get out into the open water, chartering a yacht is the only way to go. Pick up the Miss B (a traditionally shaped Turkish gulet) from the Caresse Luxury Resort and Spa and head out for lunch between the Greek and Turkish islands. Coves and deserted bays make for unbelievably picturesque spots to anchor down and dive off the yacht while the crew top up Champagne glasses and prepare lunch. Inside, the yacht has everything you'll need to get ready for dinner for when it eventually drops you off (if you're ever ready to leave – we certainly weren't!). A day on Miss B starts from €3,000 for a group of eight, with a full crew.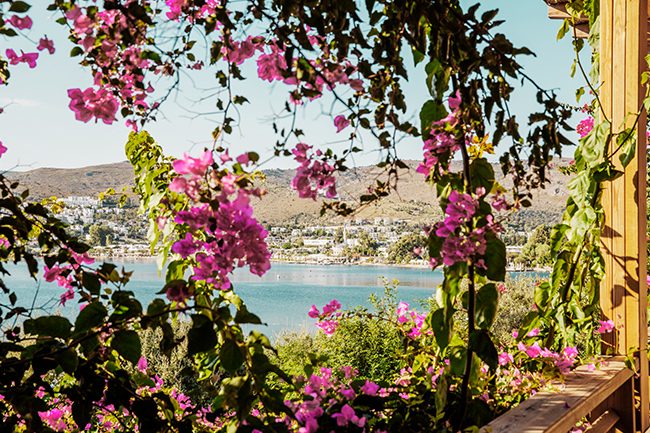 The bohemian haven on Maçakizi, shrouded in bougainvillea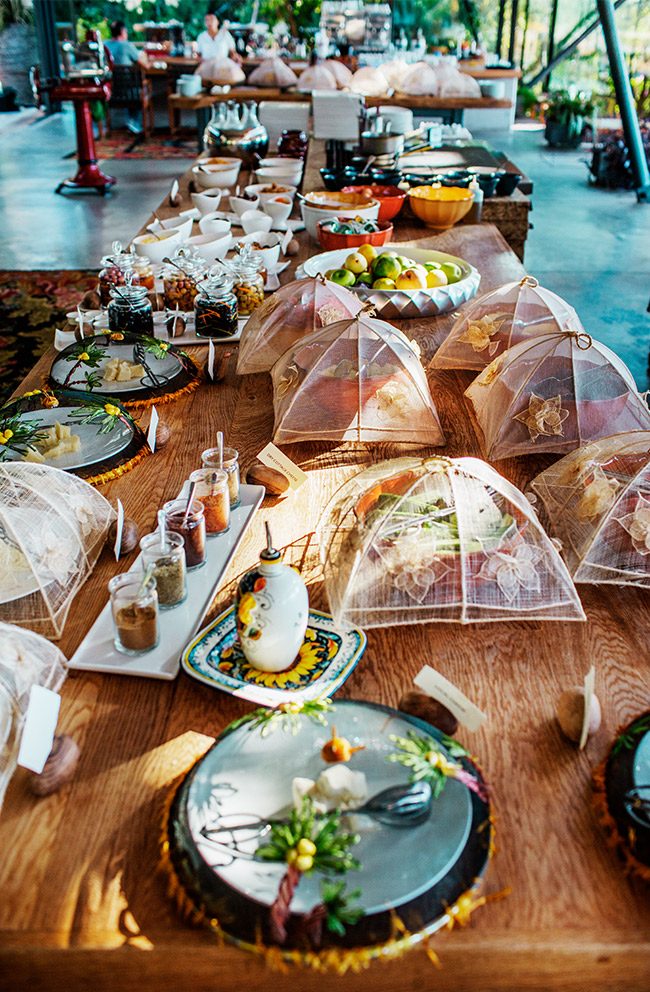 Breakfast focuses on local fare at Maçakizi
Maçakizi
Forty years ago, Ayla Emiroglu, nicknamed Maçakizi, or Queen of Spades, opened a 16-room bed and breakfast in the Bodrum Peninsula – at the time, the bohemian capital of Turkey. In 1999, her son Sahir Erozan returned to the Peninsula from the States, bought a new property in Türkbükü, and built Maçakizi. Now covered in bougainvillea and nestled beneath 100-year-old olive trees, Maçakizi has found a balance between laid-back and luxe, with a chilled-out vibe in its DNA. Designed by Turkish architect Ahmet Alatas and inspired by Philip Johnson's Glass House, the multi-tiered hotel has little distinction between inside and outside. We stayed for four days and barely felt like we'd seen half of it, so if you're in need of a total chill-out holiday involving zero plans and decision-making, this is the place. Make sure you get down to the beach club with a good book and read with your toes in the totally clear sea water: even in mid-September, it was still 32 degrees in the shade. Our entire stay felt more like an extended stopover at a big family home, and for all the hotel's tree-house hideaway feeling, staff were attentive and always around when needed. Breakfast is taken overlooking the bay, and the understated buffet is worth getting up for, with local cheeses, granola, honey, figs, Turkish breads and pastries. Rooms start from £350 for bed and breakfast.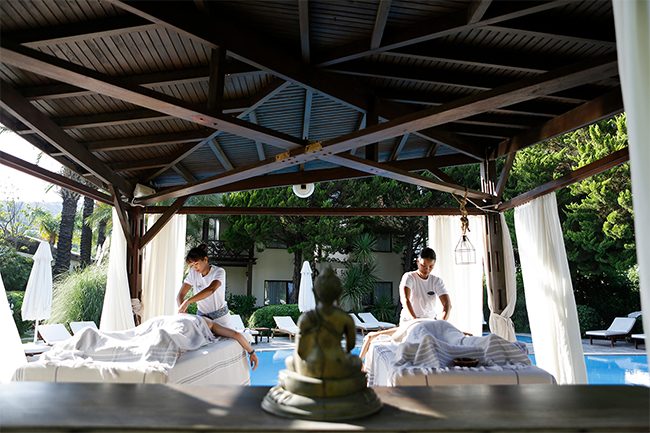 The LifeCo takes a low key approach to relaxation
The LifeCo
Edward Enninful et al are fans, and after just a few minutes at The LifeCo., you can see why. By wellbeing centre standards, there is no fuss and little ceremony – instead, it's about great quality treatments, intermittent fasting and a peaceful atmosphere. A week here would slip by – not least because of the incredible standard of massages (the best anyone in our group of well-seasoned travellers had ever had). It's also only a 15-minute walk from Maçakizi, so we say book in on a quieter day and don't miss the apple and ginger juice on arrival – it's just the ticket.
Mimoza
Arrive by yacht after a day on the water, or make the drive over to the little village of Gümüşlük for an evening in this picturesque seaside port, built on the remains of the ancient city of Myndos. Spend half an hour picking up souvenirs from the tiny jewellery and crockery shops along the waterfront, and then sit down to super fresh grilled fish and Turkish wines at Mimoza. As the sun sets, you'll understand why the Ibiza comparisons stick – gourd lanterns decorate the trellis above that stretches out almost to the water. Take in the sunset, endless mezze and of course, should-be-famous Turkish hospitality.
The journey
EasyJet run flights once a day from London airports to TAV's Milas-Bodrum. By short haul standards the four hour flight is long, but when we travelled in September, we swapped a 12 degree London for 32 degrees by the coast, so were happy to spend an extra two hours in the air to know we'd still be able to sunbathe.
Highlights
It might sound cliché, but it's true – the people make Bodrum unmissable. On our first night, we arrived at Maçakizi at 11pm, as it was mid-glitzy wedding party. Instead of heading off to our rooms, we were invited to join the fun, and within minutes we were handed slices of wedding cake and introduced to the rest of the wedding party – which meant dancing on the seafront until gone 5am, and of course, jumping in the water with the rest of the party at dawn. From reading your fortune in empty coffee cups (as with tea leaves in the UK) to staying up way past bedtime for another nightcap, Turkish hospitality is faultless.
Things to Note
As with London, the threat of terrorism in recent years in Istanbul has had a knock-on effect on the tourist trade. But the Foreign and Commonwealth Office have advised that it is fine to travel to the country again, providing tourists stay clear of the Syrian border (almost 1000 km from Bodrum).
Details
For more information on travel to Bodrum, visit TAV Airports, or book flights to Bodrum from London via EasyJet, in just over 4 hours.
Top photo credit: Looking out on to the bay of Türkbükü from Maçakizi