The 'zone' of Mayfair feels like quite a disjointed one, as in, the Mayfair that's closer to Green Park definitely has a different vibe to the Mayfair closer to Marble Arch. But we digress. Red brick and monied agents in this part of town seldom have been a draw for us – which is why we were pleasantly surprised at how lively and, dare we say, fun this restaurant was. North Audley Street good times, who knew?
The Décor/Vibe
There's a relaxed terrace out front for sunny days, and the restaurant is bustling, with people settled in for a long afternoon or evening. Get a (comfortable) seat at the counter to watch the chefs in action – they sure know how to work that space. One bar with at least 5-6 chefs behind it at any time grilling, frying, smoking: it was definitely entertaining and educational. We could have dressed differently though, as it was also hot!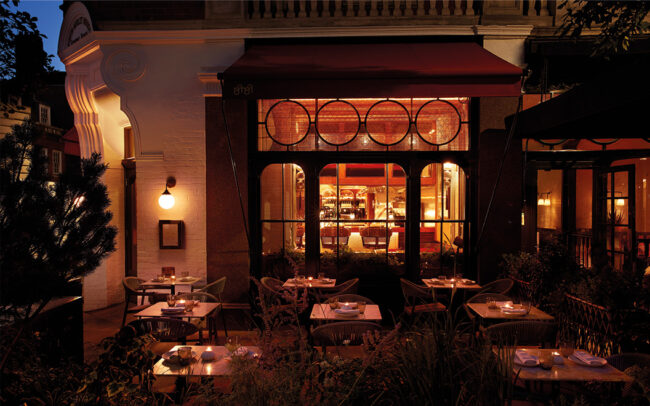 The Menu
Choose from either a chef's selection (£85) or à la carte; if you're not a meat eater, they suggest you go à la carte. The restaurant's name, BiBi, means 'lady of the house', and the menu reflects chef Chet Sharma's travels and the dishes his grandmothers used to cook. Dishes are small – tapas size – so don't be shy when ordering.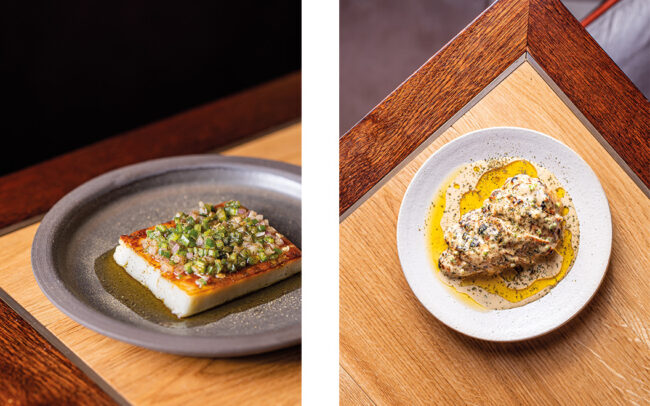 Dishes/Drinks
Menu highlights include, to start: the cheese papad (a fried breadstick-size type of pappadam with multi-layered sauce), followed by the fresh Orkney Scallop Nimbu Pani (raw scallops with blood orange) and Highland Beef Pepper Fry (raw sirloin with peppercorns). From the Sigree (grill) selection, the chicken with cashew and yogurt whey, and turbot with green chilli. And for veg (some of the best dishes), don't leave without the okra with peanuts, sesame, and chilli oil (top dish), the aubergine steak with yogurt, and the buffalo milk paneer, with green pepper emulsion and grilled onions. They have sides of roti, rice and daal, and dessert is a Kulfi, a mini-magnum type treat.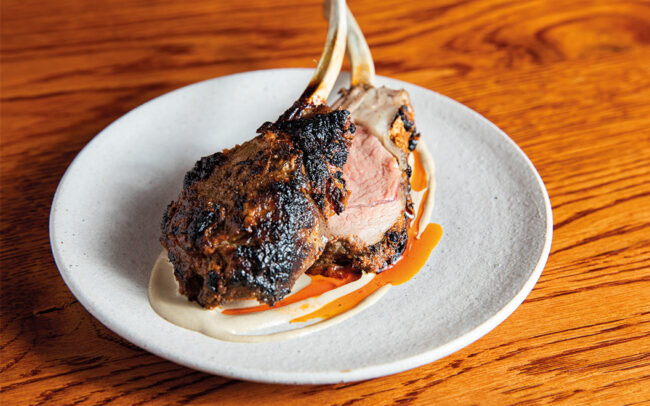 Drinks
The cocktail list is short (and some are pre-mixed, so no substitutions) – try one of the shaved ice concoctions for something different, and the wine list has a good, reasonable (for Mayfair) selection.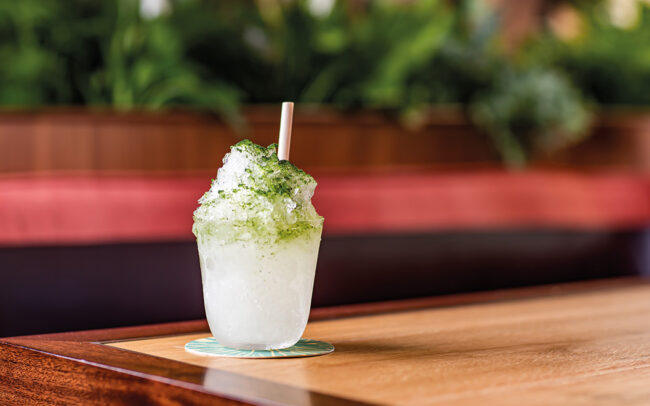 Highlights
Vibes and small plates. The music was good – which was a surprise; hip hop beats – the small plates were inventive, and the place overall was energetic.