There's something about Albemarle Street… it truly feels grown up. Close to Bond and St James' Street, it's amazing how different it is to Soho, just a few minutes away. Il Gattopardo is a new Italian restaurant on Albemarle Street by the team behind COYA, Amazónico, and Bar des Prés. This is their first own-brand restaurant.
The Décor/Vibe
Il Gattopardo translates to 'the leopard', a theme that runs throughout: on the restaurant's logo, on its carpets, and even on the ice. The lighting is soft, there's a sushi counter, and the tables are well-spaced, with street-facing banquettes outside, where you can sit and watch the world go by. There's also a hidden terrace with a retractable roof for alfresco dining when the weather behaves. The warm wood paneling has a retro yacht vibe, and there are also Art Deco mirrors, dangling chandeliers, and artwork everywhere you look. Hosts are clad in La DoubleJ, and they have a private dining room for 14 that feels like an apartment.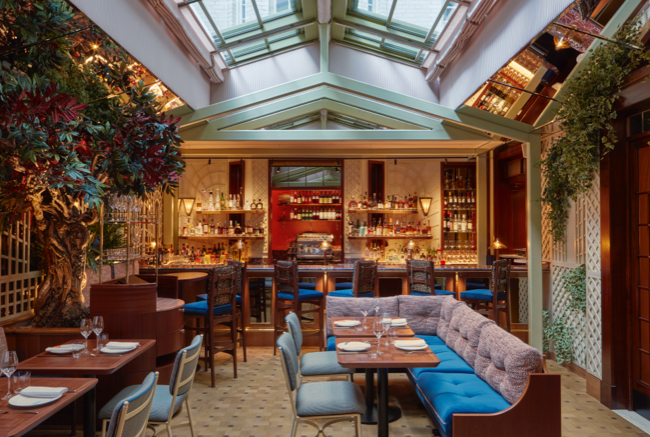 The Menu
The menu is a large one, divided into categories to help you navigate: salads, crudo, antipasti, cold cuts, pizza, pasta, one-pan family-style dishes, fish, meat, sides, cheese, pastries, desserts, fruits, and over 450 wines. The cocktail list has a 12-ingredient negroni and Italian inspired drinks like the Roman Holiday, which is their take on an Americano. Highlights included the creamy bufala mozzarella, half lobster gnocchi, and prawn crudo.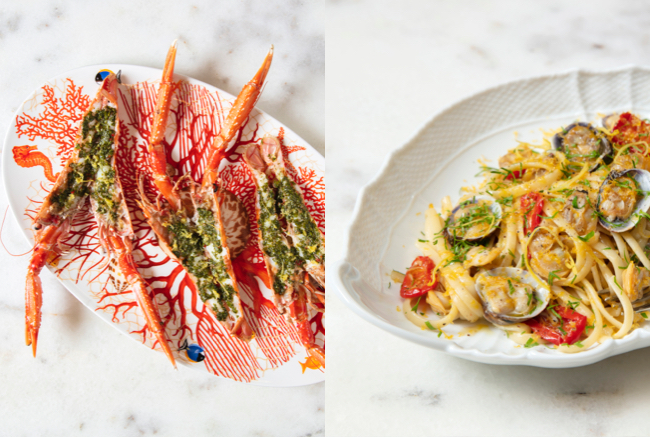 Highlights
We love that there is a sushi counter here: you could pop in alone or for a quick lunch with a friend.